Vegan Haman's Ears Cookies
Hi friends!
Just a few days ago I discovered a new fact on Haman's ears cookies. Haman's ears are cookies we bake every year for the Purim holiday. Ever since my childhood, I learned that they symbolize the ears of the evil Haman. A royal advisor who served in the court of the king of Persia. Apparently, In the other half of the world, these cookies actually symbolize his triangular-shaped hat. I really wondered why anyone would have triangle-shaped ears? 
In those times of history, the courtiers really wore triangle-shaped hats, didn't they? It is really interesting how the stories of a tradition develop with different details in different regions of the world. Do you have information as to why these cookies are called Haman's ears in Israel, and on the other side of the world they are called Haman hats in Jewish communities abroad? I would love it if you would share or speculate!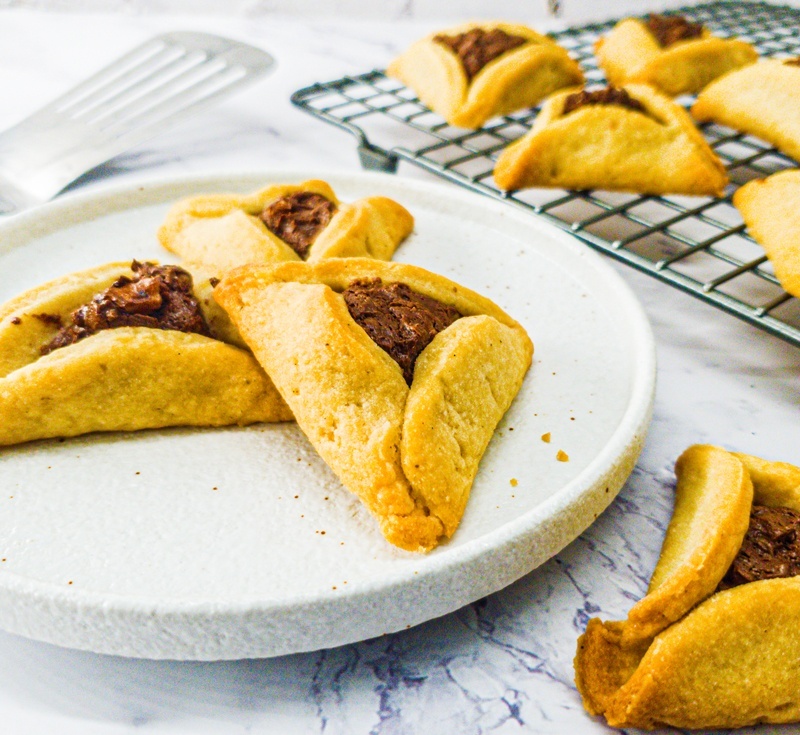 How to make vegan Haman's Ears
The base of the cookie is basically a pie crust dough base. Main principles: 1: 2 ratio of coconut oil or vegan butter to flour, adding very little water just to combine the mixture, do not knead too much to keep the dough crisp and avoid gluten formation and give the dough a short rest for 30 minutes in the refrigerator before the filling step. This dough can be sweet or savory. If you want savory, just don't add powdered sugar! Instead, add a little salt, spices you like, and filling accordingly. As for coconut oil, note that the oil texture should be like softened butter before use. If it is too cold, it will assimilate into small lumps in the dough and create kind of small pockets during baking. Will still come out delicious. Oh, and I add a little vinegar for extra crispiness!
Once it has cooled, it is time to roll out the dough. It is important to have it on a floured work surface every time you process and roll it out so that it does not stick to the surface and to the rolling pin. Add a bit of the filling in the center, and fold 3 ends evenly into a triangle shape. Pinch tightly at the vertices of the triangle so that it does not open during baking. Really easy and quick cookies! And may everyone have a Happy Purim holiday!
Vegan Haman Ears With Hazelnut Chocolate
Purim's traditional triangle cookies with hazelnut chocolate filling and walnuts.
Ingredients
For The Dough
200

Grams

flour

100

Grams

Coconut oil

Soft like a paste

85

Grams

Powdered sugar

Pinch

Salt

1

Tbsp.

Vinegar

2

Tbsp.

Water
Hazelnut Chocolate Filling
60

Grams

Hazelnut chocolate spread

(Vegan Nutella)

30

Grams

Walnuts

Chopped
Instructions
Bring the coconut oil to a state of a paste. If it is too hard, heat in the microwave for just a few pulses, not more. If it is too runny try to chill it a bit in the fridge.

In a bowl, mix the flour, powdered sugar, salt, and coconut oil by hand to create a sandy texture.

Add a tablespoon of apple cider vinegar and a tablespoon of water and continue to knead, just until the dough is combined. If it's too crumbly, add another tablespoon.

Shape the dough into a disk, wrap in cling film, and refrigerate for 30 minutes.

In a mixing bowl, mix the chocolate-hazelnut spread, along with the chopped nuts.

Roll out the dough to a thin thickness on a floured work surface. Cut circles with a cup or with a ring for a small cake 8 cm in diameter. Add a teaspoon of the filling to the center of each dough circle.

Fold the 3 ends of the circle up to the center where the filling is, into a triangle shape and pinch tightly at the vertices of the triangle so that the dough does not open while baking. Place on a baking tray.

Bake in a preheated oven at 170 ° C for 15-20 minutes until the Haman's ears are golden. Remove and leave outside to cool completely, the dough will crisp up after cooling completely. Store them in a box with a lid to keep fresh.