Cheesy Crispy GF Spinach Blintzes (Crepes)
Hey friends!
This Spinach & Cheese Blintzes recipe is officially in my favorite top three recipes so far. Along with Korean Sweet Potato Noodles & Mushrooms and the Crab Cakes Recipe. Of course, I love all the recipes on the blog. However, these are true winners in terms of taste, simplicity, and appearance. This is the second time I've been working with Teff flour to create crepes, and I must say I am pleased with the results.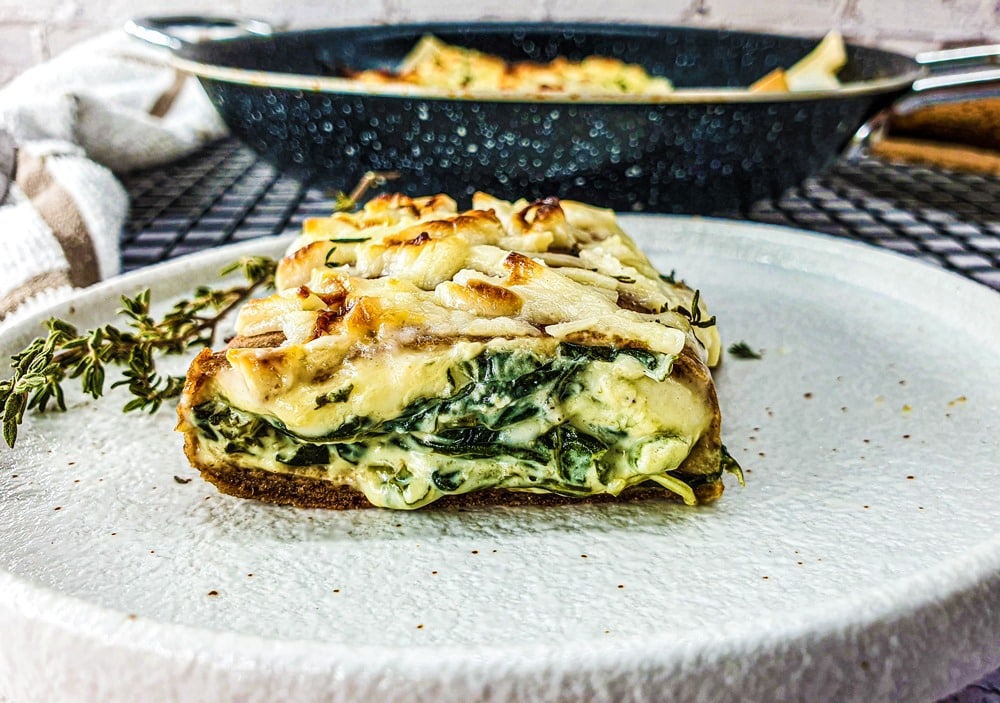 We have here a crepe that is gluten-free and is no less mouthwatering and cheesy. Since this is the same Crepe/Blintzes recipe as the Vegan Sweet Ricotta Blintzes with raisins, I recommend visiting this recipe. Please go over all the method highlights. This way you get a perfect-shaped Blintzes/Crepe.
Critical notes for success:
To oil the pan, you want to brush a really small amount of vegan butter with a paper towel. 
It's best to use a wide spatula to lift the crepe from its bottom-center from the pan.
Each crepe should be fried on its first side for 5-7 minutes over medium heat.
This one is another excellent recipe that goes into The Vegan Shavuot Recipes Collection. Not only is it delicious and cheesy, but the crepe itself is also gluten-free. With these crepes you can feel free to add in any filling that you want. It can also be made in a sweet version as in the Teff flour Blintzes Ricotta and Raisins. Attached is also a video and a full explanation of how to work with the Teff batter when frying it in a non-stick pan.
These madly delicious Blintzes can be perfect for Shavuot and for any holiday, gathering, or happy occasion. It can be served for Breakfast, Brunch, lunch, or even dinner. You can make a filling from natural Homemade Vegan Feta Cashew Cheese without preservatives. The cashew cheese recipe is also attached below. Or you can skip, save effort and use a store-bought vegan cream cheese and mix with the rest of the filling ingredients, in case you are in a hurry.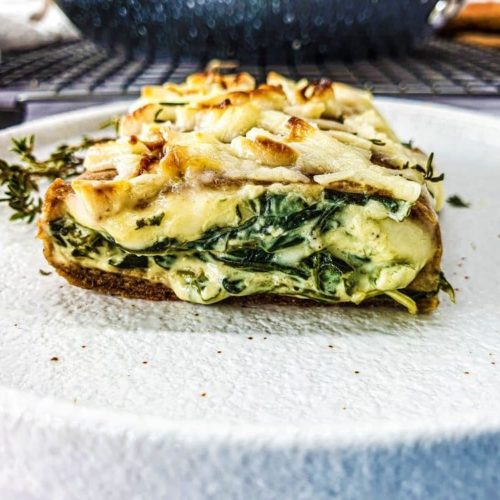 Spinach & Cheese Teff Blintzes
Vegan gluten-free Teff crepes filled with cashew ricotta, spinach, and vegan mozzarela.
Equipment
Nonstick pan

Spatula

Blender

Saucepan
Ingredients
Dry Ingredients
1

Cup

Teff flour

2

Tbsp.

Cornstarch

2

Tbsp.

Coconut sugar

Pinch

Salt
Wet Ingredients
1

Cup

Soy milk

Or any vegan GF milk

¾

Cup

Water

2

Tbsp.

Grapeseed oil

Vegan butter for frying
Vegan Cashew Ricotta and Spinach Filling
150

Gram

Firm tofu

1

Cup

Unsalted cashews

Soak for about an hour in hot water

1

Cup

Water

3

Tbsp.

Agar flakes

or 1 Tbsp. Agar powder

2

Tbsp.

Lemon juice

250

Gram

Spinach

250 gram before cooking, around 200 gram after

2

Tbsp.

Fresh parsley

Chopped

1

Tbsp.

Nutritional yeast

1

Tsp

Garlic powder

½

Tsp

Sea salt

½

Tsp

Black pepper

½

Tsp

Nutmeg

150

Gram

Grated vegan mozzarella

To add inside the crepe and on top
Instructions
Vegan Teff Blintzes
Blend all the blintzes ingredients until a smooth batter is obtained. Or alternatively, mix the dry and wet ones in separate bowls and then pour the dry ones into the wet ones and mix well with a whisk.

Heat a nonstick pan over medium heat, take a paper towel, dip it in a little vegan melted butter and brush the pan with a bit of butter.

Pour the batter into the pan and turn so that the batter is spread over the entire pan and you have a thin crepe. If you have a crepe stick the work will be easier.

Fry the first side for 5-7 minutes until the edges are becoming loose. Gently turn with a spatula and fry for another 2-3 minutes. Fry all the crepes and transfer them to a plate.
Vegan Cashew Ricotta and Spinach Filling
Cashew Ricotta Cheese
In a small saucepan, bring the water to a boil along with the agar flakes. Mix well until the water thickens.

Blend the cashews with a quarter cup of their soaking water and tofu to a smooth consistency.

Pour agar water into the blender and continue to blend until the mixture is smooth. Pour into a container to set in the refrigerator for at least 2 hours. At this point, the cheese has a neutral taste just like that of ricotta.
Sautéed Spinach
Heat a skillet with oil over medium-high heat. Add the spinach and mix until the spinach volume is reduced, about 5 minutes. You can also soak it in boiling water and strain it if you don't want to use any oil. Squeeze the spinach from the liquids well.

In a mixing bowl, mix the spinach with the cashew ricotta cheese, spices, lemon juice, and parsley. Alternatively, you can use a store bought vegan cheese or whatever you have at home.

Fill the crepes and roll: In the center of each crepe add 2 tablespoons of grated vegan mozzarella, on top add 2-3 tablespoons of the spinach ricotta filling, and roll. Take the edge of the blintzes in front of you and move over the filling, fold the edges of the sides inwards and finish the roll.

Serving option: Place all the stuffed blintzes in a baking pan right next to each other, sprinkle grated vegan mozzarella cheese on top, and bake in a preheated oven at 200 ° C for about 15 minutes or until the cheese has melted.
Notes
It's best to prepare the cashew ricotta about two hours before the blintzes so that the cheese stabilizes in the refrigerator first.
You can also use a store-bought vegan cheese such as Tofutti.
For these blintzes, you must use a nonstick pan only.
Brush the pan with a tiny amount of butter with absorbent paper so that there is but a drop of grease.
This batter takes longer to cook on each side than the white flour batter, about 5 minutes each side so cook around 5-7 minutes until you see that the edges separate easily from the pan and there are a few bubbles in the center of the crepe.
It's better to flip the blintzes with a flat spatula, first loosen the edges of the cooked blintzes on one side, then insert the spatula underneath the center of the blintzes, gently lift it, and flip.