Hey friends!
How are you all? hope everyone around the world is well. I would like to start by thanking everyone who has already visited my blog and enjoyed this content and note that you can feel free to ask me questions about recipes or put a comment below in the comments. When there are comments in posts and Google reads the site, it helps to rank it higher in search results and it gives me the motivation to continue to create content and produce quality recipes. I would also love to get your feedback if there are things that are not understood. It helps me to get better, so thanks again.
Vegan Cheesecake for Shavuot
We will soon be celebrating Shavuot in Israel, which has always been my favorite holiday for the reason that it is celebrated in the summer, and on my birthday's month. Shavuot or Pentecost is originally a holiday celebrating First fruits and the Feast of Harvest. It is an agricultural holiday that came to symbolize the beginning of the wheat and grain harvest in the land of Israel. This holiday is celebrated in memory of the acceptance of the Torah by Moses at Mount Sinai to the children of Israel. 
Since the day of the receiving the Torah was the Sabbath day, according to the religion, one refrains from eating meat because it is forbidden to slaughter animals on Shabbat and this holiday. That is why on this holiday it is customary to eat cheese and dairy products instead. This way Shavuot, which was the holiday of agriculture, and symbolizes nature, became the holiday of cheese. For us vegans, it is now the holiday of vegan cheese.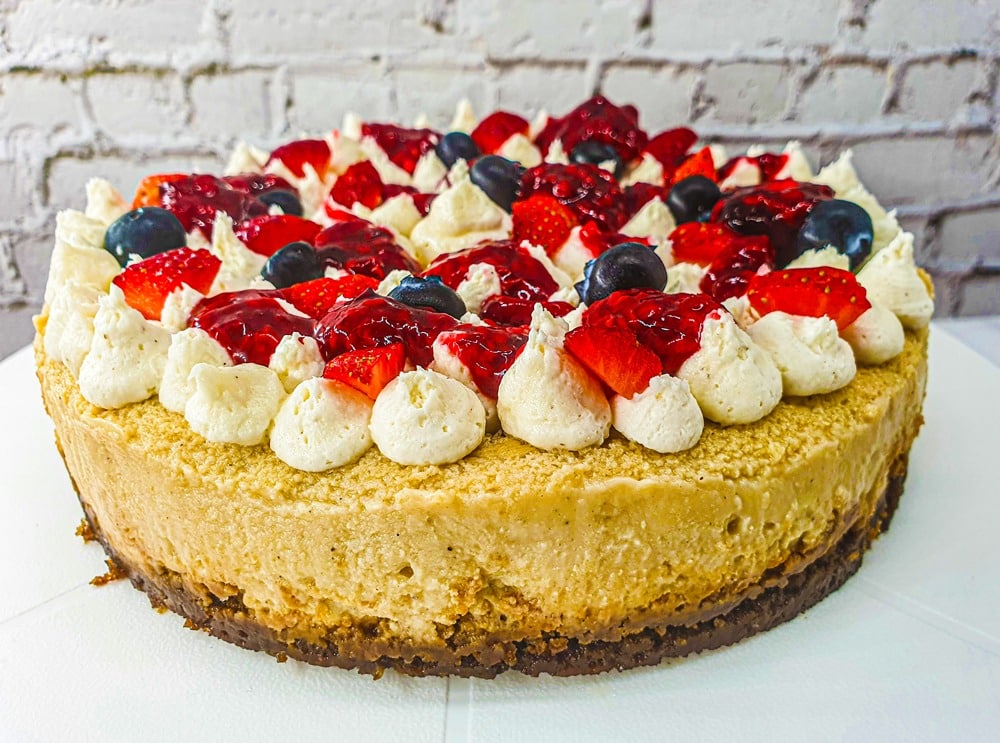 Here is a recipe that is going to open the first collection I will make on the blog and it is a collection of vegan "dairy" recipes for Shavuot. The opening recipe is a Vegan New York-style Cheesecake and as you can already understand it is a baked, vegan cream cheese-based cheesecake, made from rich vegan cream cheese, vegan soy based yogurt, and all the classic flavors you will find in the original cheesecake. Vanilla, lemon, and of course there is also a crispy crust, and luscious berry sauce on top. A cake so delicious, sweet, tangy, and just like the real thing in taste and texture only without the suffering and exploitation involved in consuming dairy products. That is just another bonus.
This cake is very simple and quick to bake. I will just mention that I preferred to bake it in steam, i.e., add water to the bottom of the tray on which it is placed. Therefore, make sure that the round pan in which you bake the cake is completely sealed so that no water enters the bottom of the cake. Steam baking is gentler and helps the cake stay moist and soft. I used "Utopy" cream cheeses (Israeli brand) which are very creamy. I will mention that they are a bit expensive for one cake so feel free to use any vegan cream cheese you want. Tofutti cheese will also work great here.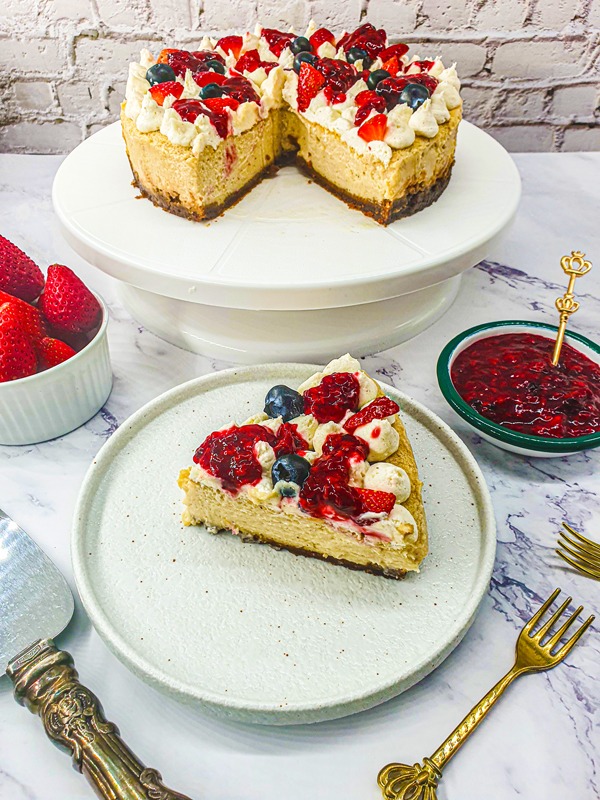 As for vegan whipped cream, there are two ways to make it. The first way is to use only vegan whipped cream and add vanilla sugar or whatever flavor you choose. And the second option is to add the fatty part of the coconut cream as well, the only problem is that it won't whip firmly if you just add it to the vegan cream. Therefore, if you use coconut cream, add vanilla instant pudding powder as listed in the recipe or tapioca-based whipped cream stabilizer.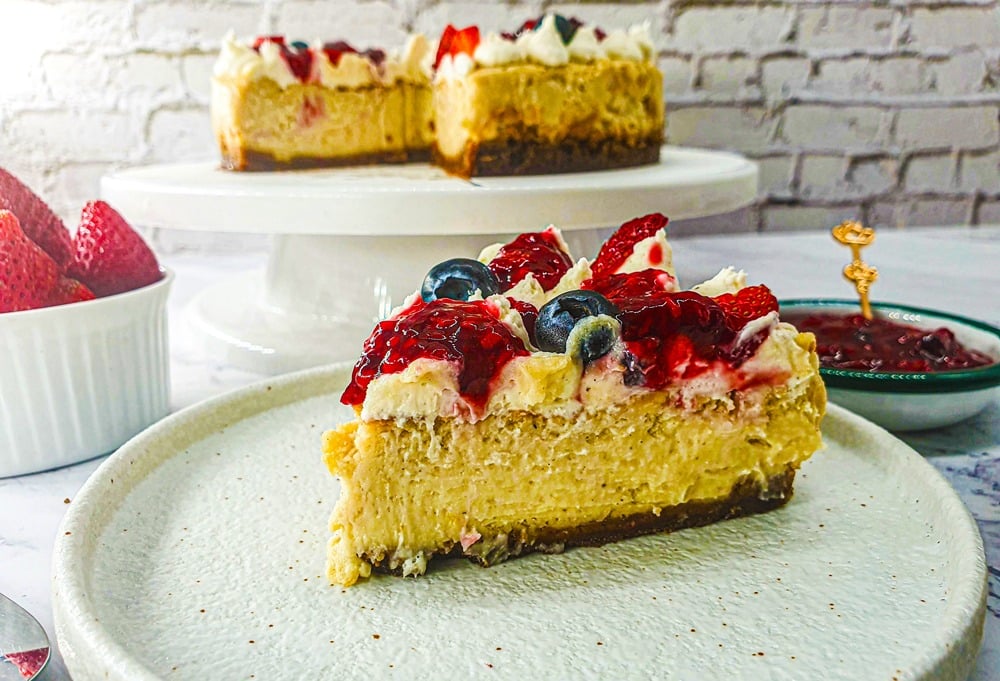 I will continue to update you guys regarding the recipe collection for Shavuot. Until then everyone will have fun and happy baking and I am here for any question.
Vegan New York-Style Cheesecake
Rich vegan baked cheesecake with Biscoff cookie crust, vegan whipped cream, and mix berries sauce.
Equipment
Food processor

20 cm baking ring

Baking Tray

Small Sauce Pan

Spatula

Hand mixer

Mixing bowl

Piping bag
Ingredients
Vegan Cookie Crust
150

Gram

Biscoff cookies

Or any cookies you like

60

Gram

Vegan butter

Room temp
Vegan Cheese Filling
550

Gram

Vegan cream cheese

200

Gram

Coconut cream only the fat

Canned coconut cream should be refrigerated for at least 8 hours before use.

75

Gram

Sugar

You can replace it with any sweetener

1

Juice and zest from a whole lemon

80

Gram

Instant vanilla pudding powder

40

Gram

Cornstarch

1

Tbsp.

Vanilla paste
Vegan Whipped Cream
200

ml

Vegan whipping cream

If not sweetened add sugar as you like

4

Tbsp.

Coconut cream

1

Tsp

Vanilla paste

1

Tbsp.

Instant vanilla pudding powder

For extra firmness
Berries Sauce
200

Gram

Frozen berries

2

Tbsp.

Sugar

1

Tbsp.

Cornstarch

½

Cup

Water
Instructions
Preheat oven to 180 ° C degrees.
Cookie Crust
In a food processor or high-power blender, blend the cookies and butter to a uniform texture.

Transfer the mixture to a round cake pan or round baking ring with a well-sealed base that's 20 cm in diameter, and tighten the cookie base with a drinking glass or a spatula.
Vegan Cheese Filling
In a food processor or blender, blend all the filling ingredients until a smooth creamy texture is obtained. Pour the mixture over the cookie crust.

Make sure that the base of the baking pan is completely sealed. Place the cake pan over an oven pan, and pour hot water into the pan so that the cake bakes with steam. Bake for 50-60 minutes or until the cake is golden brown.

Remove and let cool for an hour, then put in the fridge to cool for another two hours.
Vegan Whipped Cream
In a bowl pour whipping cream, coconut cream, the solid part only, and vanilla paste. Beat with an electric mixer.

To obtain a more stable whipped cream for piping, you can add about 50 grams of vanilla pudding or whipped cream stabilizer. If you do not want to use coconut cream, you can just whip the vegan whipped cream with a teaspoon of vanilla paste.
Berries Sauce
In a small saucepan, mix the berries, sugar, water, and cornstarch and bring to a boil. Mix well and remove from the heat when the sauce is thick, allow to cool.

Take out the cake from the fridge and pipe the whipped cream over the cake with a piping bag and a round tip.

Sprinkle with a spoonful of the berry sauce over the whipped cream and garnish with fresh fruits.