Hello everybody !!
I have a disclaimer. For me, this journey is still a work in progress. In order to give you a recipe that works every time, it needs to work every time or at least 90%. Well in this case macarons are very naughty cookies when it comes to getting the right texture, So try to imagine the vegan one. This recipe worked for me so far but for more troubleshooting and solutions on perfecting vegan macarons, I suggest researching the web for vegan macarons especially the fabulous blog "Pies and Tacos" and Facebook page "Vegan Mac Attack". 
If you choose to start making Vegan Macrons at your home bear in mind that it is a journey and it takes time and more than a few attempts to perfect those. If you are one of those who have beginner's luck and nail it on your first time it's great. Nevertheless, you still need to experiment with your own oven and your macaron techniques.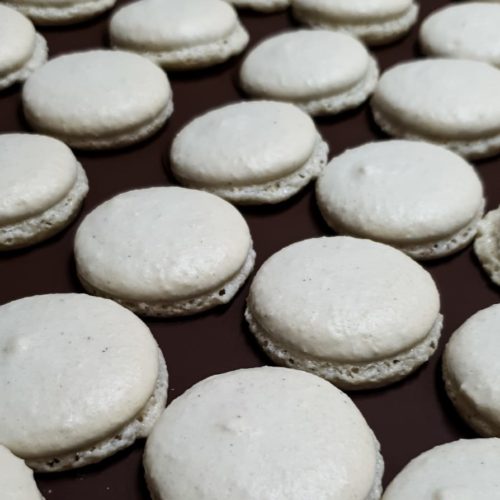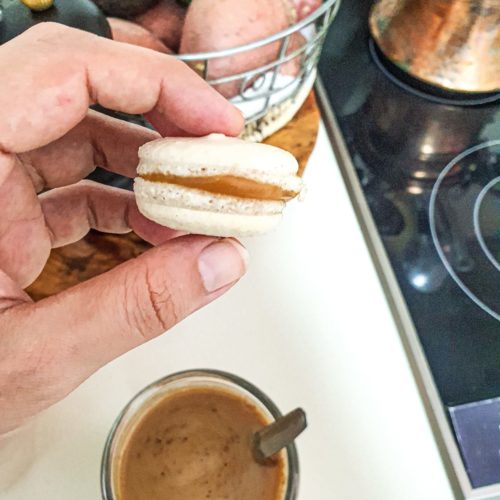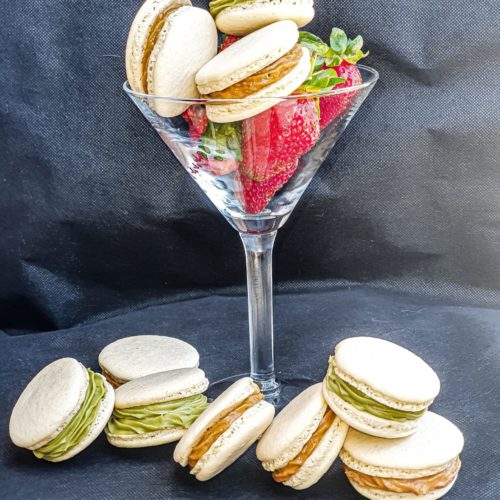 Vegan Macarons
Vegan Macarons with two types of filling Matcha Ganache and Lotus buttercream
Equipment
Scale

Macarons silicon mat

1 large piping bag

.56''  Piping tube

2 small piping bags

Standing mixer or Hand mixer with mixing bowl

Baking Tray

Silicon Spatula

Mesh strainer

Spatula
Ingredients
For the cookie batter:
70

Grams

Reduced Aquafava

and chilled over night

¼

tsp

Cream of Tartar

100

Grams

Powdered Sugar

100

Grams

Almond Flour

as fresh as possible

65

Grams

Granulated sugar

¼

Tsp

Alcohol free Vanilla extract

A

Drop

Gel based natural food coloring
First filling: White chocolate matcha ganache
150

Grams

Vegan white chocolate

100

Grams

Full fat coconut cream

2

tsp

Matcha powder
Second filling: Lotus Buttercream
4

Tbsp

Lotus cookie spread

3

Tbsp

Vegan butter
Instructions
A day before making the macaroons, if you use aquafava from a can of chickpeas, strain the aquafava, and reduce the water to ⅓ of the whole amount. so, if you have 240 Grams of aquafava initially, reduce them to 80-90 Grams of aquafava and chill in a container over night.

Scale all your ingredients accurately, the smallest deviation could ruin the batter.

In a mixing bowl pour 70 Grams of reduced aquafava and use a mixer to whip first on a slow speed after 1 minute add the cream of tartar and continue whipping until you have a soft foam.

Add ⅓ of the amount of sugar and increase mixer to high speed. continue whipping for 10 minutes and add sugar gradually. you should get a shiny, sticky very white foam.

In a different bowl sift the almond flour and powdered sugar together with a strainer. I do it 2 times to make sure that there are no lumps left and the mix is light.

If you want to add a food coloring you can do it now. Only gel based no alcohol

Gradually add the mixture to the meringue and gently mix around the edges in the beginning. do not mix in to the middle of the batter so the foam wont deflate. mix in rounded hand motions until all the mixture is combined.

Now we start a process called Macronage which is very important, we want to make sure to fold the foam in such way that will release the air bubbles out of the meringue and will make the batter smooth . So using a rubber spatula, gently "push" the foam into the sides of the bowl with side-to-side movement and stir for around 6-7 times times. each time lift the spatula to check whether we reached the desired texture - when a kind of "film" of liquid cream is created , Which slides from the spatula to the bowl.

Prepare the piping bag: connect the piping tube to the bag, take a tall glass and place the bag in it in a way that the tube is facing to the bottom of the glass. pour the batter into the bag close the bag by twisting the ends and hold it tight.

Pipe the mixture into a macaroons silicon mat, you have to do it in a 90° angle to get the perfect circle. for more accuracy use Silicone molds especially used for macaroons, that has circle markings, and pipe to the smaller size marked. it will expend later on.