Hey friends!
Just now, I am editing this recipe post of this Vegan Egg Salad, I am looking at those stunning pictures that came out of my sandwich. It's the second time I went up to make a sandwich with this Vegan Egg Salad made of grated tofu. I made my sandwich from homemade slices of sourdough bread. Also added Sundried Tomatoes, sliced vegetables, and arugula leaves. There is so much flavor and freshness in this one sandwich. And not only flavor. This vegan egg salad is rich in protein and good fats from the Vegan Mayonnaise I made the day before, with grapeseed oil.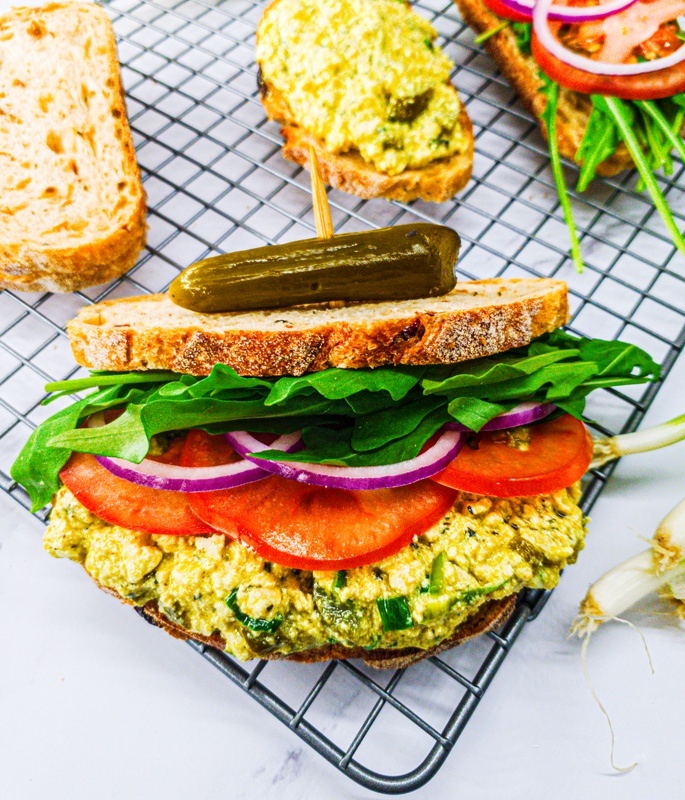 If you don't want to make a vegan mayo, you don't have to. You can buy Vegan Mayonnaise almost everywhere. I really like the 'Follow Your Heart' vegan mayonnaise and chipotle brand. If you are making this recipe with a store-bought mayo, it is recommended to add a tablespoon or two of fresh lemon juice to the salad, to add a bit of zing. Since I was making Homemade Vegan Mayonnaise, I had already added lemon and red wine vinegar to it, so it added acidity to my vegan egg salad.
So, what makes this salad taste like an egg salad?
If you are new to this, then I am happy to introduce you to this amazing ingredient that's been running for a long time. An ingredient is called Black Indian Salt. This salt, apart from the fact that it is salty, gives the taste of eggs to foods because of the sulfur found in it. You only need to put a little bit. And if you really miss eggs, you can sprinkle that black Indian salt on any savory dish you have eaten before and had eggs in it.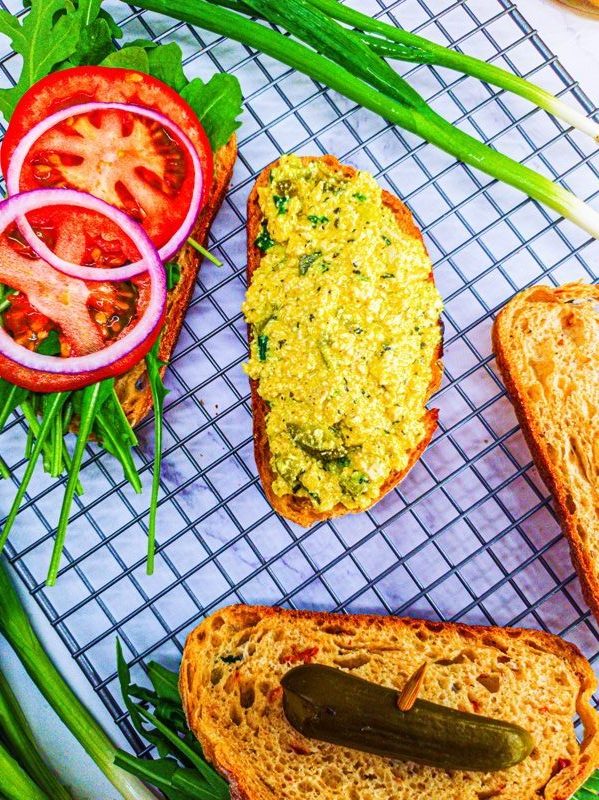 Additionally, for this recipe, I used pickles made in salt brine rather than vinegar. this is my personal preference. Less like the ones with the vinegar but use what you like. You can even add Cornichons, which are really small and cute little pickles, and usually, you can find them at a deli store.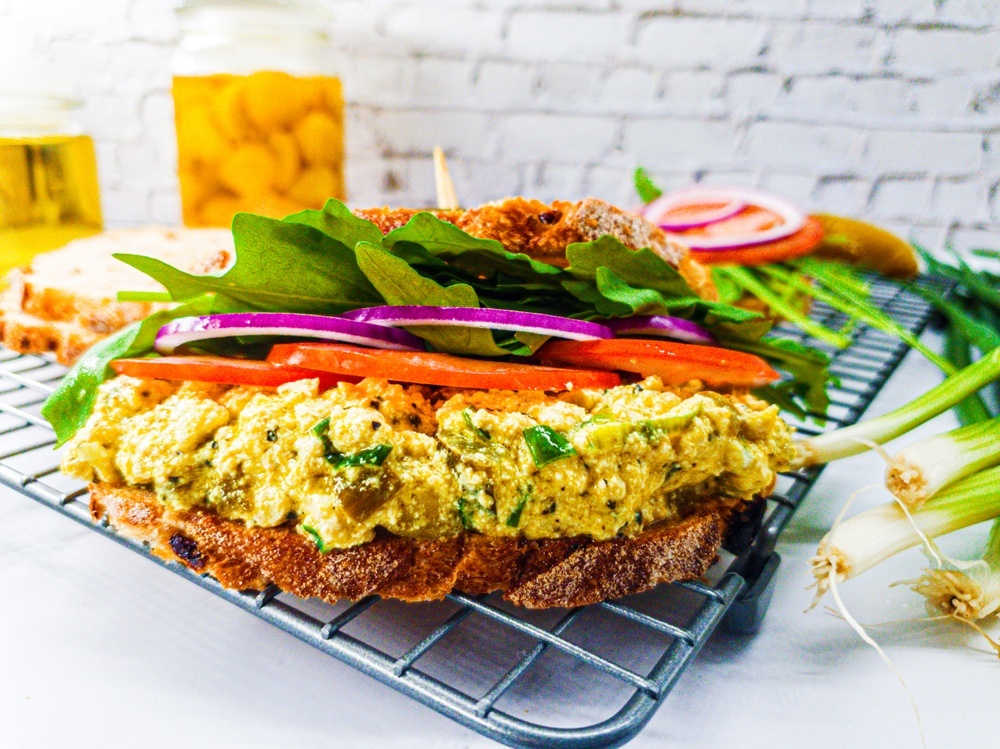 The greens I added are finely chopped celery and green onions. These Chopped fresh veggies, combined with the eggy tofu, thanks to the black Indian salt in it, taste exactly like classic egg salad. You wouldn't pass a blind taste test. It is just a filling and delicious salad to have.  This vegan egg salad is suitable for any meal. Breakfast, lunch, dinner, or in between.  Additionally, this vegan egg salad is perfect for one meal a day diet, (OMAD) because it is rich in protein and has good fats that contribute to longer satiety, and in one recipe there are only 550 calories per 420 grams of vegan egg salad!
Vegan Egg Salad
Vegan egg salad from grated tofu with homemade vegan mayonnaise and black Indian salt.
Ingredients
300

Grams

Tofu

Well dried, crumbled by hand, or grated

3

Green onions

Chopped

½

Cup

Celery

Chopped

5-6

Small pickled cucumbers

I used pickled cucumbers in salt. Finely chopped.

5

Tbsp.

Vegan mayo

½

Tsp

Black Indian salt

½

Tsp

Black pepper
Instructions
First, dry the tofu well from the liquids with a paper towel.

Grate the tofu with a grater or food processor with a perforated knife. You can also crumble with your hands. Transfer to a mixing bowl.

Add the rest of the ingredients and mix well with a spoon.

Cut a good slice of bread of choice or burrito, add the vegetables you like, and eat. Bon Appetite!