Hello lovelies!
Passover is coming to an end, and like every year, we are going to celebrate the Mimouna with a table full of sweets and delicacies from Moroccan cuisine. The Mimouna is celebrated on the last day of Passover, by Jews from Morocco and North Africa. Mimouna symbolizes the return of eating chametz at the end of Passover. On Passover, it is accustomed to avoiding eating any leavened yeast pastries and bread.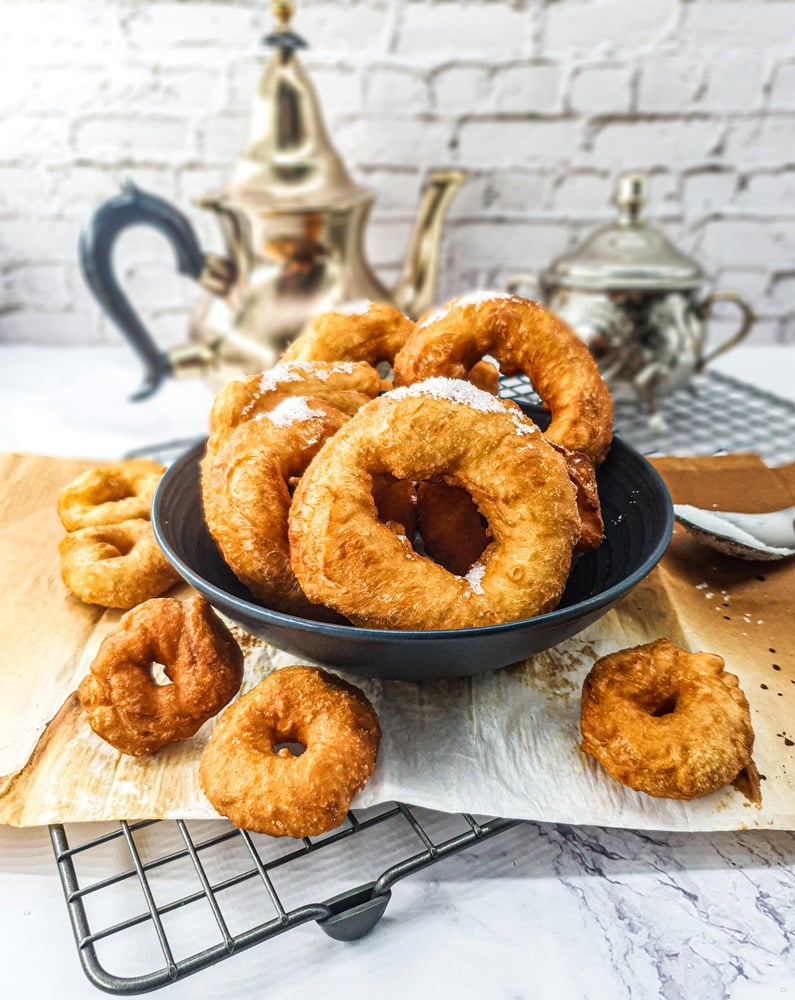 This is why Passover is called the "holiday of matzoth" in Hebrew. Throughout Passover, Jewish people eat "matzah bread". Matzoth symbolize the fast bread that the Israelites had before their escape from Egypt during the Pharaohs' reign. Therefore, Mimouna is the day that ends Passover and starts with a table full of festive delicacies and which is enjoyed by every guest passing by. Our door is open for everyone, even strangers. The table gets refilled until late at night. 
On the table, we will have kinds of small and sweet tea cakes. Vegan Coconut Macaroons, almond spiced cakes, semolina rosewater cakes, "Chebakia", which is a deep-fried crispy dough usually coated with honey and sesame seeds (we will have maple-coated ones), meringue rose cookies, and of course, the 2 pastries that are most identified with this Mimouna holiday, Mufleta, and "Sfinge" or "Sfenge" – Moroccan donuts, fluffy and crispy, and vegan.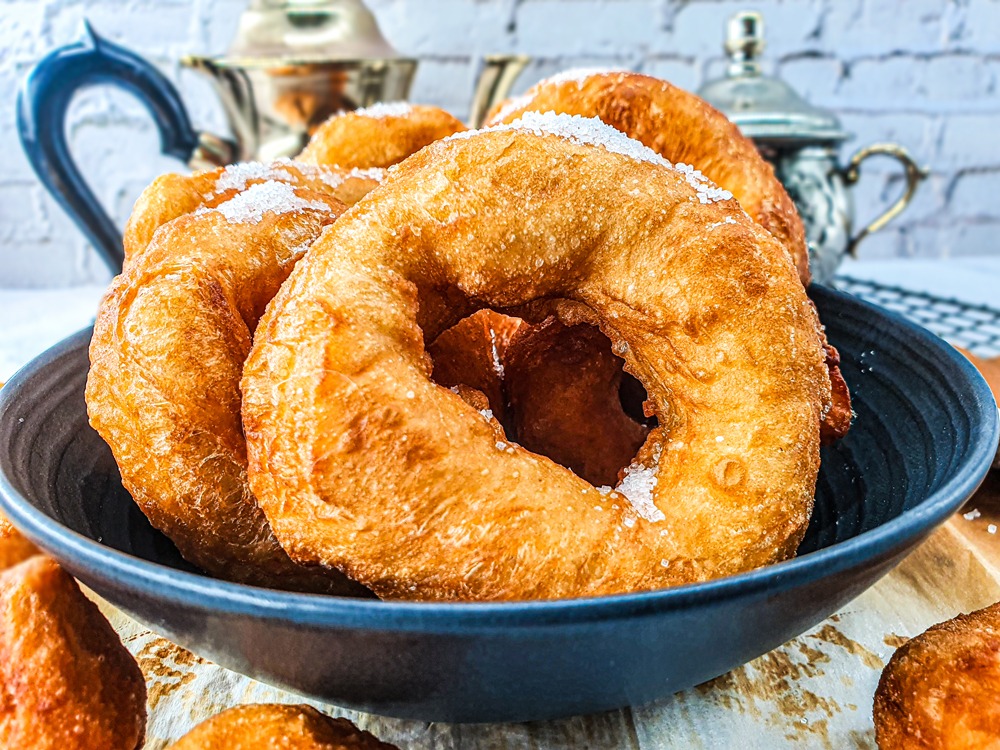 You would also find these donuts traditionally served on happy days, festive occasions, and holidays. It is popular Moroccan street food and you'd find vendors on the street serving them fresh and hot. These Moroccan donuts are crispy and sweet on the outside, while soft and chewy on the inside. So delicious that it's really hard to have only one. An absolute treat!
We'll start with making a yeast dough, whose texture will be very sticky. Mix all the ingredients in a bowl. While one hand stabilizes and holds the bowl, knead the dough well with the other hand to unify the dough. Make sure to kind of break all the lumps. Cover the bowl with cling film. Let the dough rise for half an hour to 40 minutes, or until the dough has doubled in size.
After resting the dough, take a baking tray, and spread it with a thin layer of oil. Roll small size balls out of the dough and place them on the tray to rise for another 30 minutes. Heat oil in a deep pan, take each ball, and poke a small hole in the center of the dough ball with your finger. Gently open it to the desired donut size. Carefully place it in the hot oil. Fry for about 4-5 minutes on each side or until golden. Place on paper towel. Its usually served with sugar. So as it comes out of the hot oil, coat in sugar on all sides, or as much as desired.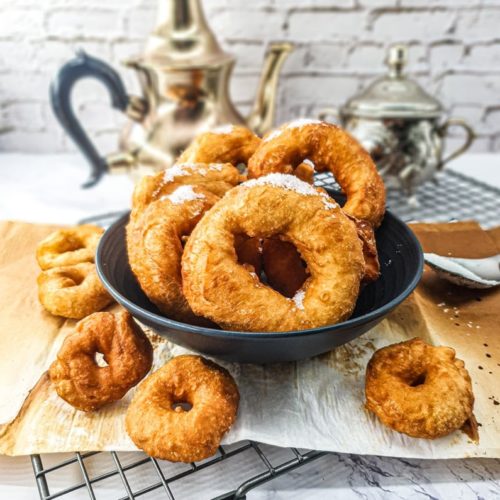 Moroccan Donuts - Sfinge
Moroccan style fluffy fried vegan donuts. Crispy on the outside and fluffy on the inside. Easy recipe.
Equipment
Frying Pan

Spider spoon

Mixing bowl

Tray or pan for raising the dough
Ingredients
1

Kg

White flour

2

Tsp

Dry yeast

10

Gram

Baking powder (2 tsp)

1

Tsp

Salt

2

Tbsp.

Sugar

600

ml

Lukwarm water
Instructions
Mix all the dry ingredients in a bowl.

Add water and start kneading the dough well until combined for about 10 minutes. The dough will be very sticky.

Oil your hands up and shape the dough into a ball shape. Cover the bowl and let rise for about half an hour.

After half an hour, oil your hands together and form dough balls. Place each ball on a greased pan and let rise for another half hour.

Heat oil in a wide pot or deep frying pan over medium heat. Put a wooden spoon in the oil and check for bubbles around the spoon. If so, the oil is ready for frying.

Take each ball and make a hole in the center of the ball with your finger. Fry donuts in the hot oil and flip after a few minutes or fry until golden.

Remove and place on a plate with absorbent paper. Coat each donut with a bit of sugar, maple syrup, or anything you like.