Hi friends!
I really love pies. There is something very comforting and inviting about them. I find them very suitable for the winter. I can pass on having food all day just for a nice piece of the pie. This recipe is my take on my favorite pie, Vegan lemon meringue pie. This time Instead of the lemon curd, I made a fragrant fresh strawberry and basil curd which pair beautifully together. If you don't like basil you can leave it out or alternatively use fresh mint leaves that will go together very well instead.
I also really like recipes with aquafaba. Ever since I discovered vegan meringue, I haven't stopped whipping. Baking vegan kisses, pavlova, vegan macaroons. It's Just an excellent substitute for egg white. Yes, it does take going through a learning curve and time to understand this fascinating ingredient. But once you do, it becomes very easy to work with Aquafaba in the end.
This pie is really delicious. Medium difficulty but totally worth it. For the skilled pie bakers among you, it will be easy. Needs a little more patience when working with pie crust. The 2 steps I would describe as the "most challenging" are the pie crust step and the vegan Italian meringue. Apart from the fact that an explanation is attached to the recipe, you can get a more detailed explanation in the vegan lemon meringue pie recipe found here on the website.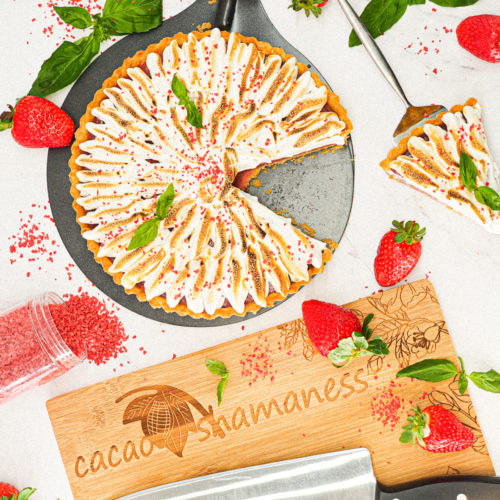 As for the pie crust, I just want to point out that this time unlike the other times, I mixed the flour and cold butter in both hands instead of using a dough cutter. And it came out just fine. After the dough is ready, we need to refrigerate it wrapped in cling film for half an hour anyway. For that reason, I found it unnecessary to use a dough cutter for mixing or worry that we are heating the dough mix with our hands. We need to knead it a bit anyway. Of course, you can use a mixer for the kneading part but since the kneading is really short, I see no point in using any more dishes. If there are any questions I would be happy to answer them here. Good luck and hope you enjoy making this recipe!
Vegan Strawberry Basil Meringue Pie
Interesting take on the Classic Meringue Pie with Vegan Strawberry Basil Curd
Equipment
24 mm pie pan

Mixer

Sugar Thermometer

Scale

Uncooked grains for blind baking

Blender
Ingredients
Pie Crust
250

Gram

Flour

150

Gram

Vegan Butter

4

Tbsp.

Powdered sugar

2

Tbsp.

Ice cold water

½

Tsp

Vinegar

½

Tsp

Salt
Strawberry Basil Curd
400

Grams

Fresh Strawberries

Blended into juice

100

ml

Plant milk

100

Grams

Sugar

or any sweetener of your choice

3

Tbsp.

Cornstarch

4

Fresh Basil leaves

Chopped thinly (chiffonade)

2

Tbsp.

Coconut oil or Vegan butter
Vegan Italian Meringue
150

ml

Reduced Aquafaba

⅛

Tsp

Cream of tartar

2

Tsp

Vanilla paste
Sugar Syrup
250

Grams

Sugar

2

Tsp

Agar Agar

80

ml

water
Instructions
Pie Crust
In a bowl, mix flour, powdered sugar and salt.

Add the vegan butter cubes and mix to a sandy texture.

Add the vinegar and water and knead until combined. Form a wheel shape, wrap in cling film and refrigerate for 30 hours to set.

After 30 minutes, place baking paper, flour it a little and roll out the dough on it with a rolling pin until a thin layer is obtained.

Lift the thin dough with the help of the baking paper and place it on the pie pan. Tighten the dough to the bottom and sides of the pan and cut edges. Poke holes at the base with a fork and refrigerate for another half hour.

Take baking paper and cut it into a circle of suitable size. Place the paper on the dough and pour over the uncooked beans to create weight.

Bake in a preheated oven at 170 ° for about 30 minutes. After 30 minutes, remove the weight from the beans and continue to bake for another 30 minutes until slightly golden and the bottom of the pie is completely baked. Remove from the oven and allow to cool.
Strawberry Basil Curd
Grind the strawberries in a blender until smooth. In a separate bowl, mix the milk with the cornstarch.

In a small saucepan, heat together the strawberry puree, milk and cornstarch sugar and stir constantly until it begins to thicken for about 7-10 minutes. Add the basil and butter and mix.

Pour the strawberry filling into the crispy pie and straighten with a spatula. Let the refrigerator cool for about two hours.
Vegan Italian Meringue
In a mixer, start mixing the aquafaba and the tartar cream until a stable foam lasts about 10 minutes.

At the same time make the sugar syrup. Bring to a boil water sugar and agar agar. Use a sugar thermometer and reach a temperature of 119 °.

Pour the sugar syrup into the sides of the bowl very carefully. Add vanilla and continue to whisk until the meringue cools.

Transfer the meringue to a perfusion bag with a center in the shape you chose. Sprinkle the meringue over the pie. Using a burner, you can burn the meringue slightly at the edges. It can be decorated with basil leaves and dried strawberries. Store in the refrigerator for up to a week.