Hi Lovelies!
How can we bid the summer farewell without having this easy and delicious summer dessert recipe! And the next pastry is exactly that. This Vegan Peaches Gallete is a little sweet, tangy, crispy, and very light. It's originally a French pastry made from pie crust dough. I used a mixture of 50% white flour and 50% whole spelt flour to get a more rustic/nutty flavor look to it.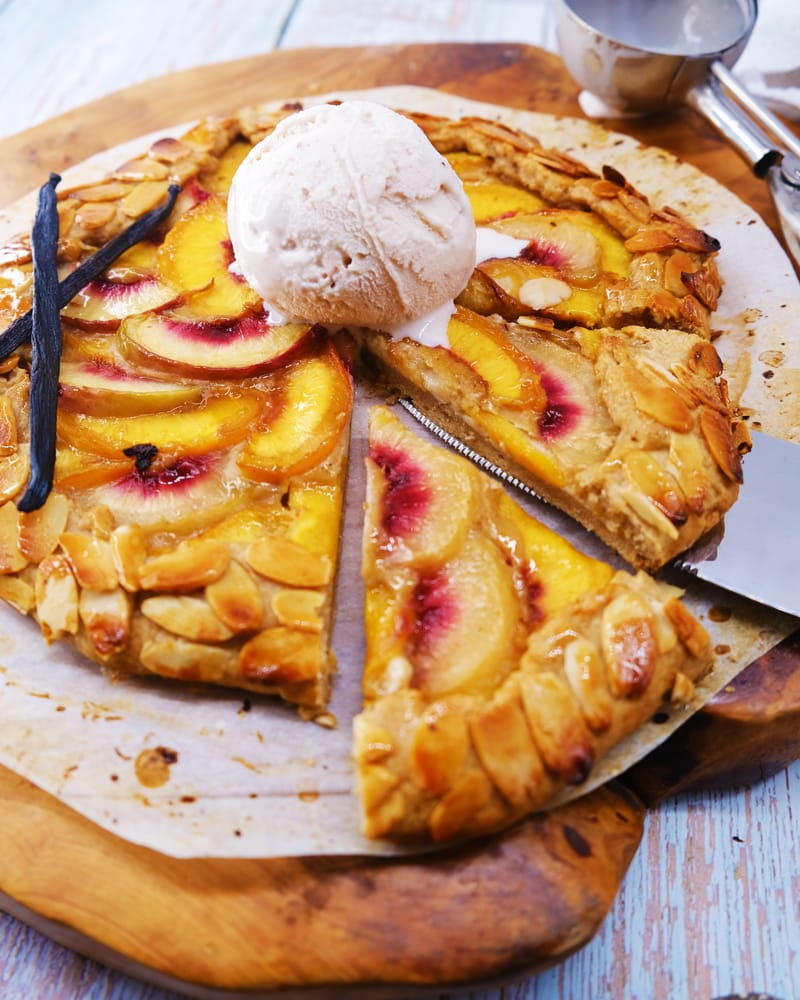 How to make the pie crust dough
The fat ratio has to be high enough for it to get a crispy texture that crumbles in the mouth. We'll add just about enough liquid in a form of vegan yogurt. That way the pastry won't fall apart completely before it reaches our mouth lol. I used vegan butter this time. You can of course use margarine or coconut oil. Make sure that for any of these options, vegan butter/coconut oil, must be at a cold temperature and cut into cubes. The goal is to assimilate the fat into the dough without it becoming wet or sticky. 
Once obtained a sandy texture from mixing the flours and vegan butter, add a little cold liquid. I chose vegan yogurt because it also replaces the binding role of the egg. You can also use a little ice water instead of yogurt, about 2-3 tablespoons will do the trick. It's important to knead until combined. At the same time, don't overwork the dough, otherwise, gluten will be developed, which will prevent the crust from turning crispy. Place the dough in the refrigerator for 30 minutes to rest and allow the butter to cool again.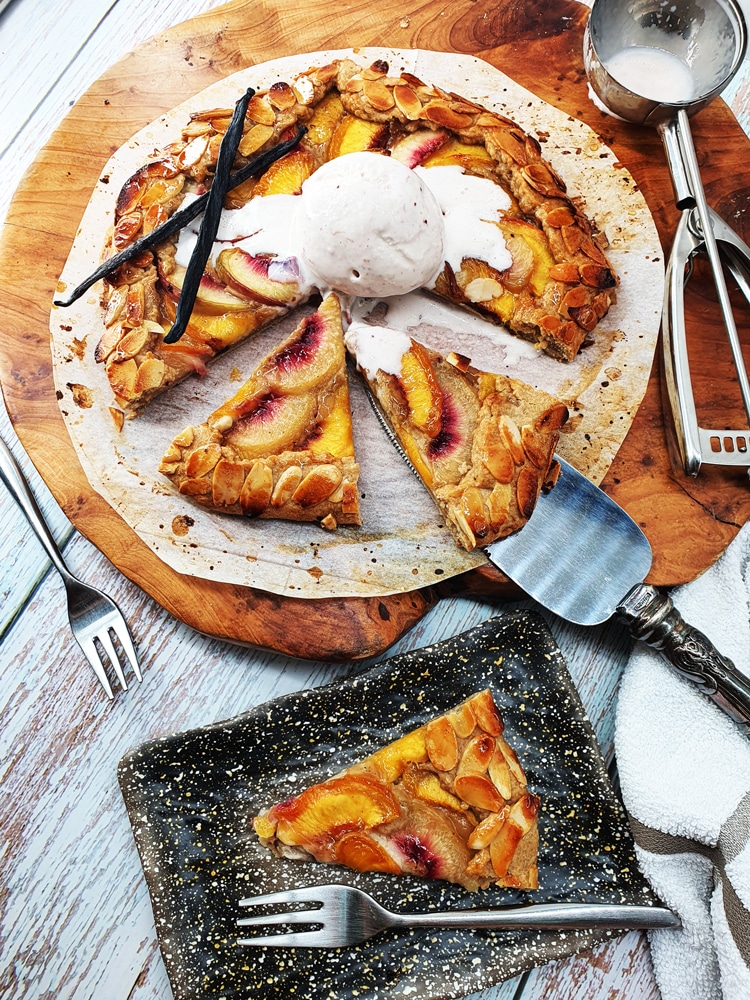 Peaches and cream filling.
Feel free to use any fruit you want or even turn it into a savory pastry. Here I chose white peaches and yellow peaches. Remove the peel-off them by scoring X shape at the bottom of each peach. Cook them in boiling water for about 5 minutes and then transfer them to ice water. This method is called "Concassé" and is usually used to peel tomatoes. You don't have to peel the peaches if you don't want to.
The vegan sweet cream cheese filling is also very simple to make and contains only 3 ingredients. Choose a vegan cream cheese that you like. I Mixed it with a little vanilla paste and maple syrup. So simple, yet wonderful creamy filling for this pastry.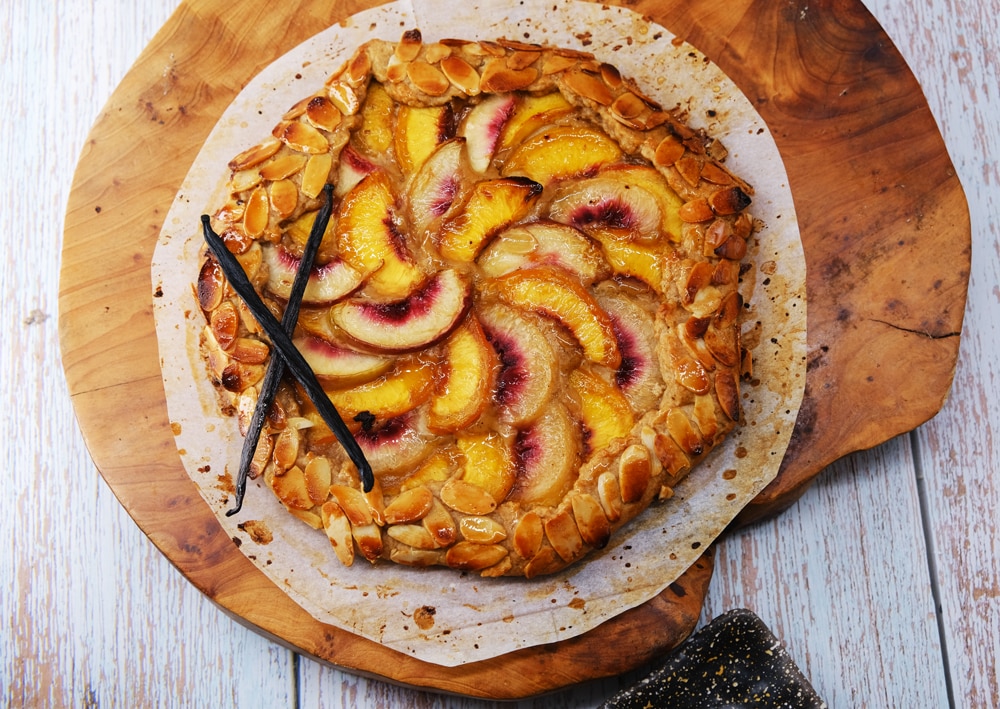 Assembling the vegan peach galette
Once the pie crust has rested in the fridge, we'll need to roll it out to a thin dough, between 2 baking sheets so that the dough doesn't tear apart. If you want a nice round galette shape, take a round bowl and place it over the dough to cut the edges into a round shape. Again this step is optional and you can skip it if you want a more rustic-looking gallete. All that is left to do is fill the dough with the vegan cream cheese filling and our rum spiced peaches. Fold the edges over the peaches, and place the gallete in the oven. It's best served hot with a scoop of vanilla ice cream on top. Just perfect! Enjoy!!
If you made it, tag me on my Instagram page Cacao Shamaness!
Vegan Peaches and Cream Gallete
Crispy baked pastry with sweet cream cheese and peaches.
Equipment
Baking Tray

Mixing bowl

Rolling Pin

Kitchen scale
Ingredients
Vegan Gallette Dough
120

gr

Whole wheat/spelt flour

120

gr

All-purpose flour

150

gr

Vegan butter

Very cold and cubed

4

Tbsp.

Cane sugar

2

Tbsp.

Vegan yogurt

½

Tsp

Sea salt

1

Tbsp.

Organic apple cider vinegar
Peaches
5

Peaches

Both white and yellow are possible.

1

Tbsp.

Vanilla bean paste

2

Tbsp.

Dark rum

Optional

3

Tbsp.

Maple syrup

¼

Cup

Water

1

Tbsp.

Tapioca starch
Vegan Sweet Cream Cheese Filling
2

Tbsp.

Vegan Cream Cheese

1

Tbsp.

Maple syrup

1

Tsp

Vanilla paste
Instructions
Vegan Galette Dough
In a bowl, mix the flour, sugar, sugar, and cold butter. Either hand or with a dough cutter to keep the butter cold. It's important not to knead for a long time but to get an oily sandy texture.

Add the yogurt and apple cider vinegar and continue to mix for another minute. If the mixture crumbles too much add another tablespoon of yogurt or a tablespoon of cold water.

Mix the dough until fully combined. Place in a bowl, and refrigerate for half an hour.
Peaches
Peel the peaches. you can do it with a peeler, or with blanching in boiling water for about 5 minutes and then transfer to ice water after you've made an X-shaped cut at the bottom of each peach that will help to release the skin from the fruit.

Cut each peach into 2, remove the core, and cut each half into slices.

In a bowl, mix the tapioca, water, rum, and vanilla. Add all the peaches to the mixture. Mix the peaches with the mixture so that everything is covered.

In a separate small bowl, mix all the ingredients of the vegan cream cheese filling.
Assembly and Baking
Remove the dough from the refrigerator after 30 minutes, place it between two baking sheets and roll the dough with a rolling pin over the baking paper in a circular motion. That is, roll lengthwise and then sideways until you get a thin dough about 30-50 millimeters thick.

Place a round bowl over the dough and with the help of a knife cut the edges so that you get a beautiful round shape.

Spread a layer of the cream filling in the middle in a circle.

Arrange the peach slices in a circular motion as well. Start from the middle and continue around the first circle until you reach the end. Leave about 2 inches free at the edges.

Fold the edges over the peaches in a circular motion.

You can garnish the edges with sliced almonds or sticks.

Bake in the oven for 35-40 minutes.

Serve with a scoop of vegan ice cream that you like.