Hey friends!
Hope you are well!
I really miss mayonnaise-based salads. So, I decided to make vegan mayonnaise. A really easy recipe, delicious, without preservatives, and takes only 5 minutes. You do need to have for this Vegan Mayo recipe, a blender, or a food processor with a top opening so that you can slowly pour oil through it. This way, you will actually create an emulsion. An emulsion, for those who do not know, is mixing between 2 unmixable ingredients like oil and water.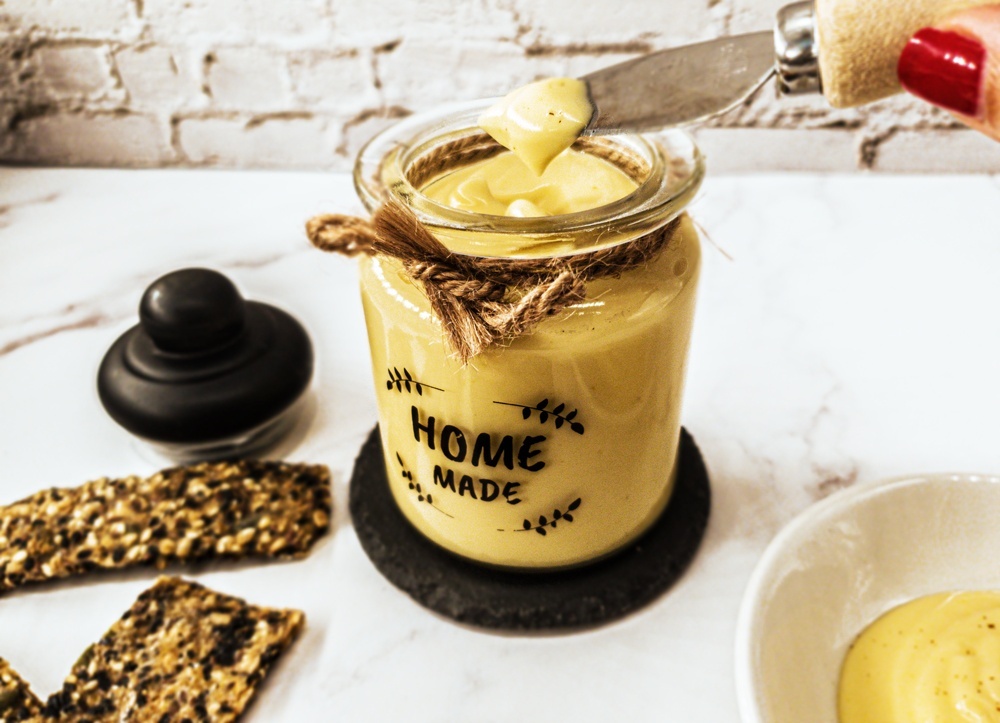 The 2 ingredients from which we will create an emulsion are, reduced aquafaba (chickpea water) together with oil. If you do not want to use chickpea water, you can use soy milk in the same amount. So how do we actually mix them to a stable mayonnaise? We must have in our existing ingredients an emulsifier at a high enough level that together with the rapid agitation, the molecules of the emulsifier will hold together molecules of water and oil into a homogeneous texture. We can then make vegan mayonnaise from a liquid with a high protein level like soy milk, chickpea water, potato protein, for those who know how to use it, and I know a lot of recipes for mayonnaise with silk tofu.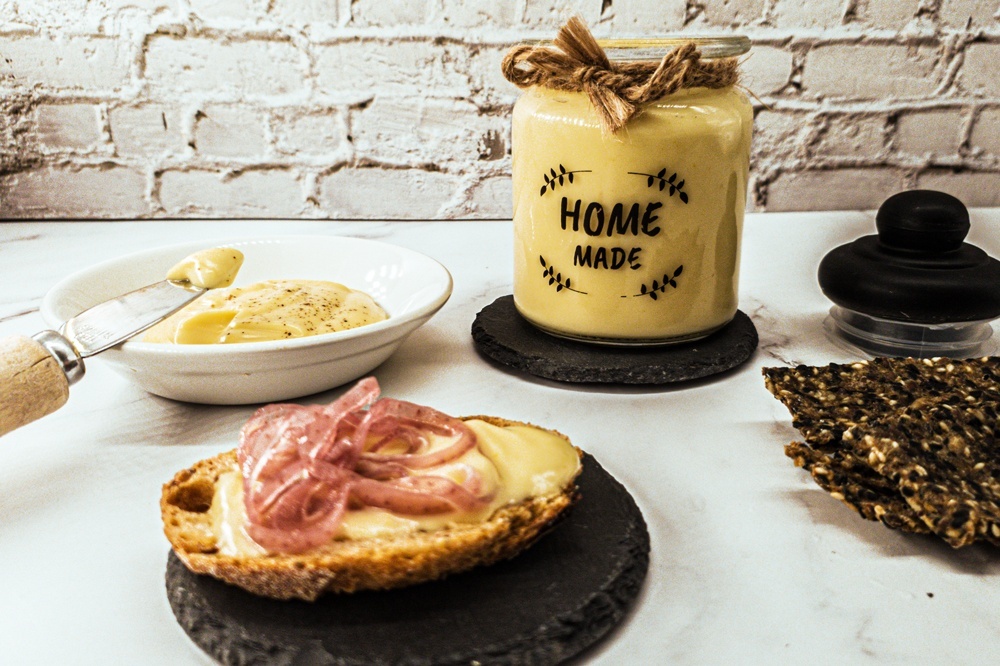 Mustard is also a bit of an emulsifier, so it is very suitable for our vegan mayonnaise. In the classic version, mayonnaise with eggs contains mustard as well so we will use it also for the flavor. It doesn't contain enough emulsifying substances that we can use any other plant milk like almond milk or oat milk. This is what I read about vegan mayonnaise and other types of milk. Therefore, in order for our Vegan Mayo recipe to be 100% successful, it's better to use either aquafaba or soy milk/silk tofu.
Vegan Mayonnaise
Vegan Mayonnaise sauce from aquafaba and grapeseed oil.
Ingredients
150

ml

Reduced aquafaba

You can alternatively use soy milk or soft silken tofu.

1.5 - 2

Cups

Grapeseed oil

1

Tbsp.

Mustard

1

Tbsp.

Red wine vinegar

1

Tbsp.

Lemon juice

½

Tsp

Salt

½

Tsp

Black pepper

Optional

1

Tbsp.

Garlic confit

Optional for a rich garlic flavor
Instructions
In a blender, pour in the aquafaba and mustard and start blend at high speed.

While blending, pour oil slowly until the texture begins to thickens. If the texture is still runny add more oil. If too stable it can be diluted with a little water.

Once stabilized you can add the rest of the flavors, vinegar, salt, lemon, garlic confit, and whatever you like.

A good tip I learned at the restaurant I once worked at: The red wine vinegar can be replaced by any vinegar with the flavor you want, such as balsamic vinegar, for example. Then you get a delicious balsamic mayonnaise spread or sauce.