Hi friends!
 So, we are already in the midst of the third quarantine and all I can think about is a vacation abroad. Such a vacation that has a magical exotic beach, warm sun and pleasant breeze, sound of waves, and a refreshing fruity drink. To honor this beautiful illusion, I decided to make myself a very festive smoothie with a double layer. One layer of blueberry smoothie and on top another layer of strawberry smoothie. Topped it with vanilla-flavored coconut whipped cream.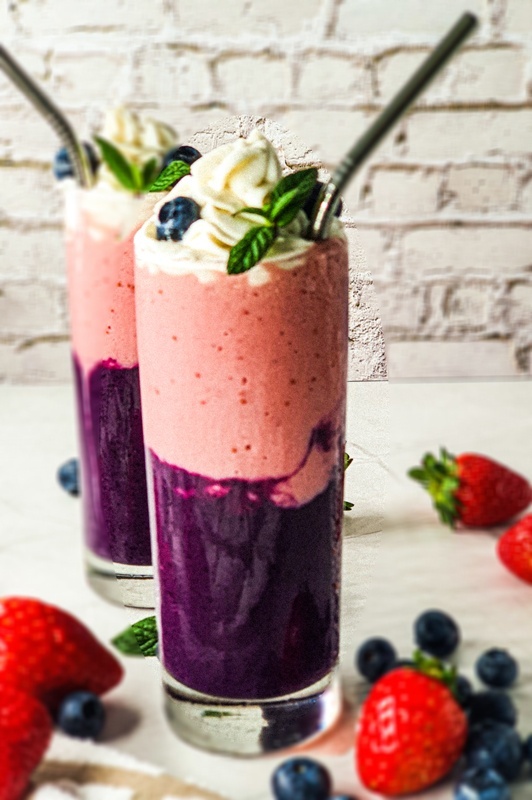 Because it's a festive smoothie, (and because we are on vacation …,) and relative to other smoothies This one requires a bit of effort but it comes out really good and refreshing with a smooth and fun texture. All we have to do, the day before we need to make the frozen berries cubes and the next day you can use them for a smoothie or any other day you want. Just toss the fruit cubes into the blender, a splash of plant milk or even vegan yogurt, or coconut water, water or any liquid you like will fit in here. The texture of the smoothie created here is just amazing.
In order to make a stable and smooth coconut whipped cream, you will need to put a can of coconut cream in the freezer for at least 12 hours the night before, so that the fatty part will separate from the coconut water to the top and the liquid remains at the bottom. I also added a bit of brown sugar a teaspoon of vanilla puree for the taste and tapioca-based whipped cream stabilizer powder that you can get at bakery supply or online stores.
So go make your fancy drink and let's all have an amazing vacation 😊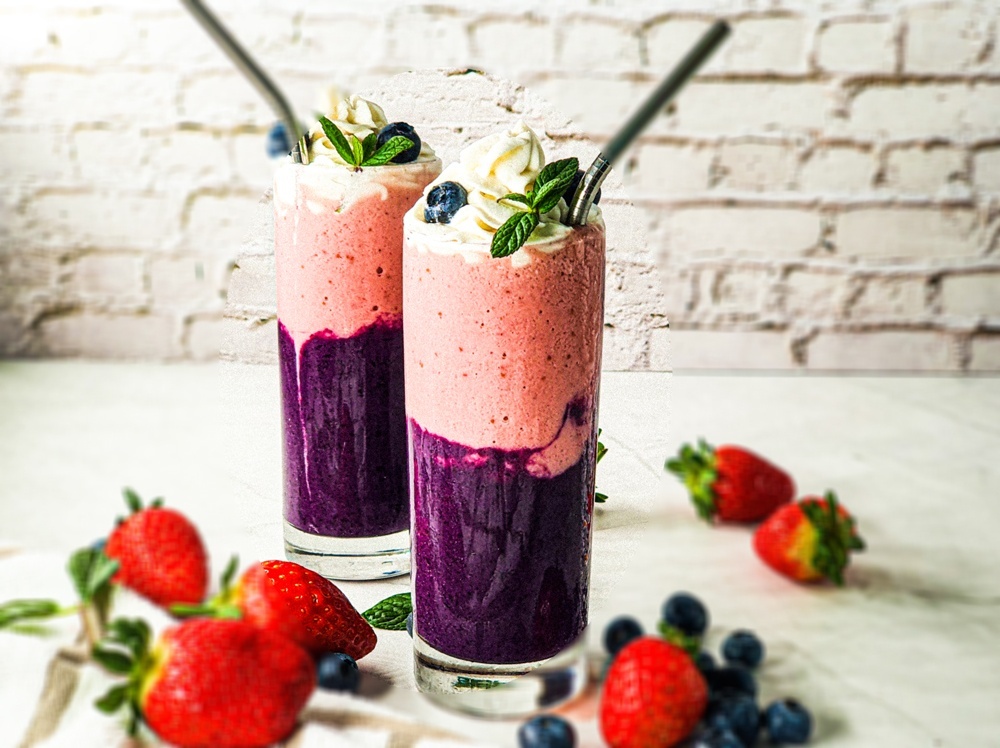 Double Berry Smoothie
Two layers of refreshing smoothies. Vegan Blueberry and strawberry smoothies with coconut whipped cream.
Equipment
Saucepan

Blender

2 Ice trays
Ingredients
Blueberry Syrup
250

Grams

Blueberry

Fresh or frozen

1.5

Cup

Water

3

Tbsp.

Maple syrup
Strawberry Syrup
250

Grams

Strawberry

Fresh or frozen

1.5

Cup

Water

3

Tbsp.

Maple syrup
For The Blueberry Smoothie Layer
¾

Cup

Plant milk

I used semi-sweet soy milk

Frozen blueberry syrup cubes we made the day before
For The Strawberry Smoothie Layer
¾

Cup

Plant milk

Frozen Strawberry syrup cubes we made the day before
Coconut Whipped Cream
1

Can

Coconut cream just the fat

place in the freezer overnight

1

Tsp

Vanilla paste

1

Tbsp.

Sugar

2

Tsp

Whipped cream stabilizer

Optional
Instructions
For blueberry syrup and strawberry syrup (prepare the day before)
In 2 small pots put in each one separately. The strawberry syrup ingredients in the first, and the blueberry syrup ingredients in the second pot. Bring both to a boil over medium heat.

Cook for about 20 minutes until a slightly thick and glossy syrup is obtained. Set aside to cool.

After the strawberry syrup has cooled, transfer to a blender and blend till smooth. Then pour the mixture into an ice cube tray and place in the freezer overnight. Repeat the same with the blueberry syrup.
For The Smoothie
Blend the frozen blueberry syrup cubes together with the soy milk and pour into a glass. Then rinse the blender and prepare the second layer of strawberry smoothie.
Coconut Whipped Cream
If there is no whipped cream stabilizer, you can mix the rest of the ingredients and put a tablespoon or 2 of the cream on top. If there is a whipped cream stabilizer, mix the super in a bowl with a hand mixer.