Orange Rosemary & Charred Meringue Cake
Hi everyone!
I have yet to study the pastry arts professionally at my culinary school. But I certainly have a growing passion for beautiful, aesthetically designed cake recipes with different and sophisticated layers, in different flavors and textures. In my culinary studies at school, I used to peek at the pastry classes products and was no less and perhaps even more enthusiastic about these fancy recipes that were made there. This Vegan Orange Meringue cake is delicious and rich. I really had fun making it. Built all the layers and just admired the final product. Very much therapy if you like being creative.
Cake, Custard, Meringue Layers
What we have here are 2 layers of soft sponge cake flavored with orange and vanilla. The middle layer is made of a vegan orange custard with a hint of rosemary. This beauty is covered with a vegan charred Italian meringue, vanilla-flavored, that's tastes like marshmallow. A delicious combination of flavors! Just a stunning cake. This cake is perfect for any celebration and gathering, and its appearance will make your guests think you bought it at a boutique or a fancy confectionery. This vegan meringue orange cake is perfect for holidays, birthdays, or just because.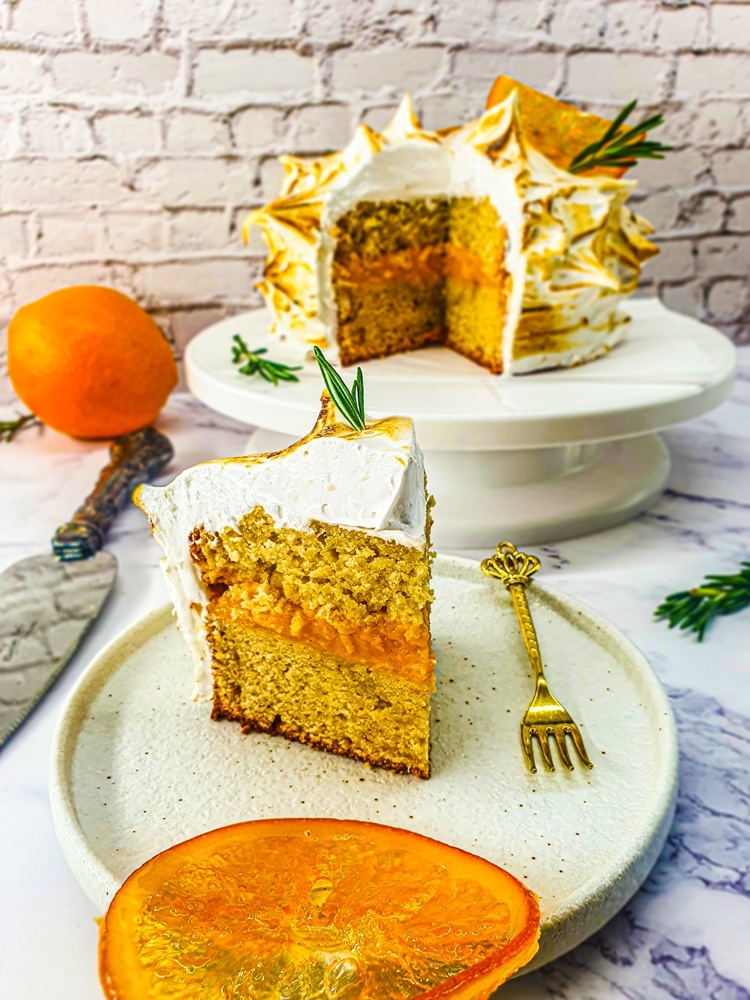 get creative Use any fruit you have!
Just a note, it's important that the oranges you choose are the juiciest and aromatic. If you feel that the orange is lacking in those qualities, you can enhance it by using a flavor extract. You can use almost any fruit for this custard. You can also leave it out if you want, and instead of custard, just do a layer of vegan Italian meringue in the middle. You can of course make the cake and the custard with lemons or any other citrus fruit. It is also possible to enhance the color with a little natural food coloring.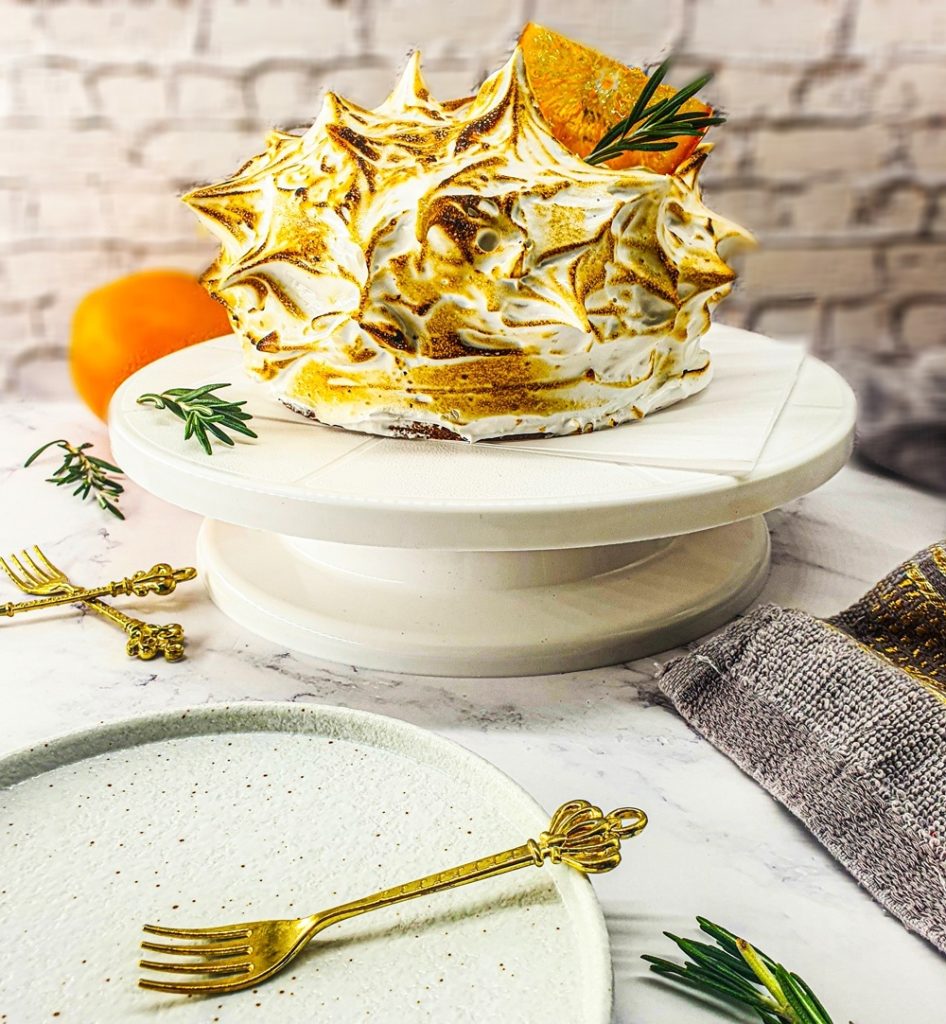 To make the meringue, I used Aquafaba, which is the water from canned chickpeas. For those of you who don't know yet, aquafaba is a perfect substitute for egg whites when it comes to meringue desserts. Italian meringue is a whipped aquafaba with a hot sugar syrup poured into the mixer. This process must be done very carefully so, as not to get burnt from boiling syrup that may splash on you. To read more on aquafaba you can go to The Full Guide To Aquafaba blog post. I would be happy to help if there are any questions. Good luck with the recipe and enjoy!!
For More Aquafaba Dessert Recipes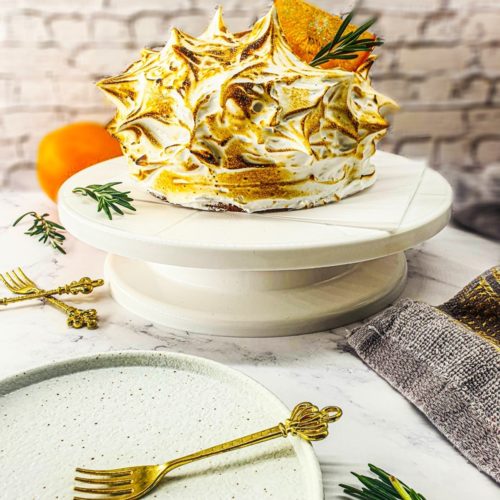 Orange Rosemary & Charred Meringue Cake
A layer of orange cake, orange and rosemary custard, and a scorched Italian vegan meringue coating.
Equipment
Scale

Round baking ring + flat baking pan

Mixer

Sugar Thermometer

Small saucepan
Ingredients
Orange Cake
410

Gram

Flour

2

Tsp

Baking powder

½

Tsp

Baking soda

Pinch

Salt

120

Gram

Sugar

1

Tsp

Vanilla paste

90

Gram

Grapeseed oil or veg oil

110

Gram

Plant milk

180

Gram

Apple puree

150

ml

Fresh orange juice

1

Tbsp.

Vinegar
Orange Rosemary Custard
200

ml

Fresh orange juice

70

ml

Plant milk

120

Gram

Sugar

2

Branches

Fresh rosemary

2

Tbsp.

Cornstarch

1

Tsp

Orange zest

2

Tsp

Agar flakes

1.5

Tbsp.

Coconut oil or vegan butter

1

Tsp

Vanilla paste

Pinch

Salt
Vegan Italian Meringue
120

ml

Reduced aquafaba

Chickpea water from a can, reduced from the initial amount in the can to 120 ml, and kept refrigerated overnight.

¼

Tsp

Cream of tartar powder

1

Tsp

Vanilla paste
Sugar Syrup
200

Gram

Sugar

2

Tsp

Agar flakes

80

ml

Water
Instructions
Orange Cake
Weigh all the ingredients, in a bowl mix the dry ingredients. In a second bowl, mix the wet ingredients. Pour the wet mixture over the dry and mix gently until combined.

Prepare the baking ring. Seal the base first. Take a piece of foil, larger than the size of the ring, and place baking paper on top. Fold and tighten the foil to the sides of the ring so that the batter won't leak. Place the ring over a flat baking tray.

Pour the batter into the ring and flatten with a spatula. Bake in the oven for 40-50 minutes. Check with a long stick in the center of the cake if it is not wet. Set aside until completely cooled.
Orange Rosemary Custard
In a small saucepan mix all the ingredients well except the coconut oil.

Cook over medium-high heat while stirring with a whisk or spatula. Mix well when the mixture begins to thicken about 7 minutes from the start of cooking. Continue to thicken until a firm custard is obtained.

In the last step add the coconut oil and mix well. Set aside to cool for half an hour.

When the cake has cooled, take it out of the baking ring and cut it straight across to pour the slightly stabilized custard.

Pour in the custard, flatten with a spatula, place the top piece of the cake over the custard we have spread, and refrigerate for at least two hours.
Vegan Italian Meringue
In a small saucepan put the sugar, water, and agar flakes and cook over medium heat until the syrup reaches 118 ° C about 7 minutes after boiling.

At the same time, beat the aquafaba in a mixer. Add the cream of tartar. Beat on high speed until a soft foam is obtained. At this point, you can add the vanilla puree.

Pour the syrup slowly into the side of the mixer bowl and continue to whisk at a high speed for 10-8 minutes until you get a really shiny meringue with pointed and stable peaks.

Using a spatula, spread a thick layer of the meringue over and around the cake. To create the spikes, wear a disposable glove on one hand, and pinch with your fingers around the cake.

Using a burner, carefully sear around until the meringue gets the color and aroma of a burnt marshmallow.