Hi Friends!
A super easy, tasty, and healthier recipe for homemade sweet potato chips. No need to give in to those snacks from the grocery store every time you shop !! You can now only give in sometimes … The advantage of this recipe is that you can get the perfect snack in minutes and add your favorite spices. Here I used sugar and cinnamon but you can add salt, spices like garlic powder or onion powder, herbs, etc, and get your perfect snack !!
These sweet potato chips are baked with a little bit of oil without preservatives or unfamiliar ingredients. Comes out even tastier than a store-bought snack. It is better to eat as it is prepared right after cooled down a bit and became crunchy or store in a closed container to maintain freshness.
It is best to have a quality Mandoline slicer at home to achieve the desired result. The cut should be very thin and it will be a bit challenging (but possible) to cut really thin with a sharp knife. For this recipe, you need to prep 2 baking trays with parchment paper. After cutting all the sweet potatoes, put the slices in a bowl and mix with the desired oil and spices. Bake in the oven for about 20 minutes while after 10 minutes of baking flip each slice and bake for another 10 minutes. You have to check every so often which slices are ready because if you do not watch, they burn in seconds and the difference between perfect chips to burnt chips is a matter of a few moments. The chips should curly at the edges and when you notice that- this is the time to keep an eye on them towards the end of its baking.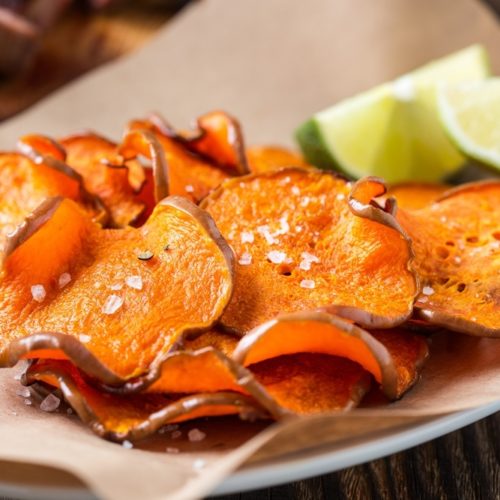 Baked Sweet Potato Chips
Oven Baked Crispy Sweet Potato C hips with sugar and cinnamon
Equipment
Baking Tray

Mandoline slicer
Ingredients
2

Large

Sweet potatoes

3

Tbsp

Olive oil

2

Tbsp

Sugar

2

Tsp

Cinnamon Powder

½

Tsp

Salt
Instructions
With a Mandoline slicer cut the yams as thin as possible, if you don't have a slicer use a sharp knife. if you use a knife cut the yams to halves first to stabilize them, and cut with caution.

Place all the slices in a large bowl and add the oil sugar and cinnamon and mix well with your hand but gently to not brake the slices. make sure all the slices are rubbed with the oil and spices.

Bake in 200°C for 10 minutes on 1 side then take the tray out of the oven (carefully!) flip all the slices to the other side and bake for another 10 minutes.

Take out slices that baked faster and are done and set aside to cool

Watch carefully towards the end of the baking so they wont burn. the potatoes might need less baking time. take them out of the oven as soon as you see curling and that they are dry. the will be more crispy as they are cooling down

Serve in a clean bowl. If left over, store in a box with a lid to keep it fresh.