Vegan Dumpling Wrappers Recipe
Hi friends!
Today we will make a recipe that I've wanted to make for a long time, Dumpling wrappers dough from scratch! I'm just crazy about all kinds of dumplings. This dumpling wrappers recipe will work great for many different types of stuffed dumplings. Mainly suitable for pan-seared steamed dumplings. You can fill the dumpling sheets with any delicious filling you like. You can also shape them in many different ways.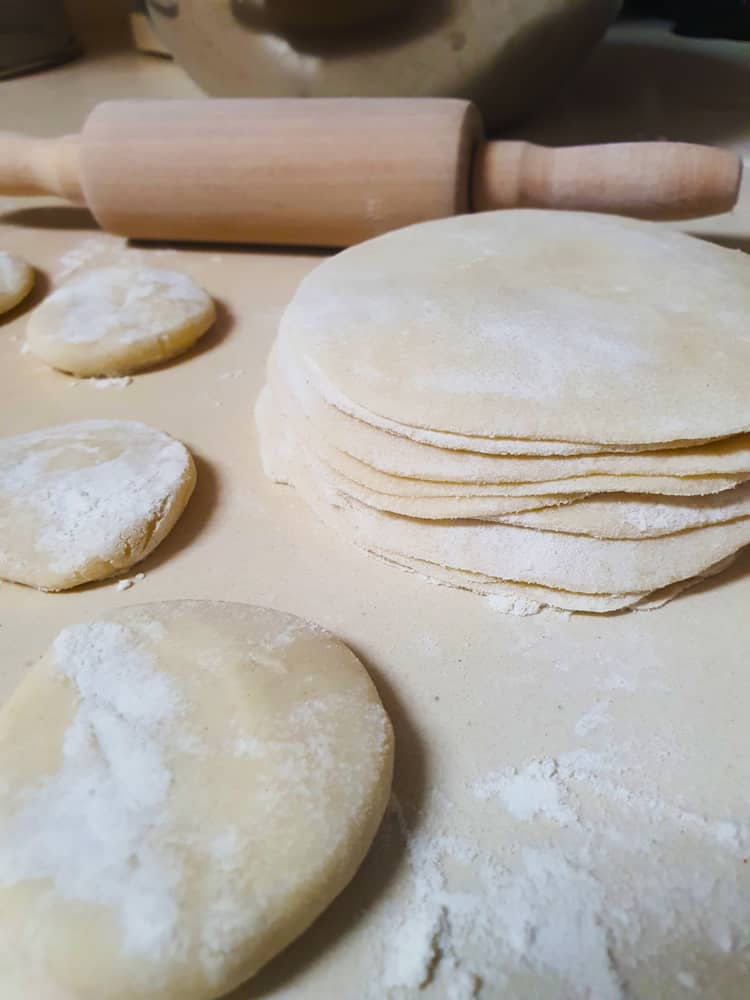 How to make dumpling wrappers
The process is pretty easy. This recipe yields about 25 round wrappers and can be frozen to use later. The only ingredients we will use are white flour, cornstarch, and water. Any white flour will work here. The cornstarch will help make our dough softer.
The first step is to sift the flour and cornstarch into a mixing bowl to prevent lumps and mix them all evenly.
Pour the boiling water into the flour mixture and mix. At first, this mixture will look dry. But don't worry. Eventually, it'll come together into a perfect dough. Add the cold water. Mix again, and then start kneading until all the mixture has formed into a dough.
The dough needs to rest now, for about 15 minutes, in a sealed container, as it's still hard to work it. After a short rest will be more flexible and softer.
After resting, knead the dough well for 10 minutes. Form ball or disc shape and let the dough rest for an hour.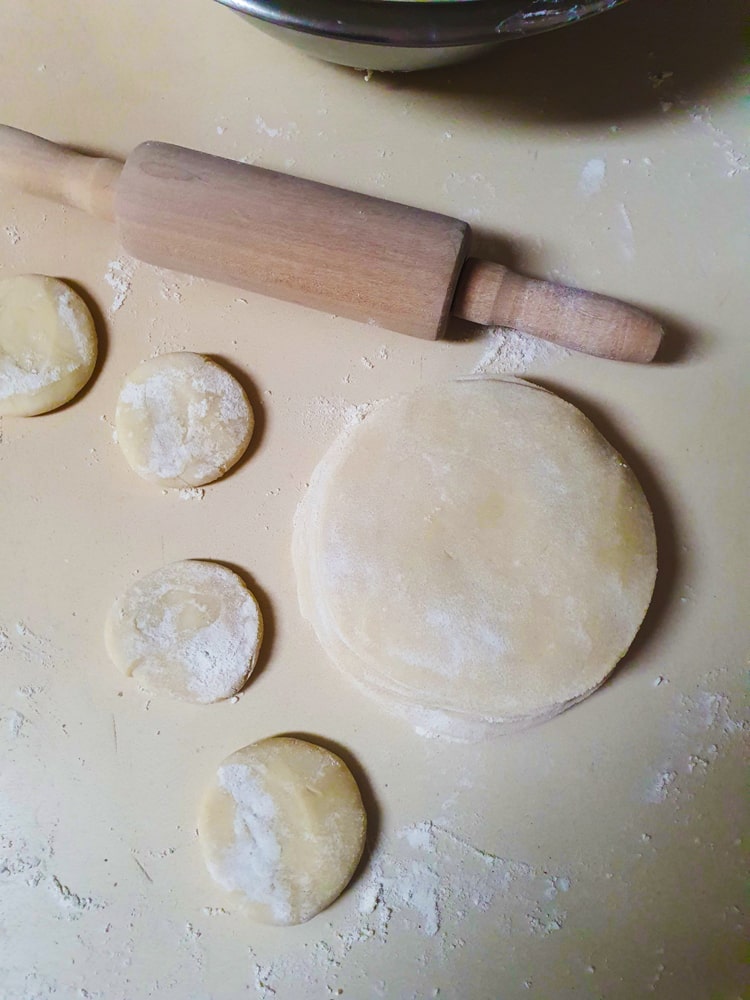 After one hour, the dough will be even softer. With the help of the thumb, poke a hole in the center of the dough. Open it, and stretch gently in a circular motion. Cut the "donut" in the middle lengthwise and widthwise into four equal parts.
Roll each piece into a not-too-thin snake shape, about 20 cm long. Cut each "snake" into six equal parts. Roll each piece thinly into a round wrapper.
Using your hand, flatten the pieces of dough we cut. Since we divided a snake shape dough, each piece of dough should be round already. We don't need a round cutter or a special knife to create a round wrapper.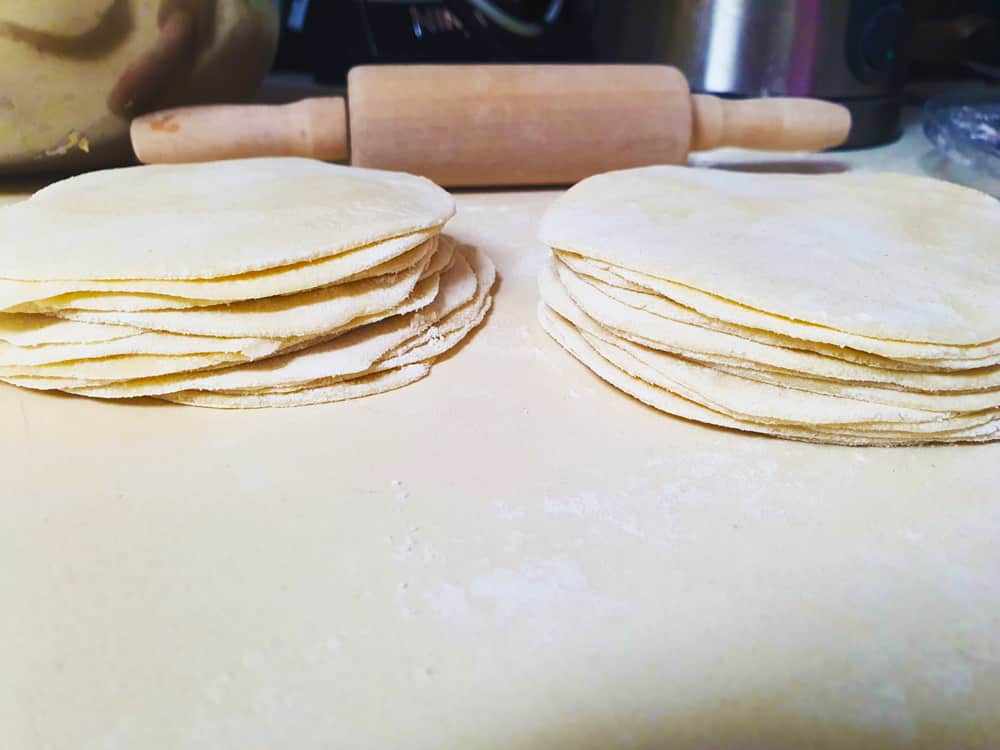 Rolling stage – our goal is to get a nice thin dumpling wrapper. It's crucial to flour the surface each time before rolling out a new wrapper. To keep it from tearing or sticking to the surface.
My preference is to use a small rolling pin here. A small rolling pin is much more convenient and efficient because we roll out small pieces of dough. Roll using a pin. Rotate the dough 90 degrees each time until you get a very thin wrapper. With this easy method, the round shape will form.
Using and storing dumpling wrappers
You can use these dumpling sheets as soon as they are ready. All you have to do is to make a filling that you like, such as vegetables, mushrooms, vegan minced meat, etc. Don't forget to make a delicious sauce that will suit the dumpling. Add filling in the center of the wrapper. Wet the edges with a bit of water and seal them according to the desired shape. Make sure that the filling is drained from any access liquids. Therefore, if the vegetable or ingredient you use for your filling has liquids left, pass it through a cheesecloth and squeeze it well.
If you want to freeze the dumpling wrappers, it's important to flour again between each sheet so that they don't stick. Place them on top of each other and place them in a closed bag or container.
Click here to learn how to make dumplings stuffed with vegetables!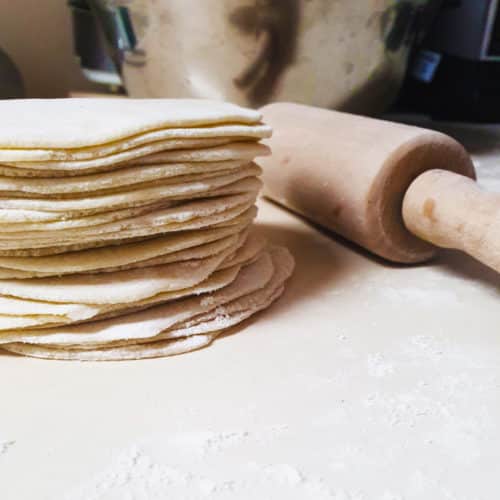 Dumpling Wrappers Dough
Dumpling wrappers dough recipe for dumplings, gyoza, wontons, and more.
Equipment
Kitchen scale

Mixing bowl

Small rolling pin

Strainer

Measuring cup
Ingredients
200

gr

Flour

And then some for dusting

50

gr

Cornstarch

90

ml

Boiling water

40

ml

Room temp water
Instructions
Strain the flour and cornflour into a bowl.

Gradually pour in the boiling water and mix.

Pour in the cold water, and start kneading for about 10 minutes until all the mixture uniforms.

Place the dough in a covered bowl to rest for 15 minutes.

Knead the dough again for another 10 minutes and let rest for another hour.

After an hour, take the ball of dough and use your finger to make a hole in the center of the dough. Stretch and expand the dough slightly with your hands.

Divide the dough in the shape of the donut into 4 equal parts with a knife.

Flour the surface you are working on. Roll out the first part into a thick snake shape 15-20 cm long. Cut it into 6 equal parts with a knife.

Flatten each piece by hand into a small disc shape. Always make sure the surface is floured. Take a small rolling pin and roll it up to a thin, round thickness. Repeat with the rest of the pieces. And with the rest of the dough.

Stack all the dumpling sheets on top of one another as you make sure to flour in between each wrapper.

Make your desired filling and use the wrappers immediately, or store them in a bag and keep them in the freezer.