crispy shallot chili oil recipe
Wow, wow, wow! what excitement is going on here!! This crispy shallot chili oil is one of the most amazing things I've made lately! As someone who eats a variety of noodle dishes almost every day after a workout, whether it's Udon Noodles or an Asian Noodle Salad, I made a recipe that upgrades their flavors in a rare way. Your Next noodle dish will never be the SAME!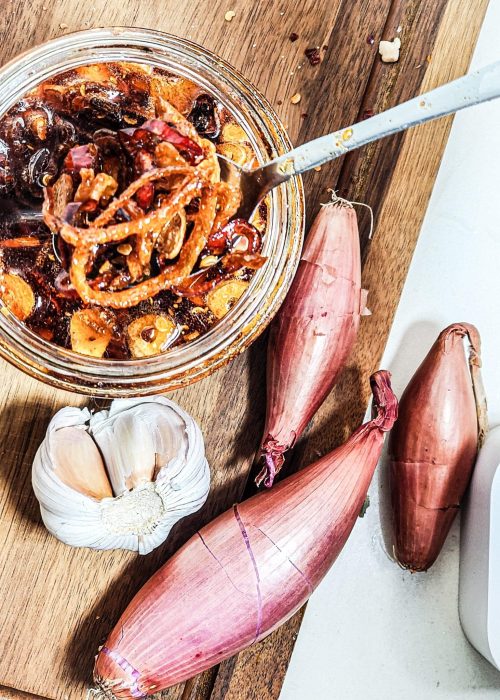 Why do you really need to make your own
I first had it when I originally ordered it from Amazon during one of my long stays in New York. (So AWESOME you can order specialty groceries straight to your doorstep!!). I generously drizzled it into every dish I made. That's how I knew I had to make my own Chili Oil Recipe.
If I didn't convince you to make it and you are lazy, you can get Crispy Shallot Chili Oil Here. This recipe is better tho:)
When you add it to your recipes, you could easily think you've arrived in Thailand or at least an authentic Chinese restaurant. This chili oil is so good that I even added it to my Moroccan Matbucha Salad and you must be asking, 'How are these 2 related??'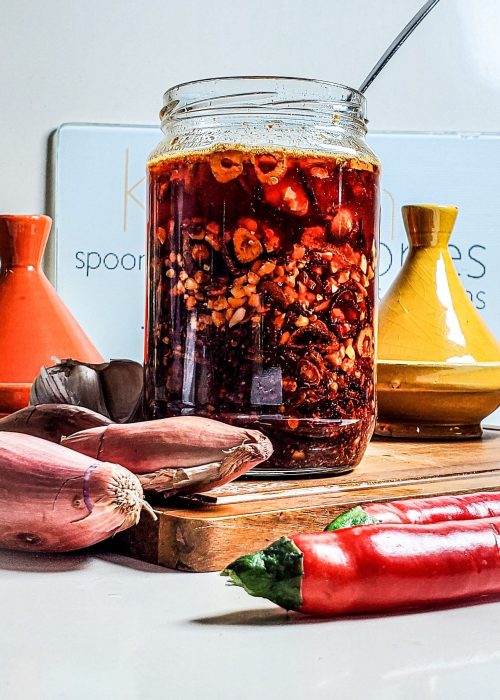 You can use it for so many recipes!
So the connection is, that Matbucha Salad is a slow-cooked salad based on tomatoes and red peppers. It is cooked for a long time, usually over 4 hours, until it reaches a very smooth consistency similar to jam or puree. At the end of its cooking, I'm adding a generous amount of oil. It is usually olive or other good-quality oil. In recent years, every time I cooked Matbucha salad, I added a touch of store-bought chili oil, instead of adding hot green peppers to it. And since then, I've been making it this way.
This time, I added this crispy shallot chili oil (only the oil, though) and fireworks came out of the kitchen!!
I'm telling you all this so that you can be sure that this oil spices up and turns anything you would add chili oil to – really delicious!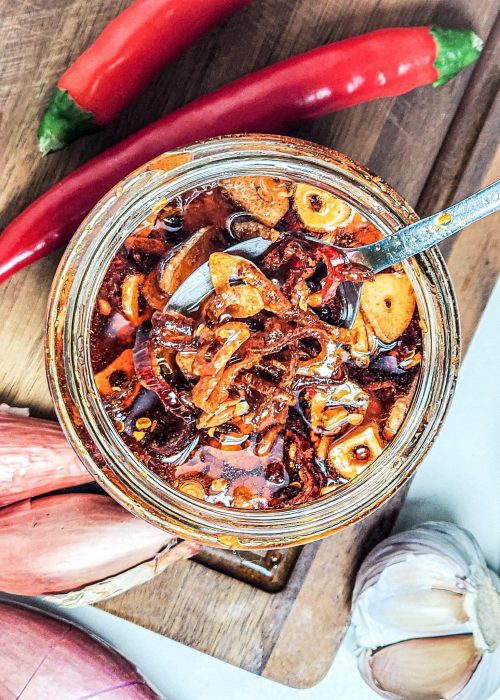 What crispy shallot chili oil can be used for?
Which ingredients make the perfect crispy shallot chili oil?
Dried Chili Flakes – available at any spice store, these add the characteristic flavor of chili oil.
Sweet Paprika – I like to add good quality sweet and fragrant paprika. You can also add Spicy Paprika, but this recipe already has fresh hot chili so make sure you don't add too much heat unless you like it. Alternatively, you can also use Korean red chili powder which will also turn out very tasty but slightly different.
Salt – this seasons the foods, so a heaping spoonful of salt should be added. I used pink Himalayan salt, but you can use any.
Maple Syrup – you can also add sugar instead, but I preferred maple, it turns out just perfect.
Sesame Oil – is also available in any Asian store. Adds a nutty aroma to this perfect oil.
The rest of the ingredients:
Garlic, fresh chili, ginger – You can of course add all of these in powder form, but the taste is much better and higher quality with fresh ingredients.
Crushed Peanuts – add extra crunch and texture to the chili oil.
If you want to improvise, you can also add sesame, green onion, cloves, cumin, and cinnamon – All will work great, it's up to you.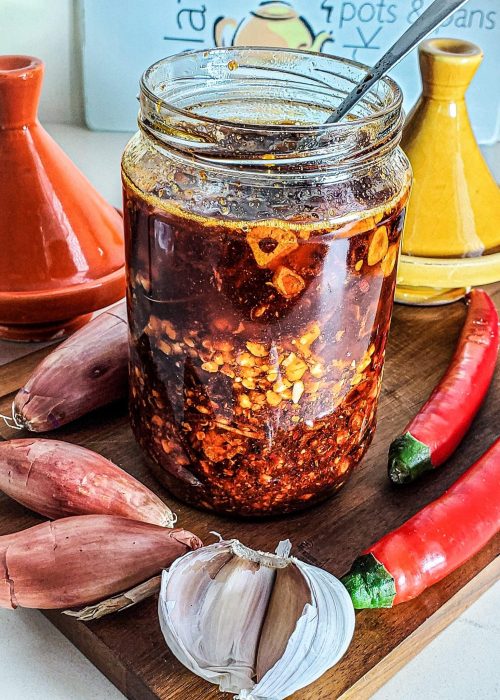 How to make crispy shallot chili oil?
So of course for a recipe like this, we first have to start with… that's right, strips of crispy shallots. By the way, if you have a lot left, you can snack on it or add it to foods such as vegan hamburgers, salads, spreads, etc.
– In a wide pot, heat 2 cups of cooking oil. I used grape seed oil.

– Slice the shallots thinly and fry on medium-high heat until the onion gets a uniform golden brown color. Between 11-15 minutes with mixing in between.

– When the onions are a nice light brown color, transfer them to a plate with absorbent paper, and sprinkle a little salt, to absorb excess liquid. It's important to save the oil for the rest of the recipe, it is full of flavor!
– And for the last and quite important part, we will transfer the fried onions to dry in the oven at 200F degrees so that they will get an extra crispy texture and be a delicious crunchy addition to your dishes. This is to only dry the access moisture not bake them.

– In the same shallot oil that remains, fry the garlic, ginger, and chili for about 5 minutes. Drain them and put them on a plate with absorbent paper with a spider spoon leaving the hot oil in the pan.

– Add the spices, peanuts, maple syrup, and sesame oil in a Heat-Resistant Mason Glass Jar. Carefully pour half of the boiling shallot oil over the spices and mix well with a long spoon.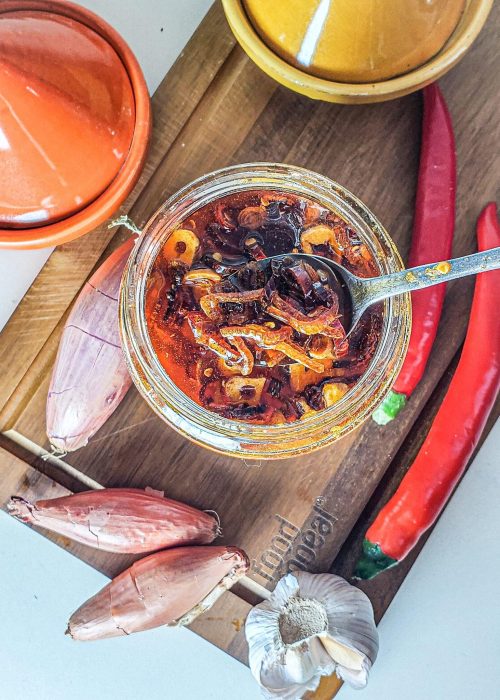 – Add the crispy shallots, and the garlic-chili-ginger mixture that we fried earlier, and pour the remaining oil until the end. Mix again to obtain an even mixture.
All that remains is to seal it with a lid and store it in the pantry. Since it is an oil, it can be kept for a long time and does not require refrigeration. Enjoy!!
Other Homemade Basic Recipes: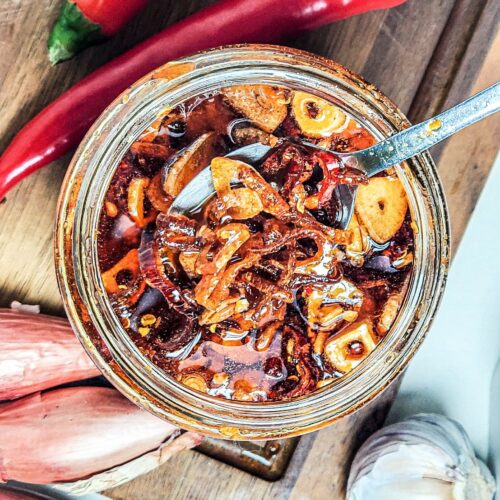 Crispy Shallot Chili Oil
Crispy Shallot Chili Oil with peanuts, ginger, and more. It's excellent for dumplings, noodles, and compliments many Asian dishes.
Equipment
Frying Pan

Knife

Cutting board

Spider strainer

Baking Tray

Mason Jar 32oz/940ml

or any glass jar you have
Ingredients
2

Cups

Avocado Oil / Grapeseed Oil  

5-6

Shallots

Thinly sliced lengthwise

10

Cloves

Garlic

Sliced

1-2

Fresh chili

(optional) Sliced

1

Tbsp.

Salt

½

Cup

Red Chili Pepper Flakes

or 8 Tbsp

¼

Cup

Crushed Peanuts

or 4 Tbsp

2

Tbsp.

Ground Ginger

¼

Cup

Maple Syrup

or 4 Tbsp.

¼

Cup

Sesame Oil

or 4 Tbsp.
Instructions
Preheat oven to 100C / 220F degrees on drying or ventilation.

Prep the jar that will contain the oil in advance. Add inside: Chili pepper flakes, Crushed Peanut, Salt, Maple Syrup, and Sesame oil.

Fry the shallot strips in a pan together with 2 cups of oil on medium heat for about 15 minutes. You can add the onions to cold oil first and let the oil bubble as it heats up. You have to keep an eye all the time so that the onion does not burn.

When the onion turns golden, remove it with a spider or strainer over a plate with absorbent paper and let it dry for a few moments. Sprinkle a little salt on top. Leave the oil in the pan.

Dry the onion in the oven for about 15 minutes until it becomes crispy. Be careful, it's addictive 🙂

Once the onion is crisp and ready, put it in the jar with the rest of the spices.

In the same oil that remains in the pan, lightly brown the garlic and chili for about 5 minutes on medium heat. Once golden and crispy, strain the garlic and chili from the boiling oil (so they don't burn) with a slotted spider spoon, and set aside.

Pour the hot oil very carefully into the jar with the mixture we prepared in advance and mix well with a spoon.

After the oil has cooled, you can close the jar with a lid, and keep it in the pantry for up to six months.

If after you have used the oil, the oil content gets small and there are still a lot of spices and onions in the jar, you can add cold olive oil. The flavors are so strong that it will still be possible to reuse and pour more oil.