Delicious Vegan Corn Cheddar Biscuits
Hi lovelies!
Ok, so this is one of the best! Corn, jalapeno, and cheddar Vegan Biscuits! Those little scrumptious breakfast buns are, airy buttery, and just perfect! You can have it plain and toasted, just as is. Well… the toppings are already in the dough, and making them just so addictive! You can also have them sliced open in the middle and spread anything you like! Vegan cream cheese, guacamole, or whatever you fancy. These vegan biscuits are just savory goodness. Just be mindful here! – they're not considered diet food eh?  It's advised to enjoy them while maintaining an exercise routine. Lol. Within 30 minutes prep, without waiting for it to rise, and you just got yourself 8-9 fluffy puffy vegan biscuit buns.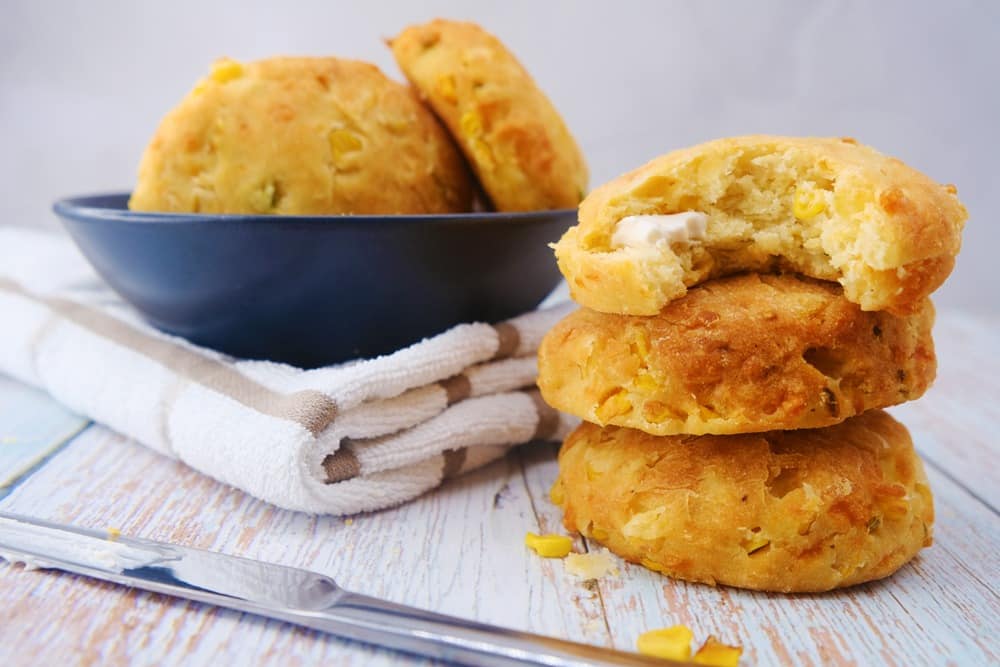 What makes Vegan biscuits with such a perfect texture?
The answer is vegan butter. The ratio is almost half the amount of flour. Giving it an airy and fluffy texture. Like having a bite of a baked cloud. The butter is joined here by 2 other ingredients that help the biscuits get their flaky fluffy texture. These are the baking powder, combined with Cream of Tartar powder or vinegar. These two help the pastry rise nicely while baking.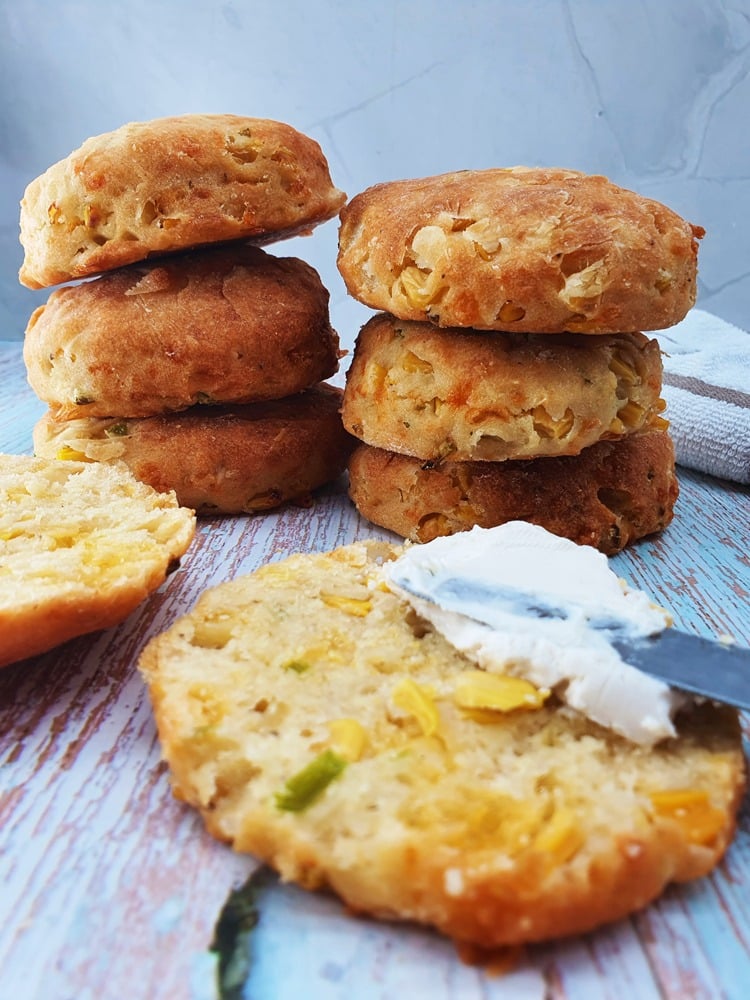 How to make the perfect corn cheddar vegan biscuits
This recipe is so easy and quick that you won't believe you were done in 30 min.
Make sure you have vegan, cold, cubed butter in advance.
In a bowl, weigh and mix all the dry ingredients – flour, salt, black pepper, baking powder, and cream of tartar. If you do not have COT, you can replace it with vinegar. Instead of adding COT to the dried ingredients, add it along with the soy milk.
Into the flour mixture in the bowl quickly mix the vegan butter cubes. We don't want to work it too much. We want to make sure the butter stays as cold as possible. Once an oily sandy texture is obtained, add the soy milk and mix well with a spatula. 
The dough is very sticky so to create the round biscuit shape we will transfer the dough to a well-floured surface and knead it lightly for about 2 minutes. 
Form a ball out of the dough and flatten it with your hands to a height of 1.5-2 cm round disc shape.
From the flattened dough, cut as many circles as possible with a round cookie cutter. 
Place all the biscuits on a baking pan and that's it! 
You can brush a mixture of soy milk and maple syrup on top of them to get a beautiful brown color. 
Bake in a preheated oven for about half an hour until golden. The biscuits will rise slightly in the oven.
When you take them out, it will be very difficult to wait until they cool down… but try anyway. It's recommended to serve with a particularly delicious dip such as guacamole or salsa!!!
Enjoy!😊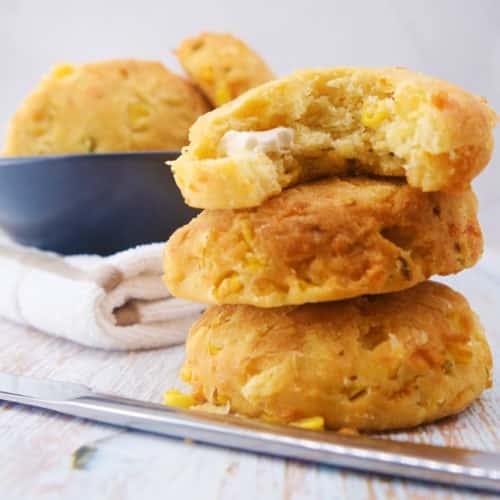 Vegan Corn Cheddar Biscuits
Mini round buttery rolls with vegan cheddar cheese, jalapeno, and corn.
Equipment
Baking Tray

Mixing bowl

Round cookie cutter 4cm-6cm
Ingredients
2

Cups

All-purpose flour

270 gr

1

Tbsp.

Baking powder

½

Tsp

Cream of tartar powder or videgar

½

Tsp

Pepper

1

Tsp

Salt

¾

Cup

Soy milk

180 gr

½

Cup

Vegan butter

115 gr, cubed

2

Cups

Corn

2

Jalapeno

Chopped

1

Cup

Vegan cheddar cheese

Shredded
Instructions
Preheat oven to 200 ° C. Get a tray with baking paper ready in advance.

Mix all the dry ingredients in a bowl: flour, salt, pepper, baking powder, and cream of tartar. If you have vinegar instead, add it to the soy milk first.

Add the butter to the bowl with the flour and mix by hand until an oily sandy texture is obtained.

Add the soy milk and mix well with your hand or stirring spoon. The mass should be quite sticky.

Add the cheese, chopped substitutes, and corn and mix until a sticky but uniform dough is obtained.

Flour the surface generously, and flour the hands well so that the dough does not stick to the hands, but still remains sticky on the inside.

Remove the dough mixture to the floured surface and knead for about 2 minutes with your hands until a ball is formed. Once you have created a ball, flatten it to a height of 1.5 cm with your hands or a rolling pin.

Cut circles out of the dough using the cookie cutter and place each biscuit on the baking tray. Unite all the leftover dough, form a ball again, flatten and form more circles as much as possible.

Bake in the oven for 25-30 minutes until the biscuits are lightly golden.

Serve with a vegan butter spread, guacamole, or vegan cream cheese and fresh salad. Enjoy!