Hi friends!
Today I am really excited because I am going to recreate a traditional dish that was a really big part of my childhood and my life until I became vegan. My Vegan Moroccan Patties Stew is an attempt to recreate the special flavors and aromas in the traditional dish that was and still is the star on our table when in special events, holidays, and on Fridays family meals (Sabbath).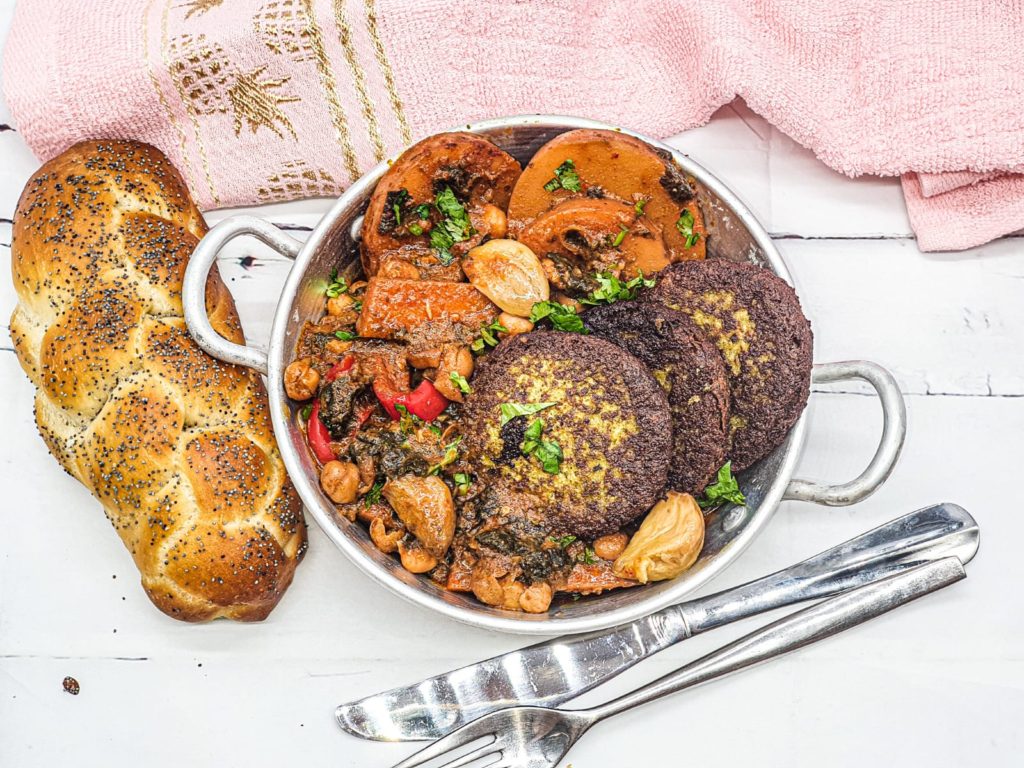 A traditional Moroccan dish is usually served with fresh homemade challah to soak up all the flavors of the sauce. A comforting and filling meal!
For the vegan challah recipe, click on the following link
Although the recipe consists of many ingredients, it is pretty easy to cook and consists of two parts.
Is the fish patties. The base is made with tofu, lots of herbs, and a mixture of Nori Seaweed Flakes which will give them a fishy taste. First, we will prepare the patties mixture in a blender, and transfer the mixture to a refrigerator for two hours or more. After the mixture cooled and rested we can form patties and fry them in a pan or bake them, it will be faster and better to fry. The frying creates a golden-brown crust for the "fish" tofu patties. This way the flavors of the stew that will thicken and look more like sauce, are going to be absorbed into the patties and the result is an amazing fish patties stew that is slightly spicy and lemony, full of herbs, vegetables, and chickpeas.
Is to cook the stew in which the patties will be cooked in for a short time after they have been fried and set aside to cool and get firm. Aside from preparing all the vegetables and herbs, it cooks pretty quickly together over medium-high heat.
In addition, green hot chili peppers or hot red peppers are originally added to the stew. Lately, I have been avoiding spicy food even though I love it so I did not add any to the recipe. If you want to add hot chili peppers you can add either green ones or red ones. The red can be either fresh pepper or dried red pepper. Add it along with all the vegetables at the beginning. If you do not feel like adding peppers you can always use hot paprika powder or hot chili oil which does a great job.
This is a pretty easy recipe if you have ever made a stew. I know there are a lot of ingredients here but I wouldn't skip on any of them because I really managed to capture the umami taste that the original dish has. Especially with the seaweeds, the Persian dried lemons, the bay leaves, and the brown miso which made a huge difference between the vegan version I tasted before and this version I made.
the quantities in this recipe are only guidlines
When it comes to stew it is difficult to give exact amounts because you can make the exact same recipe and if you use a higher heat on your stove during cooking, your sauce can reduce faster and not cook the vegetables through. Therefore you should keep an eye that there are still enough liquids for a thick and rich sauce that can be absorbed in the fresh challah. Alternatively, if there is too much water, the vegetables can overcook and break down. At the beginning of cooking, bring the vegetables in the stew along with the flavors we added and the water to a boil, then lower to medium-high heat and cover with a lid until the vegetables are soft, and there is a thick sauce at the bottom. It should take 15 from the moment of boiling. Occasionally check the level of liquids in the pot and the readiness of the vegetables.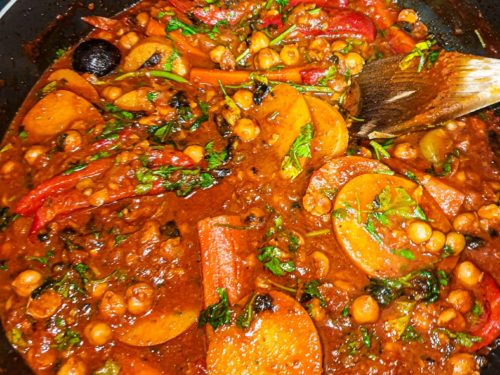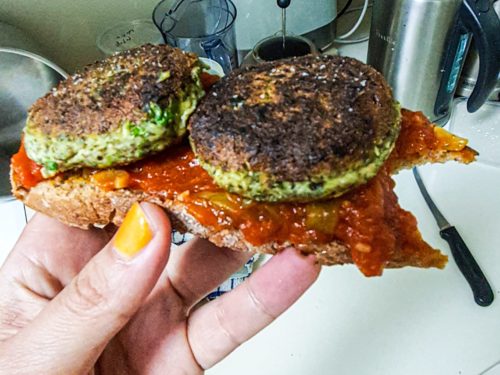 It's tastier the day after
Lastly, like the original version of this recipe, of course, it is delicious as soon as it is ready, but if you wait and eat it the next day the flavors have much developed and the result is really surprising. It is definitely recommended to cook a day before serving.
This stew is usually served with bread, baked and fresh challah that can soak up all this crazy sauce! Pita will also work well here. This recipe will serve for 3-4 people, on each plate serve 3-4 patties with 2 tablespoons of the stew and sauce and a slice of fresh challah (or two ..).
You can also serve and eat the stew with cooked quinoa, rice, Bulgur, Couscous, Etc.
I have a feeling it will also be good with spaghetti… if you tried it and tell me!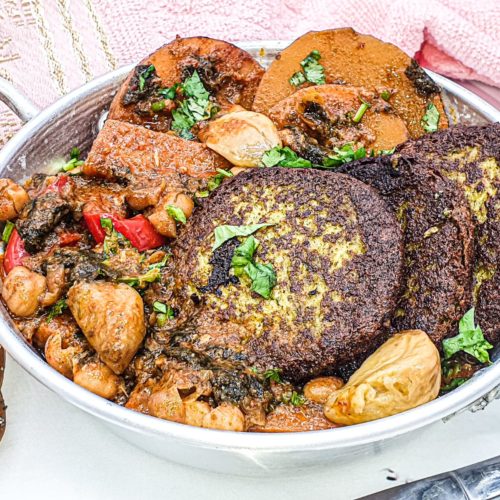 Moroccan "Fish" Patties Stew
A Traditional Moroccan fish stew for Sabbath Dinner made Vegan! (Chraime)
Equipment
High speed blender

Scissors

Sautee Pan

Wide deep cooking pan
Ingredients
For the Patties (about 16 patties)
500

Grams

Firm Tofu

Drained and pat dried

4

Sheets

Nori Seaweed

Chopped into small pieces with scissors

1

Large

Onion

White/yellow/purple - Chopped

3

Cloves

Garlic

Sliced

1

Cup

Cilantro

Chopped

2

Tbsp

Dijon Mustard

2

Tsp

Dark miso paste

½

Tsp

Sea salt

2

Tsp

White pepper

2

tbsp

Cornstarch

½

Cup

Grape-seed oil or cooking oil

for frying
For the Stew
1

Can

Chickpeas

Drained

1

Carrot

cut to 1 cm or thick sticks

2

Potatoes

cut to 1 cm slices

1

Sweet Red Pepper

cut to 1 cm or thick sticks

½

cup

Wakame seaweeds

Soaked in water. OR you can use the Korean Dried seaweed snack - chopped.

1

Cup

Olive oil

10

Cloves

Garlic Confit

or Fresh Sliced

2

Dried Persian limes

2

Tbsp

Dark Miso paste

2

Tbsp

Tomato puree

2

Tbsp

Sweet Paprika in oil

of good quality - strong aroma, should be a little moist because of the oil.

1

Cup

Cilantro

Chopped

3

Dried

Bay leaves

1

Juice from 1 whole Lemons

Or pickled lemon if you have

3

Cups

Hot water
Instructions
Patties:
In a pan sweat the onion and garlic, set aside to chill.

Cut the tofu into cubes and place in a blender. Cut the nori seaweed with scissors into small pieces and set aside.

Grind in a blender: Tofu, Sautéed onion and garlic, fresh coriander, mustard, miso and spices. And grind well.

Add the seaweed to the tofu mixture and mix, add the cornstarch and mix well with a spoon or by hand. Place in an airtight container and refrigerate for 4 hours. Or even for the night

After 4 hours of cooling, fry the patties to create a crispy coating that will absorb the flavors of the sauce! Heat the grape seed oil (or any other good quality cooking oil) over medium-high heat in a wide pan.

To make the patties : wet your hands with water for each patty so it wont stick to your hands and will form a nice patty shape. scoop from the mixture with the help of table spoon, take it to your hands and shape a ball, then give it a bit of a squeeze to shape a patty.

Pan fry the patties for about 5 min on each side make sure they are browned nicely and not burned. place patties on a plate with a paper towel to absorb the oil.
Stew:
In a pan, on low heat, drizzle oil and add all the spices, dried lemons and bay leaves. it should slightly simmer in the oil and will open all the flavors of the spices. Stir and let simmer for 15 minutes. If you have a fresh garlic add it now, if you have a garlic confit save it for later.

After we created some aroma we can add all the vegetables (carrot, potato and pepper) together and mix to get them coated with the red spices mixture. Raise the heat to medium high and stir occasionally for 15 minutes.

Add hot water, miso paste, tomato puree, chickpeas, seaweeds, lemon juice and stir well, cover and let cook for about 15 minutes until the vegetables are soft. you should get a rich stew with a thick sauce so if its too thick for you add hot water and if its too thin let reduce for couple more minutes.

After the patties are pan fried, add them to the stew and cook for 15 minutes more to let all the flavors get absorbed in the Patties.

Sprinkle the top with chopped cilantro

Serve with a piece of fresh Challa bread or white rice or just by itself. enjoy!