Hi friends,
How are you all doing? are you ready for this???
Sweet Potato Pancakes stuffed with Kale and Vegan (like dah…) Cheese mix!!! These pancakes are so soft and delicious that you can't stop snacking! Each bite begins with the sweet delicious taste of the yam patty and continues to the filling. A mixture of kale and vegan cheese mix that melts in your mouth.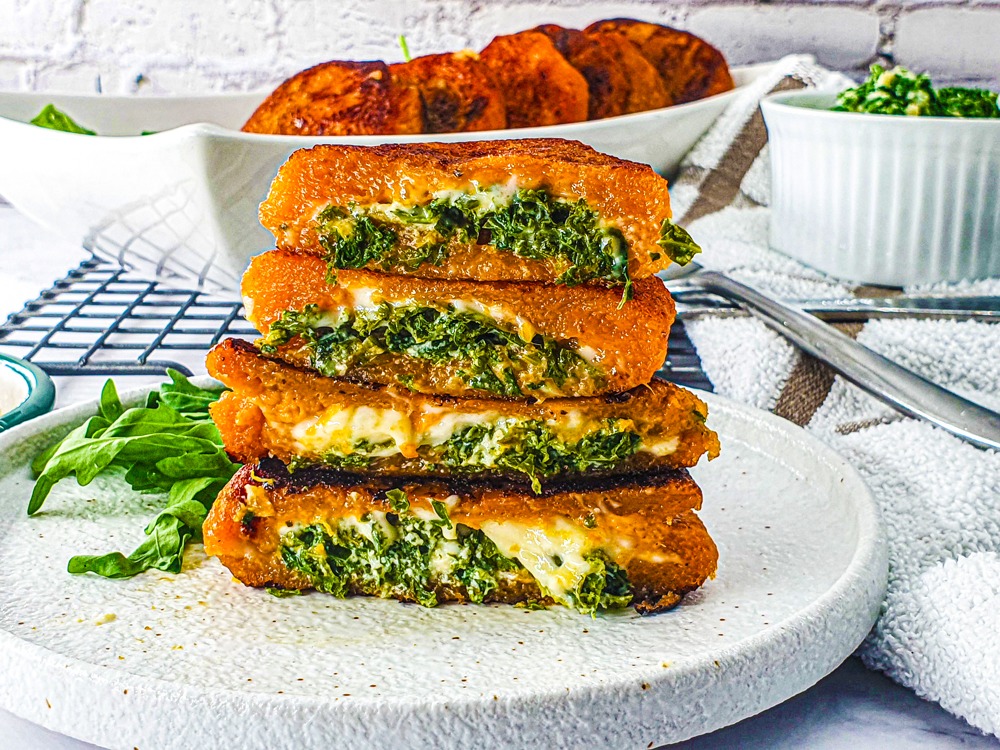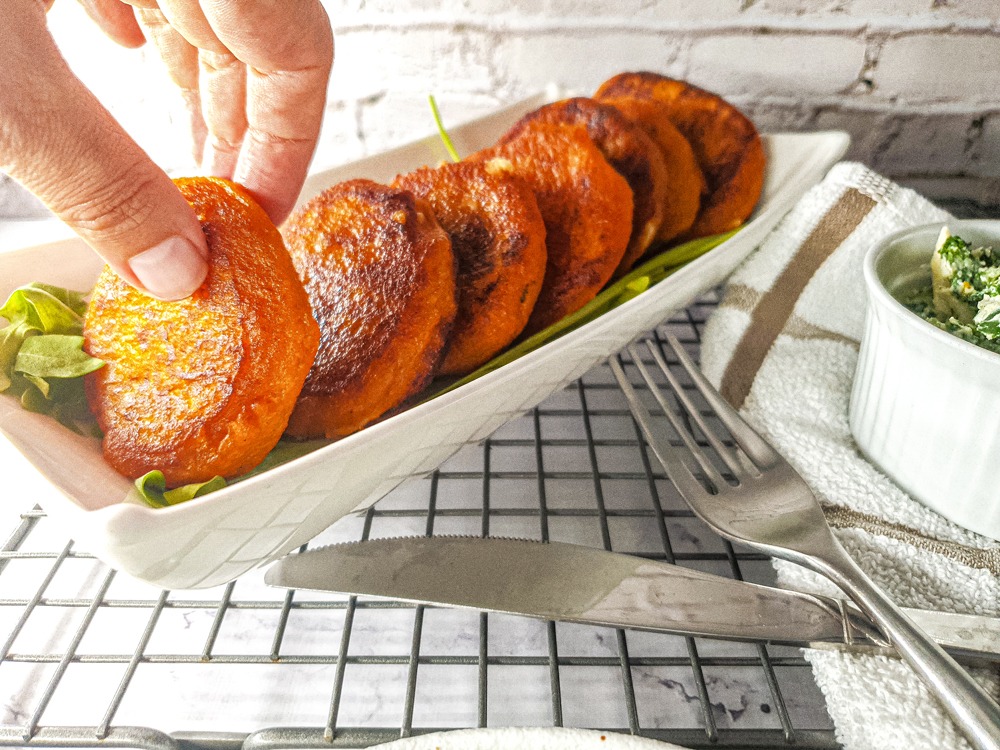 This is a perfect recipe for dinner or gatherings as it is both delicious and sweeping compliments. It is also super easy to make. Be sure to make the cashew cheese 2 hours in advance if you want to use this Vegan Feta recipe. The technique is not complicated at all.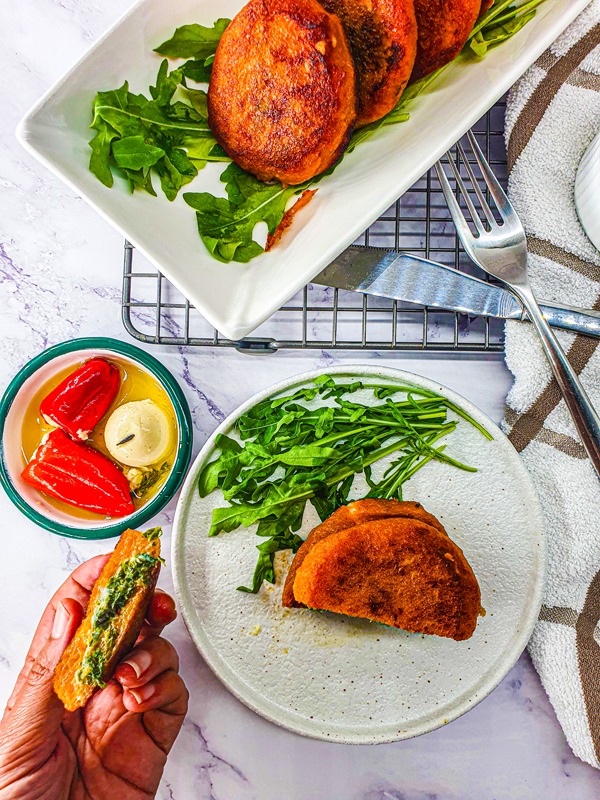 How to make the perfect stuffed potato patty
Once we got a baked-soft sweet potato, mash it into a puree. Then add Potato Starch and spices. The starch will help the sweet potatoes patty to set while frying. So don't be concerned if, at the time of forming the patty, the mash would feel a bit runny. It'll be best to work with lightly oiled hands so that each patty can easily detach from the palm of your hand to the frying pan and won't fall apart.
An average sweet potato yields about 3 stuffed pancakes. This way you can decide how many you want to make. As for the potato starch, if you want to increase the recipe, add another Tbsp. of starch to each sweet potato you cook.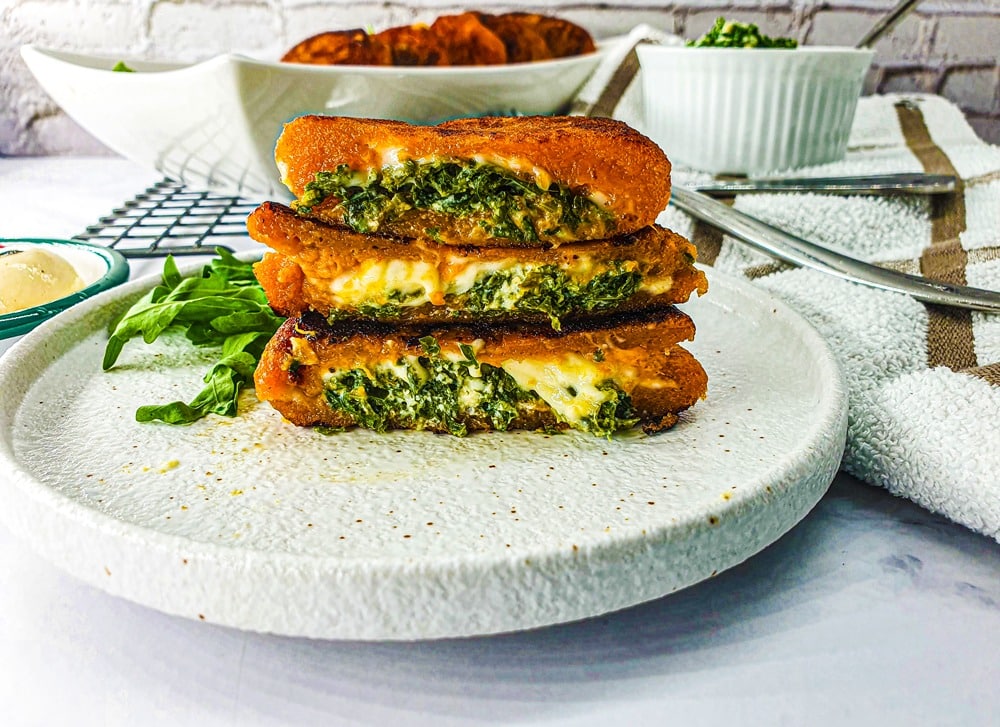 These pancakes are great as an appetizer! You'll defiantly impress  if you are inviting over family and friends to a big meal. Also works great as a light dinner with a side salad. Of course, they will also be suitable for brunch or just as a snack. If you're going to make it, you're in for a serious treat!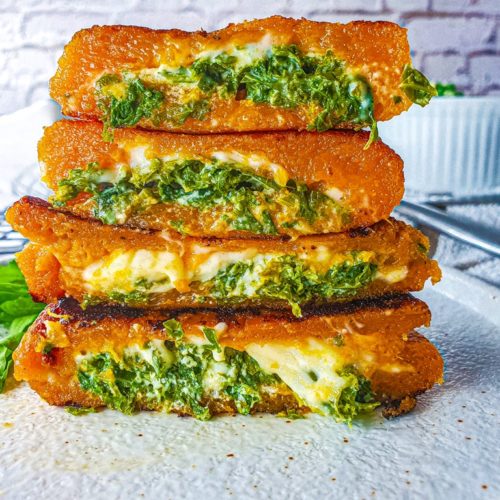 Sweet-Potato Pancakes Stuffed with Kale & Cheese
Vegan cheesy sweet potato pockets with cashew feta, vegan mozzarella, and kale.
Ingredients
Sweet Potato Patties
3-4

Sweet potato

Soft after baking for an hour at 190 ° C degrees

3-4

Tbsp.

Potato starch

1 Tbsp. for each potato

½

Tsp

Salt

½

Tsp

Black pepper
Kale & Cheese Filling
200

Gram

Kale

Blanched separated from the stem and chopped

150

Gram

Grated mozzarella.
Cashew Feta Cheese * Best making 2 hours prior or use a store-bought vegan cheese.
150

Gram

Firm tofu

1

Cup

Unsalted cashews

1

Cup

Water

3

Tbsp.

Agar flakes

or 1 Tbsp. agar powder

2

Tsp

Salt

1

Tbsp.

Nutritional yeast

1

Tsp

Garlic Powder
Instructions
Sweet Potato Patties
Wrap the sweet potatoes in foil and bake in the oven at 190 ° C until completely softened, about an hour. When ready, remove the peel and mash the sweet potatoes with a fork/masher.

In a bowl, mix the sweet potato puree with potato starch and spices.
Vegan Cashew Feta
In a small saucepan, bring the water to a boil along with the agar flakes. Mix well until the water thickens.

Blend the cashews with a quarter cup of their soaking water, tofu, and spices to a smooth consistency.

Pour agar water into the blender and continue to blend until the mixture is smooth. Pour into a container to set in the refrigerator for at least 2 hours.
Stuffing The Patty
Oil your hands with a little oil, take a tbsp. of the sweet potato puree and arrange the puree in a circle inside your palm. Add a tbsp. of the filling in the center of the puree. Add another tablespoon of the sweet potato puree over the filling and close so that the puree wraps around the filling and shape into a round pancake with your hands.

Repeat to form all the patties and heat about a quarter cup of oil in a frying pan over medium heat.

Fry each pancake for about 7 minutes on each side and transfer to a plate with a paper towel.