This delicious vegan, slow-cooked tomato "salad" has been with me through many events in my life. In memorable holiday gatherings – and at hosting friends and family meals over the weekends.
And so, It's only natural that this Matbucha Salad will accompany any meal, dish, or savory pastry, at a Moroccan lunch/dinner table. I usually serve it with my Vegan Moroccan Meat Bureka, You gonna love this combination! Matbucha Salad is a wonderful base for an upgraded Shakshuka. if you are having guests over for a Mediterranean-style meal then this mouthwatering side dish should definitely be a part of it.
The long, slow cooking of the tomatoes and sweet red peppers brings out all the natural sugars and deep flavors. This Vegan cooked salad is something you simply can't get enough of! Guaranteed! 
Whenever I have a container of ready-made Matbucha in the refrigerator, I'm relaxed, because I know satisfaction awaits me and not only that. For me – personally speaking –  it's very nostalgic and comforting as well.
I'd have to admit that the prep time can be a bit long. However, if you know that today you are staying at home and in a cooking mood, you can prepare this cooked salad that your guests will talk about for a long time. At least it happened to me. It is so worth it. 
How To Make Moroccan Matbucha Salad
Before we start with this Matbucha recipe, I would like to point out a few more ways to prep the veg – tomatoes, and peppers in different ways of making that you may find more suitable for you according to your ability and what is available to you.
The most important thing in a delicious Matbucha Salad is to peel the peppers and tomatoes. Otherwise, the peel will have an unpleasant texture and bitter taste once cooked. The right prep of those two will make a difference in the flavor and texture of it. There are several methods to prep each one, in the recipe itself I mentioned the classic method called – Tomato Concassé   
Right below I'll share with you more options so please feel free to choose the way that is most convenient for you. Let's start with the tomatoes. 
Tomato Concassé , The classic method.  
In this process, I actually bring a large pot of water to a boil while at the same time prepping a large bowl of ice water. Make sure in advance that we have a spider which is a long-handled spoon with a fine-mesh basket. 
Take a small tourne knife and for each tomato, we make an X-cut at the bottom and with the help of the same knife make a hole in the base of the green-white stem and turn the knife around it for its complete removal. 
When we have finished prepping all the tomatoes, put in a pot about 3-4 at a time in the boiling water for a minute, and with the help of a spider, remove and transfer to ice water. 
After contact with the frozen water, the peel is easily removed from the tomato.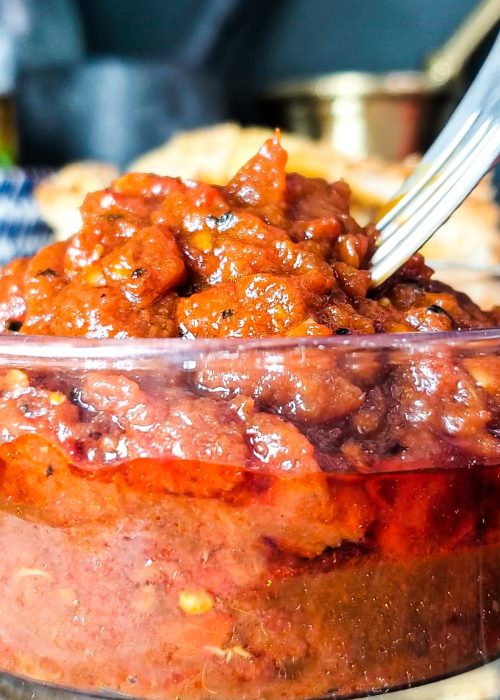 Simply with a potato peeler, it should be noted that I did it once at my cooking school and the chefs there were horrified that I had broken a tradition of about 200 years in class. In any case, the potato peeler should be particularly sharp otherwise it won't work especially if the tomatoes are too soft.  Here too the stem should be removed with a tourne knife in a round motion.
I was shared That technique by one stunning chef I worked with in the past and it is – after cutting X cut in the bottom of the tomatoes and stem with the tourne as I mentioned above, just put them all on a baking sheet and put in a preheated oven of 200  degrees C  for 15 minutes. Then you can take them out of the oven, wait till they cool down and remove the peel, or use gloves.
*Consistency of a JAM.  Slow-cook the crushed tomatoes until they have no water left. Then generously add olive oil and a touch of chili oil.
methods for removing red Peppers peel
Is to burn the peppers on the stove until the peal blackened on all sides using a grilling net. The downside to this method is that it creates a lot of mess with the burned peal scattered everywhere.
You can rub the peppers with oil on all sides, place them on a baking tray, and put them in the oven at 180-200 degrees C /400F, and here too the skin must be browned on all sides. You have to turn the sides every time one side is browned. Once they are completely browned, take them out from the oven and place them in a container with a lid or plastic bag you can close. Set aside until cool. Once the peppers have cooled, they can be peeled more easily.
Serving and storing matbuca salad
As I mentioned, you can either have this on its own as an appetizer. Or accompany a meal with a rice bowl, savory pastry, or with a Fresh Baked Challa Bread. Matbucha can also be a good base for a Vegan Shakshuka. If you made a sizable quantity and a have lot left, you can freeze some of it to use it at a later time.
Feel free to add hot peppers to this vegan recipe and prep them the same way you did with the red sweet peppers. Since I discovered the spicy Chili Oil it is much easier for me to control the level of heat and also less work with peeling peppers.
Familiar with other methods? Feel free to write to me and share them all 🙂
Matbucha Salad
A slow cooked tomatoes and red peppers into full of flavor paste or dip, originated in North Africa
Equipment
Tourne knife

Plastic container with a seal

Blender Stick (optional)
Ingredients
15

ripe red tomatoes

6

red bell peppers

2

Cups

olive oil

4

tbsp

Garlic confit

you can use fresh sliced garlic but I found the confit to be stunningly delicious.

3

tbsp

Sweet Paprika

1

tbsp

Sea Salt

2

tbsp

Hot chili oil

(optional) skip if you don't like spicy
Instructions
How to prep the peppers
Preheat the oven to 200°C degrees, place bell peppers on a baking tray with parchment paper, and massage each pepper with cooking oil with your hands.

Bake the peppers until the peal is burnt on all sides, you need to turn them on the other side once one side is done.

When the peppers are browned, put them in a plastic container with a cover. A plastic bag also works as long as you can close it. The purpose of it is - so the peppers will cool off while keeping their juices and the peel can come off easily.

When they completely cool open the container and peel each pepper. also remove the stem and the seeds. avoid washing in water, as it will rinse the pepper juices and flavor. Put all the clean flash in a bowl and try to save the juices left from the peppers in the same bowl. 
How to prep the tomatoes
there are few ways to peel tomatoes: the short way is with a potato peeler, but the French will kill me for that so here is the traditional way.

In a large pot bring water to boil. also prepper a bowl with ice water.

With a tourne knife remove the stem of the tomatoes and do an x scorch on the bottom of each tomato. This process called tomatoes concasse you can probably find a video on it. 

Blanch the tomatoes for 1 minute and then transfer to a bowl with ice water. You will see the peal starting to detach so all you need to do is to peel it off.

Once pealed, dice them if you want the dish to be chunky, or use a blender stick to blend them if you want it saucier, each time I do it differently.

Place the tomatoes, sauce or chunks, in a large (preferably wide) pot and let simmer on very low heat. add 1 tsp of paprika and 1 tsp of salt so the liquids start coming out. Once you start cooking you need to stir every 15-20 minutes for about 2-4 hours until all the liquids are completely gone and it's almost like a jam. 

If the tomatoes are hard and they ran out of water you can add water to them. 

Cut the peeled bell peppers into strips and add them to the tomatoes with the pepper juices. Don't forget to stir from time to time so it won't burn in the bottom.

When the tomatoes are molten like a paste and there are no more liquids, add the hot chili oil, 1 cup of olive oil, the rest of the salt and paprika, and the garlic confit. cook for another 15 - 20 min to incorporate the flavors.

Usually, it takes me 3-4 hours to cook both this dish and a pastry or bread that goes with it so if you host friends you can do it a day before. I promise you they will talk about this meal for a while;)