Vegan Spinach, Broccoli & Feta Bourkas
Hi lovelies!
In one word – addiction.
If you put a bowl of these bourekas pastries next to me, I'm afraid I'll snack on them unconsciously. As if it wasn't the fattiest food in the world. Bourekas pastry is so crispy on the outside that all you hear in your bite is one long crunch sound accompanied by delicious filling that just oozes out. This vegan bourekas is stuffed with spinach, broccoli, vegan feta, and mozzarella cheese. It's savory and best served with a well-seasoned grated tomato dip that's so easy to make.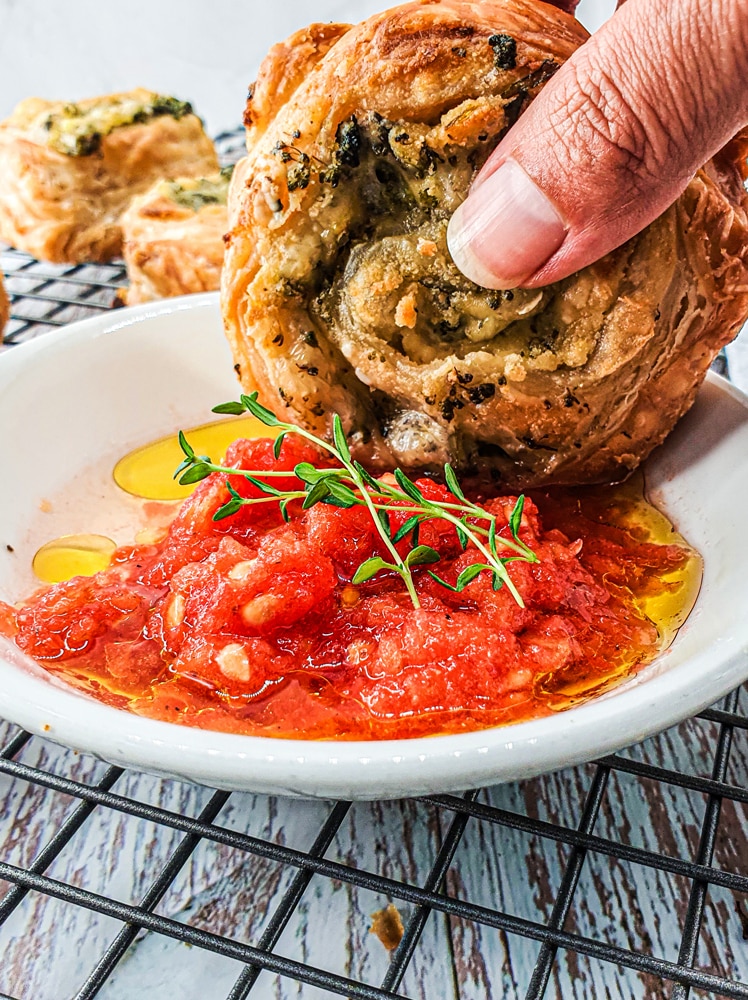 This is a typical Israeli breakfast. You would mostly find us having these on Saturday mornings before we go with the entire family to the beach. We would also take these with us to the beach or a picnic and enjoy breakfast in the sun and out in the open air. Usually, these bourekas are accompanied by different dips like hummus, tahini, tomato dip, labneh with zaatar, and a variety of different fresh salads like Israeli salad, Greek salad. … to me, it's ok if I start the day like this, every day!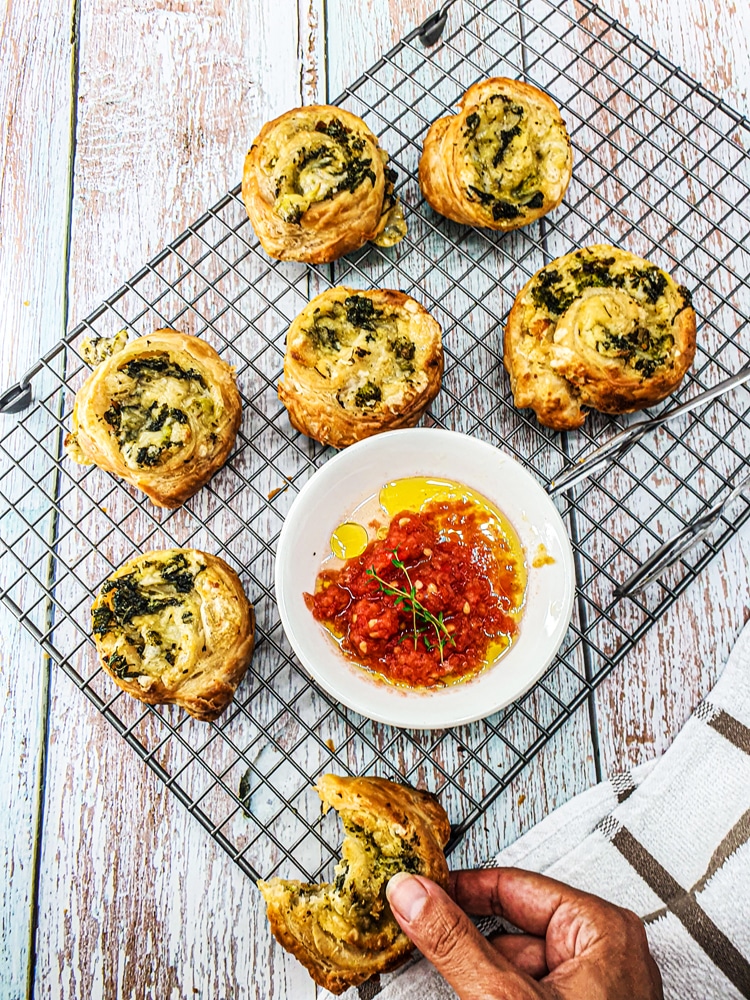 This time I used store-bought puff pastry. If there's a puff pastry that's ready and good, then why not make it easier and put the effort into an insanely delicious filling? I made this filling with the Vegan Baked Almond Feta Cheese which I make quite often. And it's so easy to make! It also yields A nice portion of "cheese" from just one cup of peeled almonds!!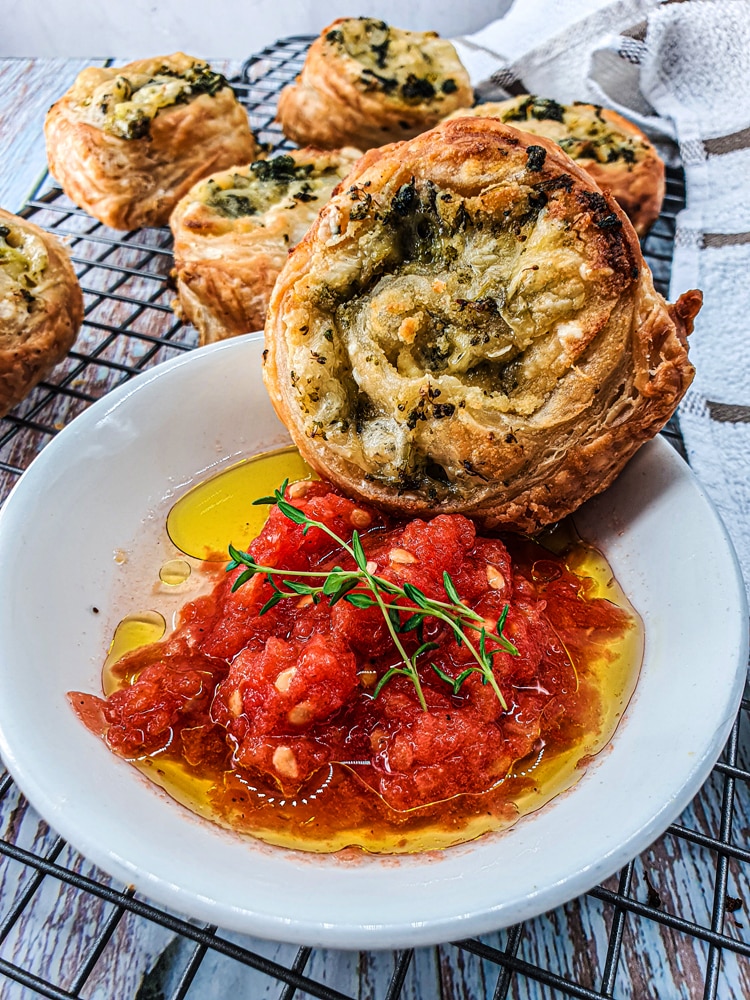 This vegan cheese and green bourekas are suitable for hosting and gathering of any kind. Mainly brunch, picnics, parties, birthdays, trips. It can be served alongside fresh Salads, Soups, at Breakfast, and whatever you fancy. Everyone will love it, I don't know anyone who doesn't like puff pastries. And if you already have puff dough ready, then in 30 minutes you'll have a pastry that no one is going to leave behind:)
Want one that's gluten-free? Try my Rice Paper Boureka Recipe!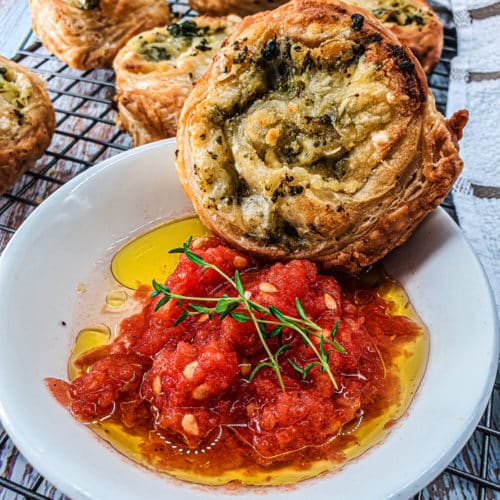 Spinach, Broccoli & Feta Bourkas
Crispy rolled puff pastry, filled with greens and vegan cheeses.
Equipment
Baking Tray

Mixing bowl

Strainer

Chopping board
Ingredients
Spinach, Broccoli & Feta Filling
450-600

gr

Baby spinach before cooking

After cooking about 200 gr

300

gr

Broccoli

150

gr

Vegan grated mozzarella

250

gr

Vegan feta

1

Tbsp.

Garlic powder

1

Tbsp.

Nutritional yeast

1

Tsp

Black pepper
Grated Tomato Dip
3

Tomatoes

Halved and grated

1

Tbsp.

Olive oil

4

Tbsp.

Fresh lemon juice

1

Tsp

Oregano/thyme

½

Tsp

Salt

½

Tsp

Black pepper
Instructions
Take out the puff pastry to thaw about two hours before baking.
Blanching Spinach
Boil a large amount of hot water either in a pot or kettle.

Put all the spinach leaves in a bowl with boiling water for 30 seconds.

Strain the spinach under cold water until the spinach is completely cold.

Squeeze the spinach well until there is no liquid.

Finely chop the spinach and place everything in a bowl.
Blanching Broccoli
Place all the broccoli in a bowl with boiling water for 10 minutes.

Strain the broccoli under cold water until it is completely cold.

Finely chop the broccoli and add it to the chopped spinach.
Spinach, Broccoli & Feta Filling
Add the chopped spinach and broccoli to the feta cheese and spices and mix well to obtain a uniform mixture.

Lightly flour a work surface and spread the puff pastry with the longer side in front of you. Divide the puff pastry into 2 equal parts so we can create 2 rolled rolls.

Spread the filling evenly on the 2 parts, leaving a space of 1 cm at the edges. Careful not to put too much filling otherwise, the dough will tear.

Sprinkle some mozzarella cheese over the filling and start rolling until the end of the dough.

Cut the roulade into 2 inches slices and place on the baking pan spiral facing up.

Bake the bourekas for about 30-40 minutes or until golden and crispy.
Grated Tomato Dip
Season with good quality olive oil, lemon, and spices. Serve with the baked bourekas. Enjoy!
Notes
If you have a lot of the filling left, you can freeze it and save it for other foods