Hi friends!
So, for those of you who don't know me yet, I'm Shani, and I love Korean Food, in particular. Asian food in general. And food, really in general. There's already a Korean Sweet Potato Noodles recipe here on this blog. You can check the other mushroom japchae recipe and more elaborated instructions as well. Since I cook these noodles quite often, there will probably be a few more variations I want to experiment with and share with you. I also want to make the classic version soon with vegan ground "beef" and vegetables. I will share the recipe as soon as I get to cook beyond meet with it. So, stay tuned!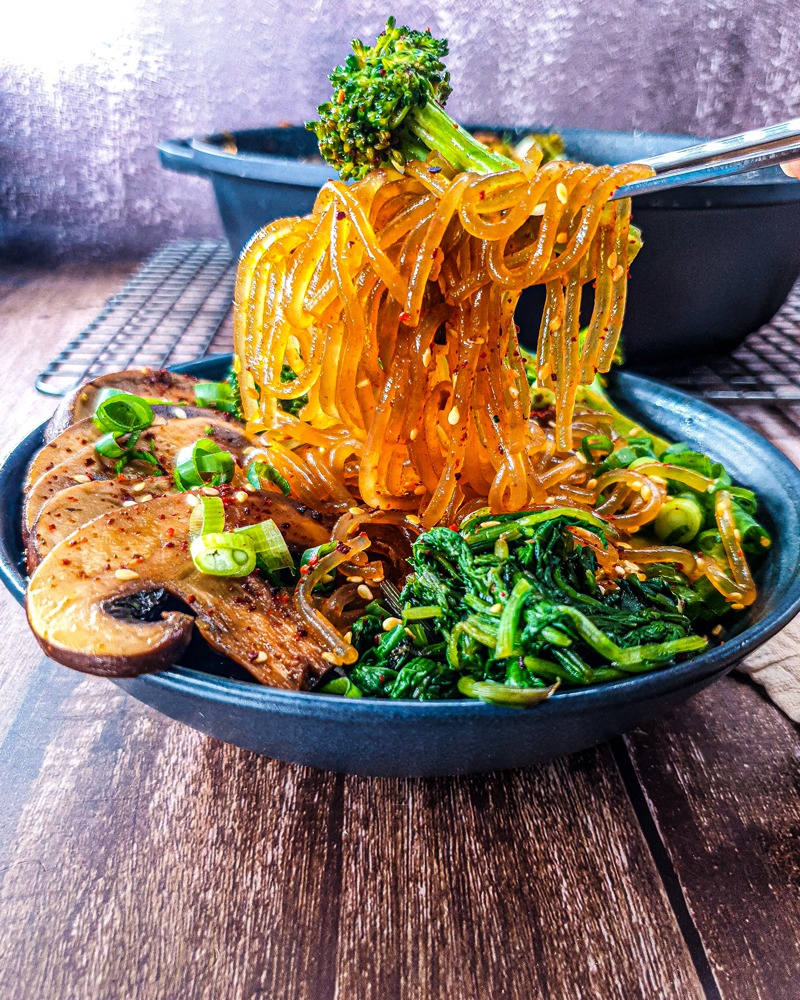 If you came here by searching for a vegan japchae recipe, you probably already know that these are noodles made from sweet potato starch. They are super flexible and chewy and are suitable for many noodles stir-fries. The starch in these noodles makes any sauce you cook for it thicken around them and gets absorbed into the noodles. So, they will always be full of flavor depending on the type of sauce you have. You can make a spicy chili sauce, a porcini or shiitake-based sauce, and whatever comes to mind.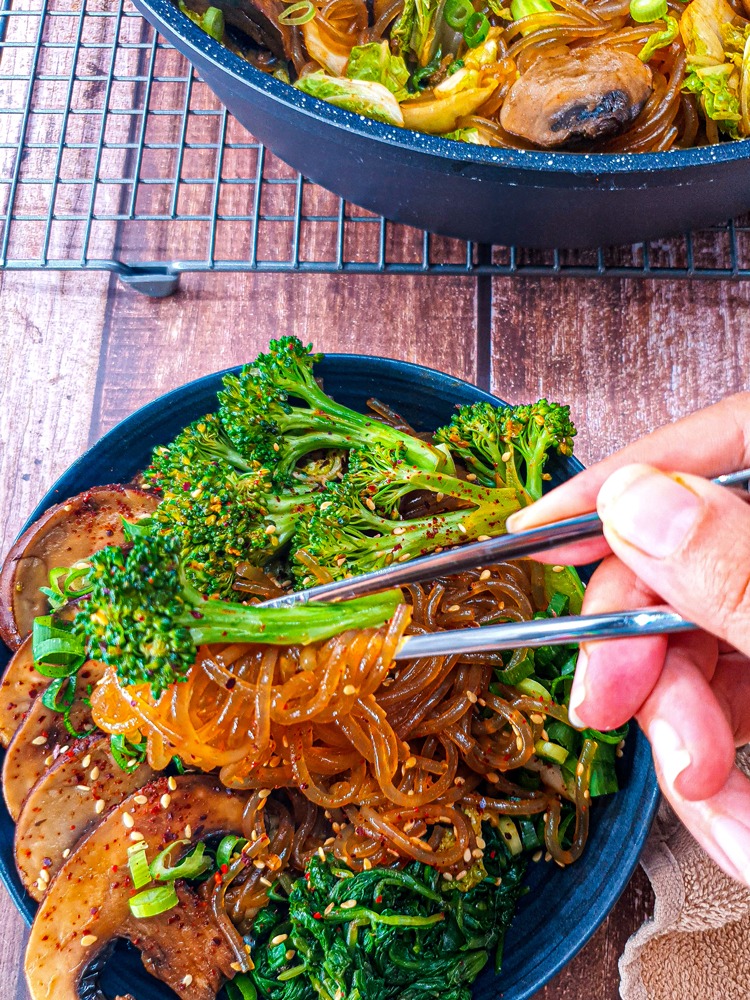 Japchae noodles are made of Sweet Potato starch. That makes them gluten-free, and you might love them because they are easier to digest delicious with any sauce and toppings you decide to cook. For more recipes from Korean cuisine, you are welcome to visit the following links.
Other Vegan Korean Recipes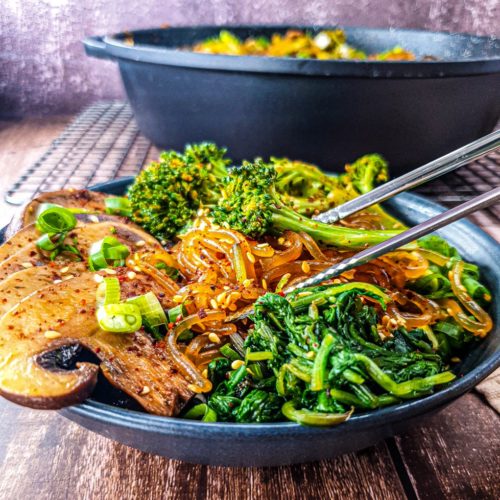 Korean Vegetables Japchae
Korean sweet potato noodles with vegetables and porcini mushroom stock.
Equipment
Pot to cook the noodles

Large sauteed pan or a wok

Strainer
Ingredients
1

Cup

Dried porcini mushrooms

Soak porcini in hot water for 15 min or more.

250

gr

Korean sweet potato noodles

Half a pack. Cook according to instructions on the back.

200

gr

Baby spinach

Quick blanched

250

gr

Broccoli

Separated and blanched

150

gr

Nappa cabbage

Cut to bite size pieces

2

Tsp

Fresh ginger

Chopped

2

Tbsp.

Olive oil or Grapeseed Oil

4-5

Large portobello mushrooms

Slices

3

Tbsp.

Fresh lemon juice

¼

Cup

Soy sauce

2

Tbsp.

Sesame oil

1

Tbsp.

Red Korean chili powder

4

Green onions

Chopped

1

Tsp

Black pepper

1

Tsp

Salt
Instructions
Soak the dried porcini mushrooms in boiling water for about 15 or more. It can also be prepared the day before. The longer you soak, the more flavor and aroma you get.

Close to using in the recipe (after at least 15 minutes of soaking) - add the soy, sesame oil, lemon juice, Korean chili pepper powder, salt, and pepper to the porcini stock and mix.

Cook the sweet potato noodles in water according to the manufacturer's instructions. When ready, rinse with cold water to stop cooking and remove the starch. It is best to cut the noodles with scissors as they are really long.

Boil water either in a pot or in a kettle and brew the broccoli for 10 minutes. Then rinse with cold water and strain.

Do the same with spinach. Soak it in boiling water for about 30 seconds and transfer it to a colander under cold water or a bowl of ice water. Strain well and squeeze the spinach well from the water with both hands until you form a spinach ball. Cut it into bite-sized pieces and set aside.

Heat 2-3 tablespoons oil in a large frying pan or in a wok and sweat for about 7 minutes over medium heat the ginger, portobello mushrooms and if you want to add tofu, this is the time. Cook until the mushrooms or tofu are golden.

Add the noodles, and the mushroom stock to the pan, and mix. Let the sauce simmer for about 5 minutes. Then add the broccoli, and the cabbage is baked. Continue to cook until there is almost all liquid has reduced.
Serving
Serve as many noodles as you want into a bowl. Add cooked spinach over the noodles, and drizzle a little sesame oil over it all. Garnish with green onions and roasted sesame seeds.