Hi everyone!
Between all the preps and recipes for Pentecost, I paused for a moment to bring up one of my favorite breakfasts of all time. Burrito Breakfast. What I'm talking about is whole wheat or corn tortilla, with 'Follow Your Heart's'  Vegan Chipotle Mayo spread, scrambled tofu, and other surprises. Always depend on what's in the fridge. Sometimes I add vegan mozzarella or sprouts. Other times it's served with a tangy yummy Salsa Verde sauce. As long as there are flavors of Mexico, I'm happy.
When I try to remember when exactly I started with this breakfast burrito habit, or where I first had it, well, that was when I first made it. I don't remember having the non-vegan version. I had Mexican food on my many trips, so for me, Mexican cuisine has a warm place in my heart. First time i made it at home, it was so delicious, that now I regularly have a pack of tortillas at home. 
Other ingredients I always have since this genius homemade burrito, are the Salsa Verde sauce, and Red Pickled Onions that go well with sandwiches and other recipes. You can buy them of course, and you can make them easily at home too. They are worth making and adding lots of flavor to your recipes.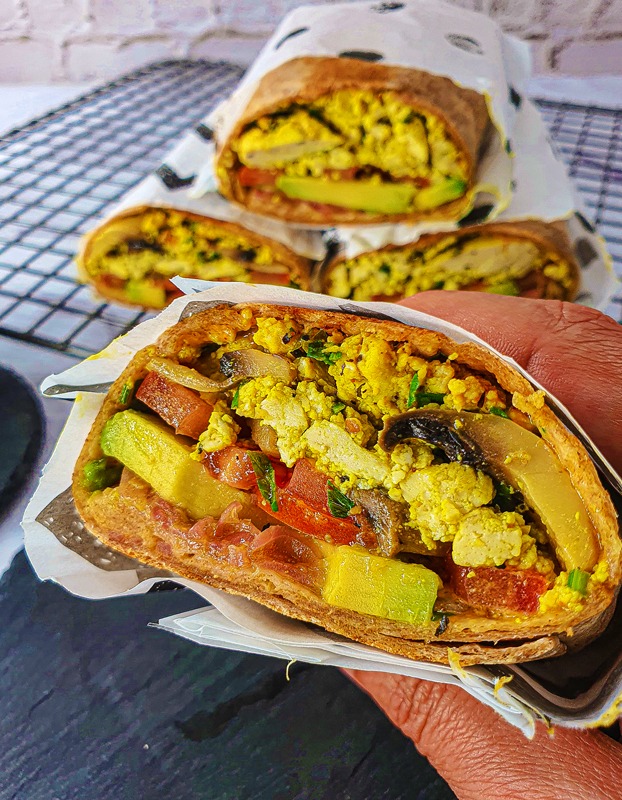 Ingredients needed for a perfect breakfast burrito -
Ripe avocado – how can you have a burrito without avocado? Avocado is both delicious, and satiating for a long time. You can also make guacamole!
Vegan Mozzarella Shreds – well there is nothing to expand here on that. A burrito full of melted cheese is the best!
Chipotle Spread – as I mentioned, I used Vegan Spicy Chipotle mayo which I can't go without. Any spread you like goes here.
Black Indian Salt – this salt gives your tofu the taste and smell of eggs. which I think is a must here and it will feel like you are having the real deal. a real scrambled egg.
lastly, lightly toast the burrito on the pan or a pressure toaster will give it crispiness and help melt the mozzarella cheese inside. Enjoy!
Vegan Breakfast Burrito
Breakfast burrito with scrambled tofu, chipotle mayonnaise, avocado, and pickled onion.
Ingredients
Scrambled Tofu
300

Gram

Firm tofu

Crumbled with a fork

3

Tbsp.

Plant milk of choice

1-2

Tbsp.

Olive oil

4

Champignon mushrooms

Sliced

1

Tbsp.

Garlic powder

1

Tsp

Black Indian salt

1

Tsp

Black pepper

1

Tsp

Tumeric powder

2

Tbsp.

Fresh cilantro

Chopped
Assembling
2

Whole wheat tortillas

1-2

Tbsp.

Vegan chipotle mayo by 'Follow your heart'

or any spread of a choice

4

Tbsp.

Red pickled onions

6

Thin tomato slices

1

Avocado

Sliced
Instructions
Scrambled Tofu
Heat some oil in a pan and lightly fry the mushrooms and tofu, as the mushrooms absorb oil quickly, add a little more at a time if needed.

Add the plant milk and mix well. It will soften the crumbled tofu and give it the texture of a scrambled egg.

Add the spices, stir and check the flavors. Fix if necessary. At this point, you can add vegan grated mozzarella if you want it more cheesy 🙂

Turn off the heat, add chopped coriander, and mix it in.
Assembling
Place the tortilla on a surface or cutting board, and spread in the center vegan chipotle mayo or other spread you like.

Scoop about 3-4 tablespoons of the scrambled tofu and arrange evenly in the center to make it easy to roll.

Place over the scrambled eggs in the following order: 3 slices of tomato, 4 slices of avocado, and 2 tablespoons of pickled onion.

Roll the burrito: Step one: Lift the end of the burrito in front of you and fold over the scrambled eggs with the toppings.

Step Two: Fold the edges to the right and left towards the inside of the burrito.

Step three: Complete the burrito roll and secure it with a little pressure on your hands so that the filling won't escape out.

To get a crispy burrito, heat a non-stick pan over medium heat without oil, unless you want to. Place the burrito to roast for 3-4 minutes on each side until happy. Enjoy!