Vegan White Chocolate Soufflé
Hi friends!
Following the Vegan Chocolate Soufflé recipe which was a small breakthrough for me, I decided to take advantage of the momentum and try to upgrade the recipe, in order to get even better results for our vegan Soufflé. What I wanted to achieve is a more stable structure that is a bit more durable than the previous recipe. I also wanted to get a texture that is closer to a texture of pudding on the inside,  rather than of a dense cake on the outer layer, and chocolatey on the inside, which that I achieved with my last Vegan Chocolate Soufflé recipe.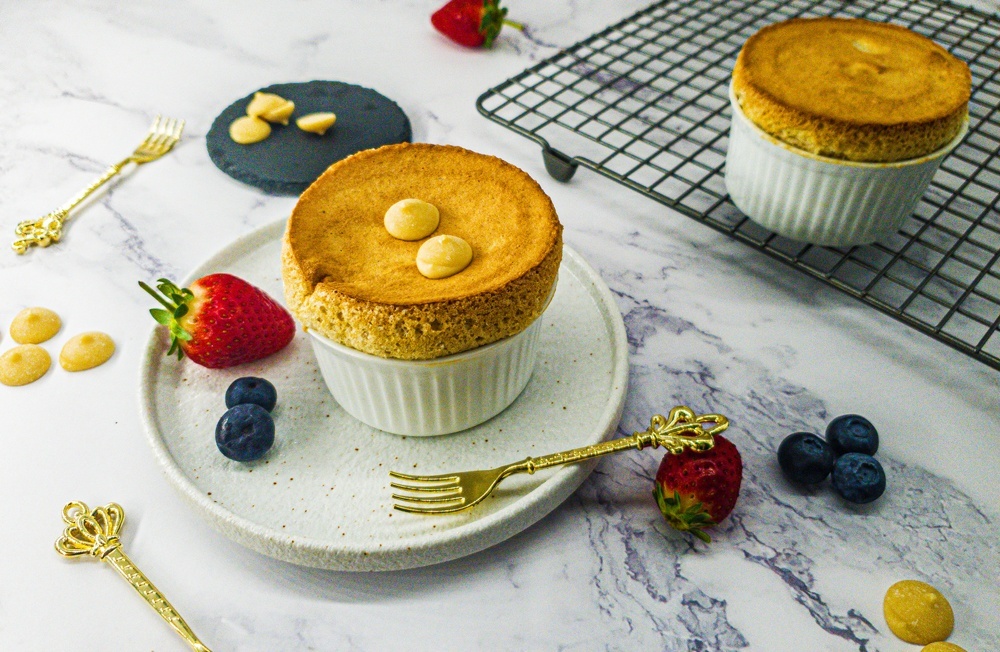 Vegan Soufflé Egg Replacers
When you add an egg yolk to the béchamel flavor base in the classic soufflé, you get a texture of a fluffy, rich, and jiggly custard. That's what I aimed for in the vegan version. I was trying to think what else is missing in the vegan yolk replacer powder in this recipe? If you look at the ingredients of the vegan yolk replacer below, their main function is thickening and binding. I came to the conclusion that egg yolk also has a certain percentage of protein that binds all the other elements to this unique fluffy texture of the soufflé.
Pea Protein Powder As an egg replacer
I was reminded that a few months ago I bought a product called Pea Protein Powder.  Initially, I wanted to use it as a binding agent in a vegan burger recipe but hadn't had a chance to do it yet. Pea protein powder is quite common in the US as a good source of vegan protein and is also used for a wide variety of vegan shelf products like vegan burgers and other meat substitutes. I also read in vegan recipes forums that pea protein powder is used in vegan cooking mainly for binding and texture. Since I haven't had much time to experiment with this ingredient yet, I said to myself, what's the worst that can happen … worse case, to the trash it goes. But I had a good feeling about it. By the way,  If you want to get pea protein powder, you can use my link in Iherb and get a 5% off here: Now Pea protein
Well, I added 1 teaspoon of pea protein powder to the vegan yolk mixture listed in the recipe. Not only did it work, it was perfect. I also got the fluffy consistency I wanted, and it was stable for a bit longer. The texture and taste were very close to the classic soufflé. Hence, basically, the flavor base can be anything you want. As long as the flavor base is concentrated enough and without excess liquids such as water, as it will deflate the desired structure. Additionally, unlike the previous vegan chocolate soufflé recipe, this time I made the meringue, with potato protein. Instead of reduced aquafaba, I used a product called "Vegan Base" by the "Fabbri" brand. It is the same company that manufactures the famous Amarena cherries in syrup.
This "Vegan Base" is a protein powder used for baking, made from potato protein isolate, and is a product designed for meringue desserts, and vegan pastries. So far this has been a successful basis for this current vegan soufflé recipe, and also for my  Vegan Canelé De Bordeaux recipe I made several months ago. If you don't have potato protein powder by Fabbri or any other potato protein brand, you can definitely use reduced aquafaba with the same amount (120 ml) that is in this recipe, and in the same method.
In order to reduce the aquafaba enough to fit the recipe, if it is from canned chickpeas, simply reduce the remaining liquid in the can by 50%.
aquafaba from dried Chickpeas
If you want to make aquafaba, not from a can, you will need to soak the chickpeas in cold water overnighter first. It's faster to cook the chickpeas in water with a pressure cooker. The recommended amount for this is 1 kg of chickpeas in about 1.5 liters of water. After 1.5h of cooking, strain the aquafaba from the chickpeas and continue to reduce until a gelatinous texture and a relatively darker color are obtained. There should be a fairly large amount of reduced aquafaba left. I usually divide them into bags or containers of between 100-150 ml, freeze and use as necessary.
In any case, these soufflé experiments are still ongoing and of course, I will keep updating. Good luck with this recipe and thanks for reading!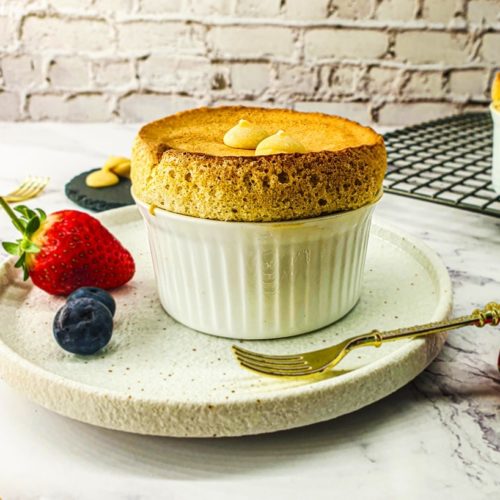 Vegan White Chocolate Soufflé
A classic vegan souffle with vegan white chocolate. An improved recipe. French meringue made from "Fabbri" potato protein (Vegan Base)
Equipment
Mixer

Scale

Mixing bowl

Spatula

Butter brush

Ramekins, I used 9 cm diameter/ 4cm high
Ingredients
Vegan French Meringue From Potato Protein
20

Grams

Vegan Base Powder

by Fabbri

120

Grams

Water

¼

Tsp

Xantham gum

80

Grams

White sugar
Vegan White Chocolate Mix
80

Gram

Vegan white chocolate

50

Gram

Vegan butter

½

Tsp

Vanilla paste

35

Gram

Flour

1

Tsp

Pea protein powder

I used "Now" brand you can get in Iherb

2.5

Tsp

Egg replacer

mixed with 2 Tbsp. soy milk
Egg Replacer Recipe (about 45 "eggs")
Mix everything well and keep it in a sealed container. Use it for a recipe as an egg yolk substitute.
90

Gram

Tapioca flour

32

Gram

Potato starch

45

Gram

Baking powder

5

Gram

Xantham gum
A Guide To Using An Egg Yolk Replacer
1.5

Tsp

Egg replacer + 3 tablespoons water

For cakes

1.5

Tsp

Egg replacer + 1 tablespoon water

For cookies
Instructions
Mix Fabbri's potato protein powder with water and let it hydrate for about 20 minutes in the fridge.

Brush ramekins with cold vegan butter from the bottom of the dish to the top using a brush. Do this 3 times and place in the fridge after each time to stabilize the brushed butter.

For the third time, add sugar to the greased ramekin and roll it so that the entire side of the dish has a layer of butter and sugar.

Preheat oven to 195 ° C degrees.

Melt the chocolate and butter in the Bain Marie. Add the vanilla puree. A Bain Marie is a bowl over a pot with simmering water and steam. Stir until the chocolate and butter are melted and combined. Set aside.

In a small dish, mix well the vegan egg replacer powder, with a teaspoon of the pea protein powder, and the soy milk, so that there are no lumps. When completely smooth, add to the melted chocolate and mix.

Add the flour to the chocolate and mix well.
Vegan French Meringue From Potato Protein
Transfer the potato protein mixture to a mixer and add a quarter teaspoon of xanthan gum. Start whipping on medium-high speed for about 5 minutes until a firm foam is obtained.

Gradually add the sugar in 3 beats and continue to whisk for another 7 minutes or so until you get a stable meringue where all the sugar has dissolved in the meringue and you have stiff peaks.

Folding: Take about a third of the amount of meringue and mix with the chocolate mixture.

Once again take a third of the amount of meringue and fold gently into the chocolate so that the batter remains airy.

Fold the last third of the meringue into the chocolate again gently until no white meringue remains.

Pour the batter into the ramekin, and with the help of a finger clean the edges.

Bake in a preheated oven for 15-20 minutes until the souffle has risen.

Serve with vegan whipped cream or ice cream, fruit jam, or ganache. Enjoy!