Hi, loved ones!
I've been wanting to make this gorgeous chocolate brownie cake for a long time. Now I finally got it and the conclusion is that it is insanely delicious, chocolatey, and rich! The only thing I would have changed in this recipe is for a slightly wider baking pan. Simply because it turned out to be a tad higher than I wanted to. Yet still delicious and addictive. I'm sure I'll do it again. I like brownies. Additionally, to this being delicious it is also really easy to bake! We do it in 3 simple and quick steps.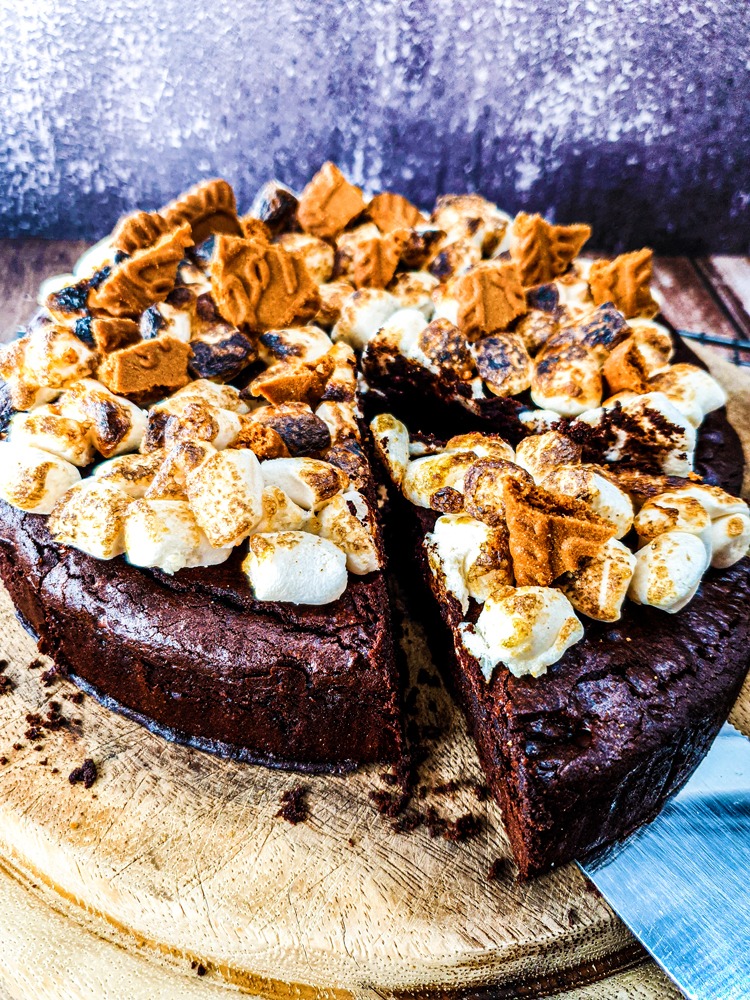 How to make the perfect vegan brownie cake
Before you start with the 3 simple steps, make sure you have chickpea water (Aquafaba) reduced to half the contents obtained from the can. The chickpea water or Aquafaba will substitute the egg. Reducing aquafaba makes the protein concentration higher and helps bind all the ingredients nicely together while keeping it moist. That way we will get a soft cake with a perfect body and a bite. You can also let the oven preheat because the cake will be ready to enter the oven just in time for the oven to heat up enough.
Strain the flour with the Cocoa Powder into a round and deep mixing bowl with a strainer.
Whisk chickpeas with sugar. This is perhaps the most "challenging" step out of all three. Only it is quite simple. In a deep bowl, whisk together the aquafaba with the sugar until a semi-stable whip is obtained. This means that we are not looking to reach a state of meringue but rather a stable whipped cream-like texture. Just before it reaches a state of meringue. We will recognize that during whipping, white stripes form in the meringue that does not disappear immediately. Then it will be ready to use. It should take between 5-7 minutes.
Melting chocolate and vegan butter. 45 seconds total in the microwave with a stop in the middle for mixing the two to combine. And for those who don't want to use the microwave (and I can understand!) You can melt it using a Bain Marie. Which is a bowl placed over a pot of steamy simmering water – not too strong though. Just enough to melt the chocolate slowly but not to cook it. In this way, the chocolate and butter melt slowly and can be mixed to a uniform state. To a glossy chocolate sauce. Add the Vanilla Paste and sea salt and mix.
After these three simple steps, all that remains is to combine everything and it's good for the oven!
Fold the whipped cream into the melted chocolate. Strain the cocoa flour mixture again into the chocolate mixture and mix well. Don't forget to add the Chocolate chips! This is what we have in a perfect brownie batter. What's left is to line the baking pan with baking paper for quick pull-out.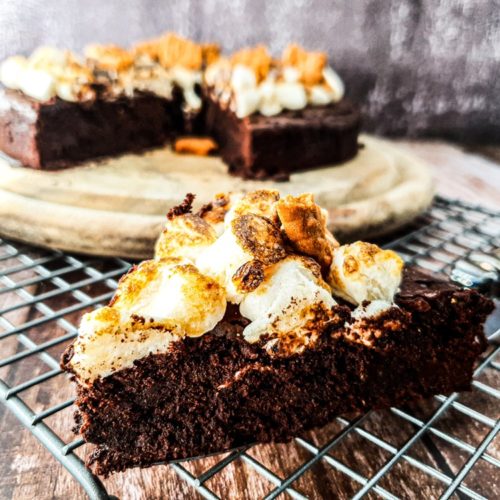 Vegan Brownie S'mores Cake
Chocolate brownie cake, with charred vegan marshmallows, and Biscoff cookie crumbs.
Equipment
Mixing bowl

Spatula

Scale

Hand mixer

Strainer

Round baking pan 22cm diameter / square baking pan 20cm
Ingredients
120

ml

Reduced aquafaba

From a chickpeas can. Strain the liquid from the peas. Reduce the resulting liquid by half.

180

Gram

Sugar

Or any other sweetener you want. Note that the level of sweetness varies.

170

Gram

Dark chocolate

Roughly chopped 60%-70%

120

Gram

Vegan butter

170

Gram

Flour

45

Gram

Dark cacao powder

¾

Sea salt

1

Tbsp.

Vanilla bean paste

90

Gram

Chocolate chips
Toppings
Vegan marshmellows

I used Dandies

3-4

Cookies

Cookie crumbs of choice

I used Biscoff
Instructions
Strain the flour and cocoa powder into a bowl and set aside.

Beat the sugar and the aquafaba together with a mixer until a soft and stable foam is obtained. About 7 minutes. You do not need to get to the meringue with stiff peaks but only to soft foam that shows stripes while whipping.

Melt the dark chocolate and vegan butter either in a Bain Marie or in the microwave.

In Bain Marie: Boil water in a pot and place a stainless steel bowl on top. Melt the chocolate and butter in the bowl gently. Set aside as soon as a smooth and glossy chocolate sauce is obtained.

In the microwave: Heat for 30 seconds, take out to mix, then put in for another 15 seconds, take out again and mix until a smooth and glossy chocolate sauce is obtained.

Add the sea salt and vanilla paste to the chocolate sauce and mix well.

Fold the aquafaba into the chocolate sauce gradually and gently.

Add the flour and cocoa mixture to the chocolate and aquafaba mixture and mix until all the flour is absorbed into the batter.

Add the chocolate chips and mix.

Bake for 35 minutes and check with a toothpick in the center of the cake if the cake is ready. If the toothpick comes out dry and not wet then the cake is ready. Wait until completely cools.

Take a handful or two of vegan marshmallows and place over the cake. Burn the marshmallow with a food burner, or alternatively put in an oven preheated to maximum heat until the marshmallow is golden. About 5 minutes in a preheated oven.

Sprinkle some cookie crumbs over.