Hey friends!
The world of vegan cheeses intrigues me greatly. Just recently I started dipping my feet in few vegan cheese recipes. Vegan Baked Almond Feta Cheese, followed by Vegan Almond Ricotta Cheese, which is one of the most amazing and easy to make and can be used for many recipes that call for using ricotta cheese. Every attempt so far at Vegan Cheeses has been extremely successful and not only it's enjoyable to make, but the products are also delicious and are an excellent substitute for classic cheeses. This cashew feta is different from baked almond feta cheese in its texture, and taste. Both are delicious and excellent of course, but this cheese, in addition to being wonderful for Salads and various fillings, is easily spreadable, creamy, and rich in flavor.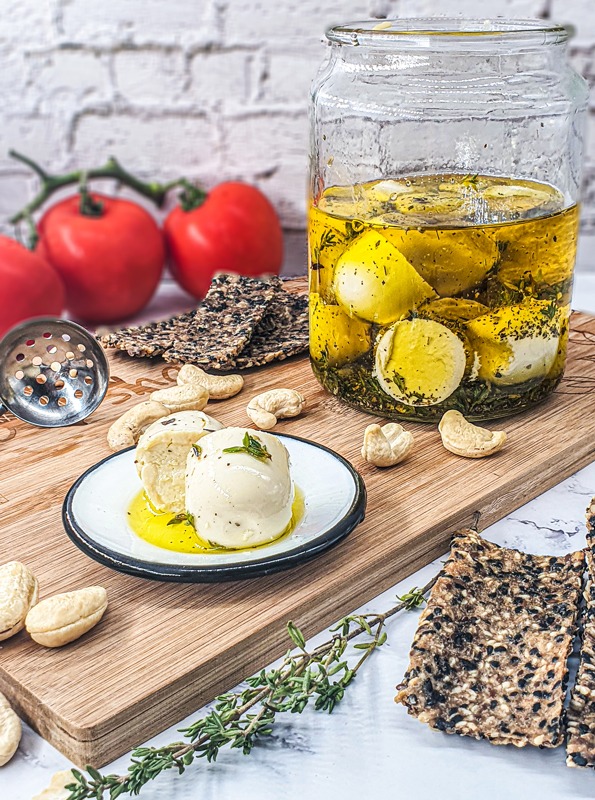 How to make feta cheese from cashews?
So first of all, you must have is unsalted and unroasted cashews. Firm tofu as well. It gives more texture and volume to the cheese. you will also need agar flakes. Agar-Agar is vegan gelatin made from algae, and when dissolved in a fluid and passes the boiling point, the liquid thickens and becomes a jelly which stabilizes as it cools, and the shape of the mold you used is obtained. To do this cashew cheese, I took an ice cube tray made of silicone so I could extract the cheese balls easily and the round shape would be preserved after cooling. You can also use a harder plastic tray but it will be a little more challenging to extract the cheese and maybe the shape will not be perfect. But the taste and texture, still dreamy!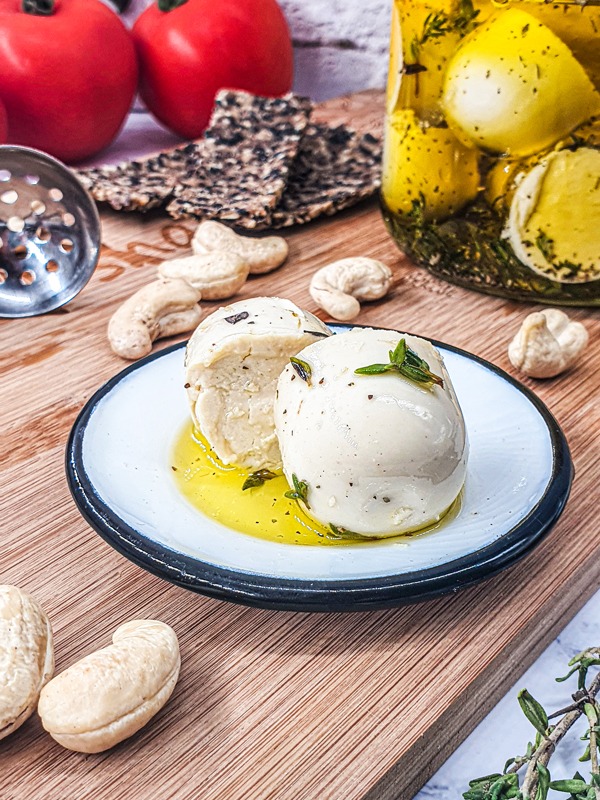 I remember that way back in the past my dad used to buy us special cheeses imported from Greece. One was cubes of feta cheese in an airtight bag soaked in olive oil with herbs, Kalamata olives, and sun-dried tomatoes. It was the most dreamy and addictive thing imaginable. From there I got the inspiration to soak the cheese balls in olive oil. Also, that way the cheese gets a longer shelf life. Feel free of course to add Homemade Sun-dried Tomatoes or other herbs you like. This vegan feta cheese will simply be a delicacy.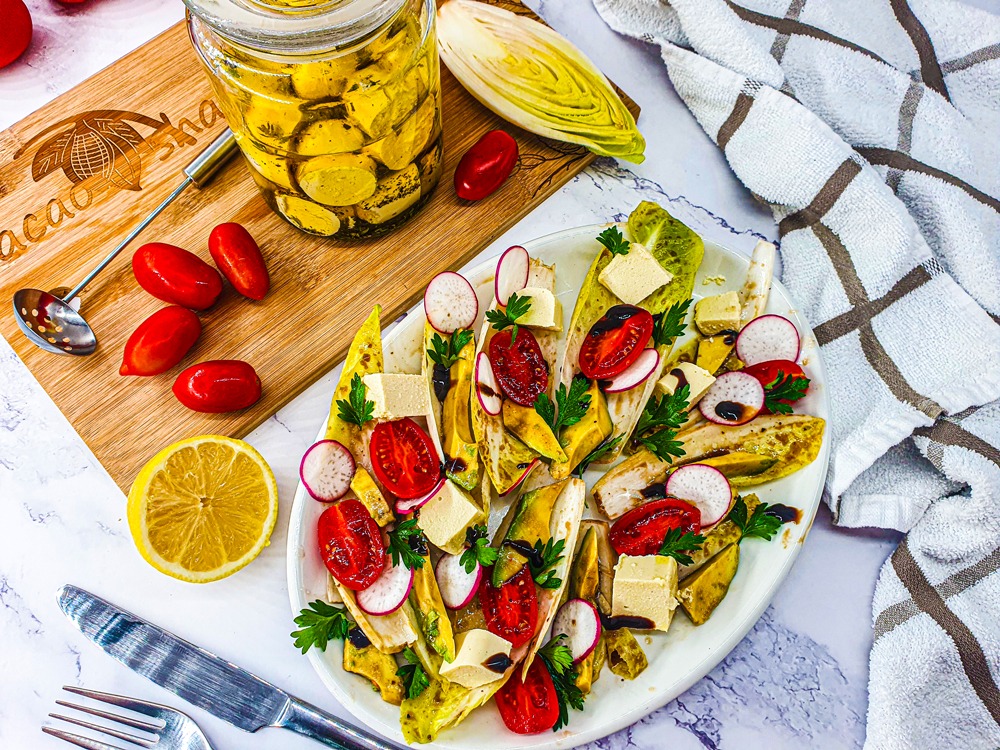 As soon as this cheese stabilized and was ready to eat, I added it to my salads like the Mediterranean Endive Salad and other salads. It was also great as a filling for baked stuffed rice paper, and as a spread on a sandwich with vegetables.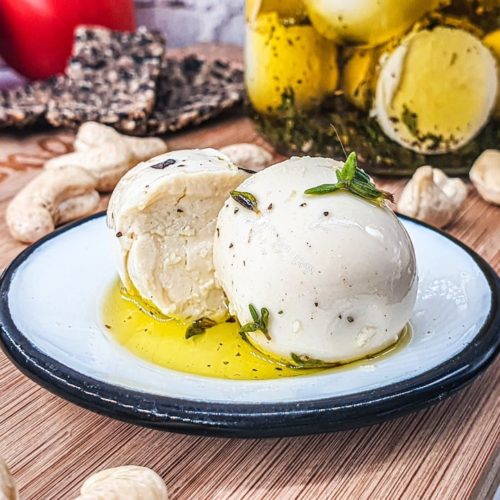 Vegan Cashew Feta Cheese
Cashew feta cheese balls in olive oil and herbs
Equipment
Blender

Saucepan

Sillicone Ice cube tray (round cubes mold)

Mason jar with a lid
Ingredients
1

Cup

Cashew nuts

150

Gram

Firm tofu

1

Tbsp.

Apple cider vinegar

2

Tbsp.

Salt

1

Tsp

Garlic powder

1

Tbsp.

Nutritional yeast

Optional

4

Tbsp.

Lemon juice

aprox. half lemon

3

Tbsp.

Agar flakes

or 1 Tbsp. Agar powder

1

Cup

Water

1

Tbsp.

Fresh/Dried herbs Thyme and oregano.

1

Cup

Olive oil
Instructions
In a blender, grind the cashews, tofu, vinegar, herbs without herbs, and lemon, until smooth.

In a small saucepan, bring the water and agar flakes to a boil until you see that the water thickens, about 5 minutes after boiling. Turn off the heat and set it aside for about 5 minutes.

Blend the cashew mixture again while pouring the agar water into the mixture. Taste and adjust seasoning if necessary.

Pour the cashew mixture into the silicone ice tray and leave it to set in the refrigerator for about two hours.

Meanwhile, prep a glass jar and pour into it half a cup with olive oil, and add the herbs.

After two hours when the cheese has stabilized, carefully squeeze each cheese ball into the jar with the olive oil. Continue to add oil until the cheese balls are covered.