Hi lovelies!! 
This week I baked one of my favorite dishes I used to eat as a child and ordered almost every time I went with family or friends to a café. Vegan Potato Gratin. Extremely rich and creamy. This vegan recipe surprisingly resulted in a better flavor and texture than the non-vegan ones I had back then. This vegan gratin is made with thinly sliced potatoes cut with the help of a Mandolin Slicer. Each of the thin slices is covered in a rich vegan and gluten-free Béchamel sauce. Slicing them thinly, allows the potato to cook well in the Béchamel sauce and absorb all the good flavors that are in the sauce. There is no need to boil the potatoes in water first. it is healthier than the non-vegan version because … you guessed it right, there is no cholesterol in it.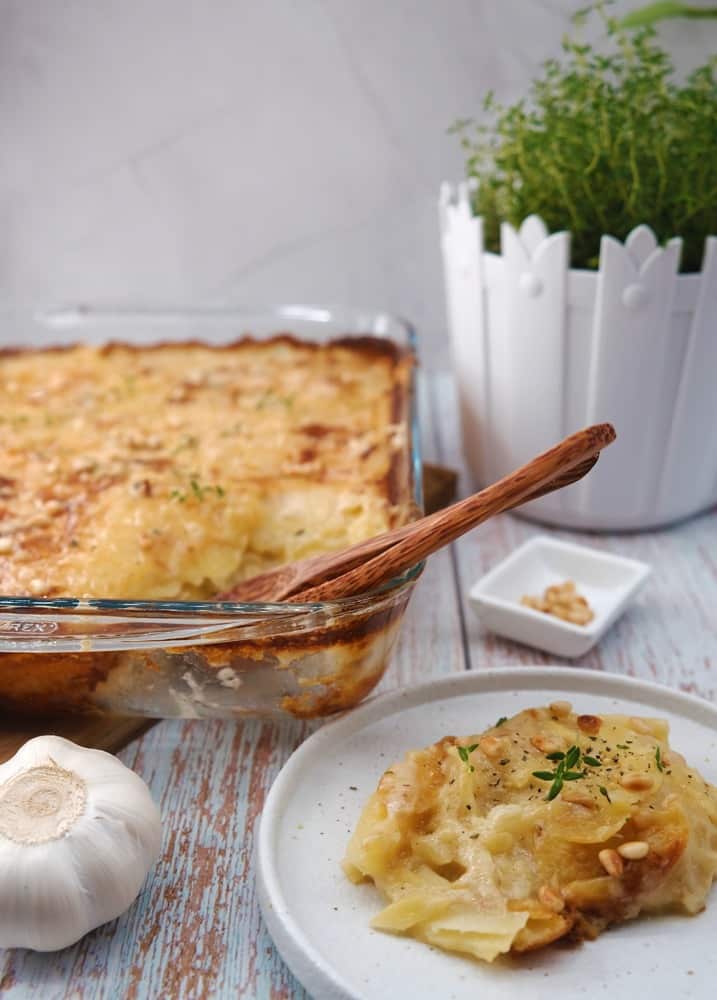 Main ingredients for a vegan potato gratin.
Potatoes – what else? The main star in our gratin dish. It is impossible not to love potatoes. Of course, you can also add sweet potatoes and other vegetables like zucchini, mushrooms, and the like. For this recipe, I used Désirée type potatoes. Feel free to use any potato you want. I even learned that many people prefer to use the Butter potato kind when cooking gratin. Simply because the starch concentration in it is higher making those potatoes "buttery" and soft.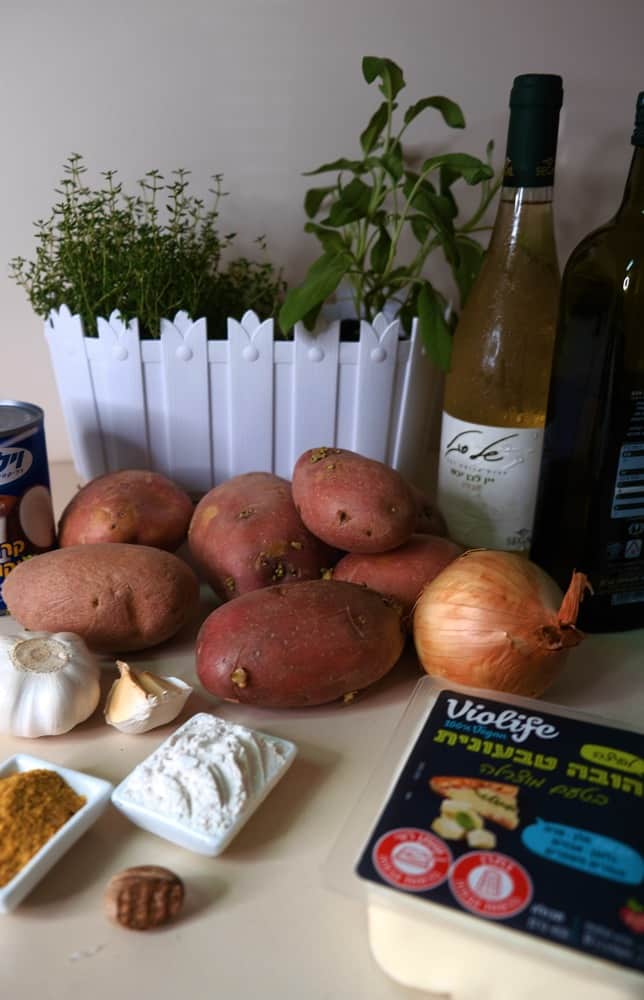 Vegan Gluten-Free Béchamel sauce ingredients -
Onion and Garlic – So naturally we'll start with the base flavor and sweat onions and garlic until translucent. Careful not to brown them by cooking on low heat and stir occasionally. That way we infuse flavors into the olive oil and to the Béchamel sauce.
GF Flour – it was important to me to do a gluten-free version because white flour isn't really crucial for this recipe. The only function of the flour here is basically to make a roux and thicken the Béchamel sauce. We'll only use 2 tablespoons of gluten-free flour. Therefore, you can use any type of gluten-free or regular all-purpose flour. The types of gluten-free flour that can be used for our vegan Béchamel sauce: gluten-free wheat flour, rice flour, tapioca flour, cornstarch, and the like.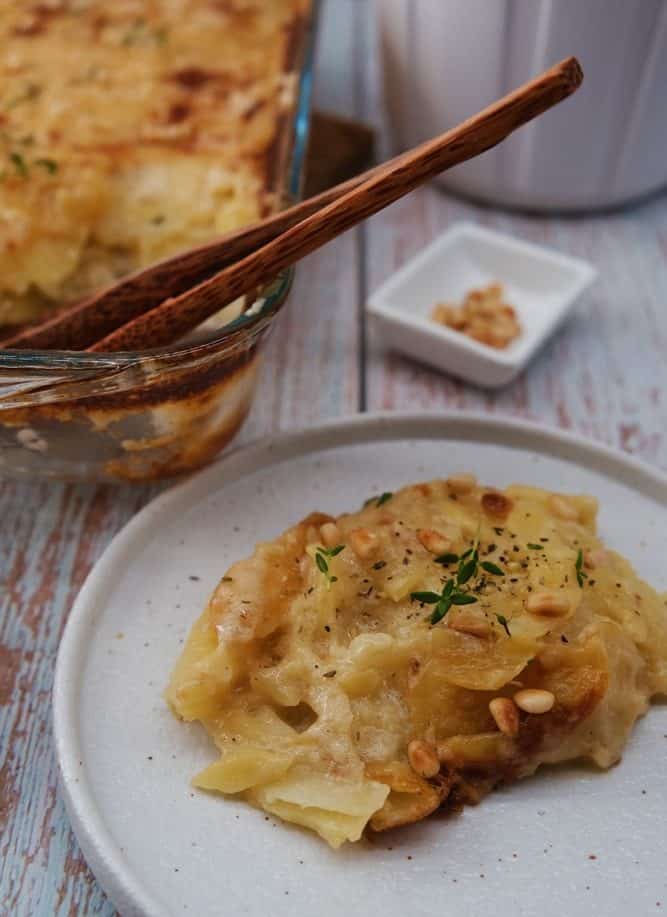 White Wine – will add acidity to the Béchamel sauce and a richer taste. If you don't want to use wine, you can use white or red wine vinegar. you can also deglaze the roux with lemon juice instead.
Coconut Cream – the higher the fat content the better. Of course, you can use a vegan cooking cream or make it low-calorie with plant-based milk of choice. Once we have made a roux with gluten-free oil and flour, the vegan milk we add will thicken and be rich and creamy.
Nutmeg – It is very difficult to imagine a Béchamel sauce without a fragrant nutmeg. I always keep a whole nutmeg in the pantry that I sprinkle into various sauces and dishes. You can also buy it already as a powder. The same goes for quality black peppercorns that I grate fresh the spot. From time to time I make sure to order black peppercorns of the Timur Berry type. It adds a wonderful taste and aroma to foods from a French store called Terre Exotic. I happened to be in their factory shop in France and their spices are extremely flavorful.
Vegan Mozzarella – How can we finish a gratin without the generous broiled golden vegan cheese on top. This is why this dish is called gratin. Gratin in French means broiled to a golden crust. I used Violife vegan mozzarella cheese. You can use any brand you prefer or even homemade.
How To Make A Vegan Potato Gratin
Cutting and prepping this dish takes about 15 minutes. Cooking the Béchamel sauce also takes about 15 minutes. The initial baking should have an oven-resistant cover such as foil or a lid suitable for baking. The gratin should be baked first until the potatoes are completely softened. Then remove the lid and bake until the vegan mozzarella cheese is golden. I baked the gratin in a deep Pyrex dish that yields about 6 servings and with very little time and effort. It is best to serve the gratin with a fresh leafy green salad. Enjoy, and tell me how it turned out!!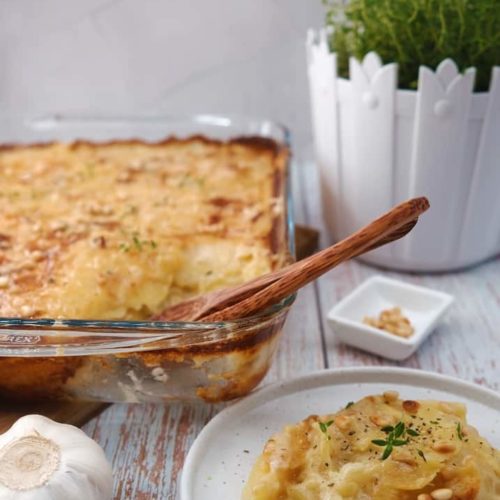 Vegan Potato Gratiné
Layers of thinly sliced potatoes oven-baked in a creamy bechamel sauce.
Equipment
Rectangle deep Pyrex dish

Grater

Mandoline slicer

Wide cooking pot
Ingredients
400

gr

Potatoes

Thinly sliced with a mandolin. About 4 large.

3

Tbsp.

Olive oil

6

Fresh sage leafs

5

Branches

Fresh thyme

Or 2 teaspoons dried herbs

1

Large onion

Finely chopped

3

Cloves

Garlic

Finely chopped

1.5

Tbsp.

GF flour

¼

Cup

White wine

400

ml

Full fat coconut cream

1 can

½

Tsp

Nutmeg

2

Tbsp.

Nutritional yeast

1

Tsp

Sea salt

1

Tsp

Black pepper

150

gr

Vegan grated mozzarella

I used Violife

1

Tbsp.

Toasted pine nuts

For garnish
Instructions
Heat olive oil over medium heat in a large saucepan.

Sweat the onions and garlic until translucent, add the fresh herbs as well.

Add the gluten-free flour, and mix well so that all the flour is covered in oil. Immediately afterward add the wine (Douglas) and stir quickly so that no lumps form.

Add the coconut cream and stir well again to prevent lumps and let the sauce get thicker.

Add all the spices. Salt, pepper, nutmeg, nutritional yeast, and check flavors.

Add the potato slices to the pot with the bechamel sauce and mix gently so that the slices won't break and are covered with the sauce.

Transfer all the potatoes into a deep pyrex dish and flatten the potatoes gently with a spatula.

Season the top again with salt and pepper and sprinkle grated mozzarella over it.

Wrap the dish in a foil or oven-proof lid. Bake covered for about 30-40 minutes until the potatoes are softened. Then remove the lid and continue to bake until the top is golden. Depends on the type of vegan mozzarella you have. With Violife I baked for another 30 minutes.

Wait for 10 minutes to cool before serving. It is best served with a green salad.

Can be stored for up to 4 days in the refrigerator.