Hey friends!
So I continue with recipes that can fit to serve our guests at our upcoming Shavuot holiday table. As I mentioned in the last Vegan Cheesecake Recipe, on this holiday it is accustomed to serving dairy-oriented meals, Like Assorted Cheese, Cheese Quiche, Cheese Blintzes, Cream Pasta, and more. This following recipe, Vegan Mac & Cheese with Broccoli, not only can it fit into this holiday table, it will suit any time you feel like having a delicious and comforting meal, super quick to cook and with really few ingredients.
For this dish I used a new vegan Cheddar cheese product. Its from an Israeli brand called "Plenty" that I bought. I Didn't make the cheese myself this time, but in the future, I will also come up with a recipe for Mac & Cheese where I will make a homemade vegan cheddar cheese.
I am very fond of "Plenty" cheeses, and use their products a lot. Especially use their cashew-based mozzarella which works great on my sourdough pizza. I will also be working on a pizza recipe very soon. Feel free to use any local vegan cheddar cheese you like, know and have in reach.
How to thicken the cheese sauce
The sauce takes exactly 2 minutes to cook from the moment the plant milk is heated on the stove. Just melt the cheese or vegan cheeses in the simmering plant milk, and add the spices you like. If your sauce is not thick enough, you can add a Cornstarch slurry. To make the slurry for this sauce use a tablespoon of cornstarch with a quarter cup of plant milk. Mix them well while the milk is cold, and pour into the sauce, and mix while cooking until you reach the desired consistency.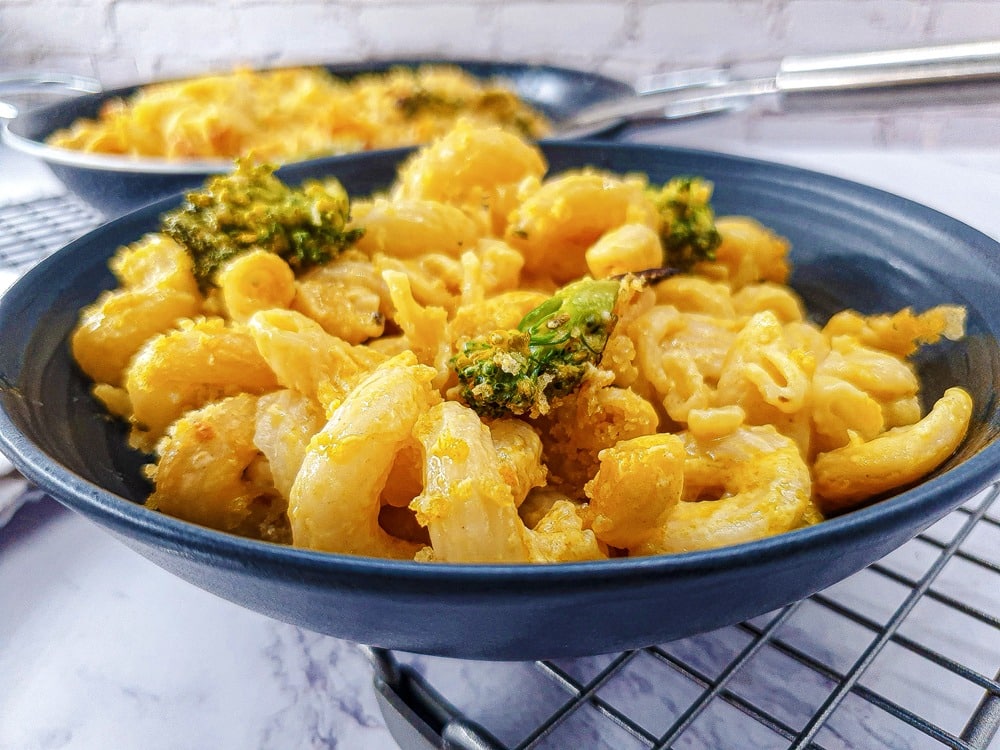 This recipe is really quick to cook. It can be made with either only 5 ingredients or upgrade with a few more small touches such as grated vegan mozzarella on top, bread crumbs, and herbs. Once we have added all of these toppings, pour the mac and cheese inside a deep baking dish, like Pyrex or whatever you have at home, and broil at 200C degrees for 15 minutes. This finishing touch in the oven will give the dish a crispy and delicious top layer, and perfect cheesy consistency. Oh, and I also added broccoli … you know to make it a little healthy.
😊 Enjoy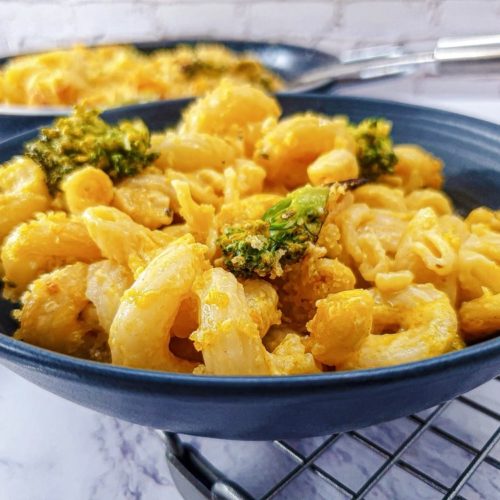 Vegan Mac & Cheese with Broccoli
Spelt flour pasta, Vegan store-bought cheddar cheese, and broccoli
Equipment
Pot

Saucepan

Spatula

Strainer

Bake dish - optional
Ingredients
250

Gram

Spelt organic pasta

Cooked according to the instructions on the package

1

Cup

Plant milk

I used oat milk

200

Gram

Vegan cheddar cheese

Store-bought or homemade. Cut to pieces or greated.

2

Cups

Broccoli

Separated and blanched

1

Tsp

Sea salt

½

Tsp

Black pepper

½

Tsp

Nutmeg

Optional

3

Tbsp.

Vegan mozzarella cheese

2

Tbsp.

Bread crumbs
Instructions
Boil water in a pot and cook the pasta according to the instructions on the pack.

Boil water in a kettle. Put the broccoli in a bowl, and pour the boiling water over the broccoli. Let sit for ten minutes. Then strain the broccoli from the water.
Vegan Cheddar Cheese Sauce
In a small saucepan, bring plant milk to a simmer together and add the vegan cheddar cheese and add the spices. Stir until the cheese is melted and a smooth texture is obtained.

Add the broccoli and mix well.

Serving option: You can pour the mac and cheese into a deep baking pan, sprinkle some grated vegan mozzarella on top, then bread crumbs and drizzle with a drop of olive oil. Bake in a preheated oven at 200 ° C for about 10 minutes until golden on top.