Hi Friends!
I don't know who invented the spiralizer but it is simply an ingenious invention. For years I abstained from my favorite food spaghetti or pasta because of one diet or another. Sometimes it's carbs other times its just gluten and mostly because I can not eat really much of it and it's a problem because it's really tasty. Hot fresh spaghetti with rich tomato sauce with lots of garlic and a little spicy. How is it possible without it over time ??
When I first Had zucchini noodles I almost had tears in my eyes. True, it's not the chewy noodles we all love but it's perfect and delicious. I finished 2 large bowls and didn't have That bloating feeling of couldn't move and it totally hit the spot. Very light on the stomach and with low carbs value.
works great with any sauce!
You can combine it with any sauce you want! Vegan Cream of Mushroom, Rose, olive oil… Have it with what you like. The sauce should be prepared in advance and the zucchini is cooked in the sauce within a minute. Do not cook for more than a minute because then the noodles draw a lot of liquid.
If you don't have a spiralizer,
you can also use a Mandoline slicer that produces zucchini noodles that are a little shorter than the spiralizer. Again you will have short and uneven noodles but it will still be delicious!
Another way to create zucchini noodles or Zoodles is by using a potato peeler. Peel each zucchini to the length of it and after you have a stack of zucchini ribbons, Cut them to strings with a sharp knife cut them like you cut a fresh pasta dough.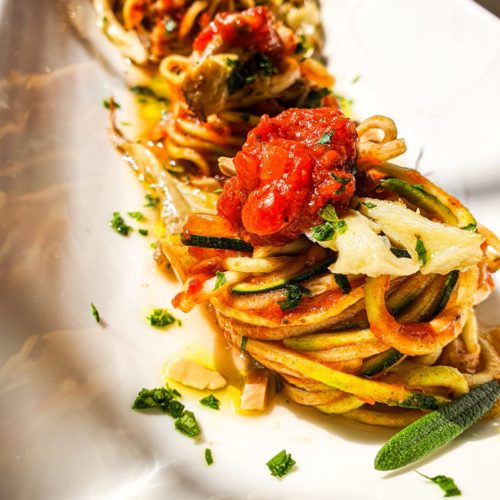 Zucchini Noodles in a Tomato Sauce
Noodles made of Zucchini low carb with rich tomato sauce
Equipment
Spiralizer or Potato peeler or Mandoline slicer

Saute pan
Ingredients
Tomato Sauce
¼

Cup

Olive oil

1

Large

Onion

Chopped

6-8

Cloves

Garlic

Chopped

4-5

Ripe

Tomatoes

Pilled and cubed, or can use from a can

260

Gram

Tomato puree

½

Cup

Water

1

Tsp

Sweet paprika

1

Tsp

Salt

1

Tsp

Fresh ground black pepper

1

Tנsp

Fresh Thyme, Oregano

or Dried
Garnish (optional)
100

Gram

Oyster Mushroom

Oven roasted, Topping (optional)

3

Leaves

Basil

Chopped

2

Tsp

Toasted almonds
Instructions
Zucchini Pasta
With a spiralizer, spiral all your zucchinis and set a side in a bowl.
Tomato Sauce
In a Sauté pan sweat the onion and garlic on medium heat for 5 minutes.

Add the tomato cubes or tomatoes from a can and let simmer for about 20 minutes or until they fully cooked. add water if needed.

Add the salt pepper and paprika ant stir occasionally

Add the tomato puree and the water and cook until combine for about 10 more minutes

When the sauce is ready, cook the zucchini pasta in the hot sauce for about a minute or 2.

Serve and garnish with roasted wild mushroom, toasted almonds and fresh chopped basil