My Review On Healing Natural Oils
And how to naturally heal eczema
As time goes by, more new information is revealed to us. If it is in the field of food, health, beauty, and lifestyle, for all that is implied. Most people who are interested in these topics are making the choice of using natural products or foods in their lives. They tend to choose the approach – that what is more natural, without preservatives or chemicals, without GMOs, is positively better for the body and the lifestyle. And rightfully so.
I as well, as yours truly,
And as a consumer of natural remedies, beauty products, healthier groceries, and lifestyle, am in an ongoing process of becoming a better and healthier person towards myself and towards those around me. Part of this process is also making the choice of the things we want to bring into our lives. That's why I found myself quite a few times searching the web for more natural solutions than the common popular industrial solutions.
So of course, if I use something that I feel is good and can better others, I am excited to share my experiences in the hope that it will help those who need it.
I would like to introduce You to Natural Healing Oils.
I found Natural Healing Oils after I got tired of the familiar eczema ointments, which primarily contain steroids. They made my eczema go away briefly, but it came back right after the treatment ended. quite quickly it should say. I'm not a doctor, and I'm not here to give a medical opinion. There are many things in medicine that must be appreciated. such as the advanced technology of medical equipment, and progress made in treating acute conditions. In the case of a chronic condition like eczema, trying several different prescribed medications, steroid ointments, and pills did not help me.
I also researched - what is eczema?
Where does eczema come from, and what are the reasons it manifested in me? Each person can have different reasons for the appearance of their eczema. It's important to first check the reasons why eczema, if you suffer from it, appears in you. I found out from my research that my eczema was due to several reasons. They mainly included stress, a diet rich in gluten, a weak immune system, and an unbalanced lifestyle. Therefore, no matter what treatment I chose, if I hadn't corrected the underlying problems, and changed my lifestyle, eczema would return anyway.
how to approach healing eczema in a natural way
It's important to note that even during the time when I used steroid ointments and pills, a period that lasted about two years, I already made a change in my lifestyle. I started improving it. I stopped eating gluten, practiced more relaxation, and ate foods that strengthened my immune system. Still, the conventional steroid creams did not make my eczema go away completely. 
Alternatively, this choice of healing from the root of the problem before treating the symptoms, and changing your lifestyle, is a holistic approach. A correct system thus it can support a corresponding external treatment.
I did a Google search on treating eczema naturally
And after a long search, I found the Eczema Formula by Natural Healing Oils. It's important to note that before I bought anything, I researched a lot about them online and read a lot of reviews. Only then did I buy the small size of the H Eczema Oil to try. I was really excited when I saw that they have additional products for skin care and I also purchased the Cellulite Removal Oil, H Stretch Marks for stretch marks, and their Simply Eye Serum because I suffer from dryness and dark circles under my eyes.
I'm really excited to say
That when the 1st bottle of Eczema Oil arrived, I started applying it after showering, and I really saw a significant improvement. I ordered the bigger bottle for the second time and after a while, only half a bottle was used!! I got rid of eczema once and for all of course. In addition, I am crazy about their Cellulite Oil, it makes amazing skin smooth and shiny. I like to order it today because it is amazing on the skin and prevents the continuation of cellulite.

Healing Natural Oils - stretch marks treatment
The stretch marks also decreased significantly after using their Anti Stretch Marks Oil for some time. The skin has begun to appear healthier and radiant. As mentioned when I saw the results I anointed to use their oils religiously. Both because I saw excellent results, and because I feel good using quality oils that are 100% natural and amazing for the skin. 
All Healing Natural Oils are:
100% 

natural

 and plant-based
Highest quality ingredients
90-day money-back guarantee
Manufactured in the USA
Eco-friendly packaging, including glass bottles
Thousands of verified customer reviews
No pesticides, herbicides, or any synthetic chemicals.
No animal testing and no animal products are used
when dealing with a certain health issue I always recommend
when dealing with a certain health issue, first of all, it is advisable to check on the web about all the possible causes of the medical condition. Then check which of the causes of the health problem are present in your lifestyle, and how they can be reduced or stopped.
After doing that research, of course, you can add treatment with natural oils such as Natural Healing Oils to treat the external effects caused by the lifestyle we have chosen until now. When we choose a holistic form of treatment for our medical problems, we understand that the approach is to treat the cause of the disease from the root and not just the symptom, which is the opposite of the conventional approach that mainstream medicine supports today.
Other Healing natural oils treatments to try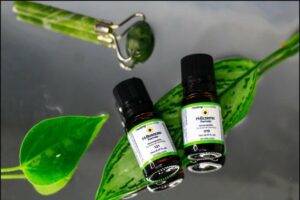 My Review On Healing Natural Oils And how to naturally heal eczema As time goes by, more new information is revealed to us. If it
Read More »