Vegan Sweet Potato Dough Hamantash
Hey lovelies
Everyone makes either savory or sweet Haman's ears. Why not savory AND sweet?:)
OK Listen, These Haman's ears are a hit! I like to combine sweet potatoes with different dough recipes a lot. For instance, making sweet potato pizza dough the most. Maybe a recipe for the blog coming soon…? Anyway, a year ago I thought about this recipe. And this year I said well, let's bake it!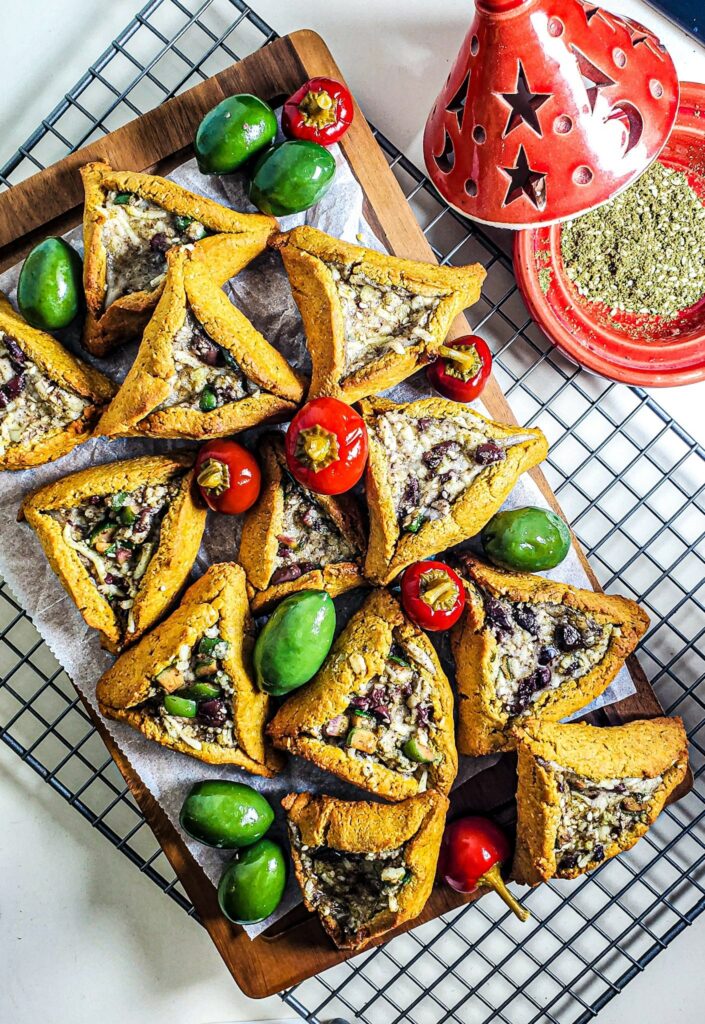 What's even best here, is that the Hamantash savory cookie dough is made with gluten-free oat flour. So this is a sweet-savory treat. It's full of different cheeses and olives, obviously vegan, and…gluten-free!!
It is true that we are talking about Haman's Ears here cookies. Or Hamantash. However, unlike the traditional Haman's ears cookies, this recipe is more related to a savory pastry that would be suitable for a Sunday brunch, or an in-between snack. It can be accompanied by fresh vegetables, vegan cheeses plate, olives, pickles, and the like.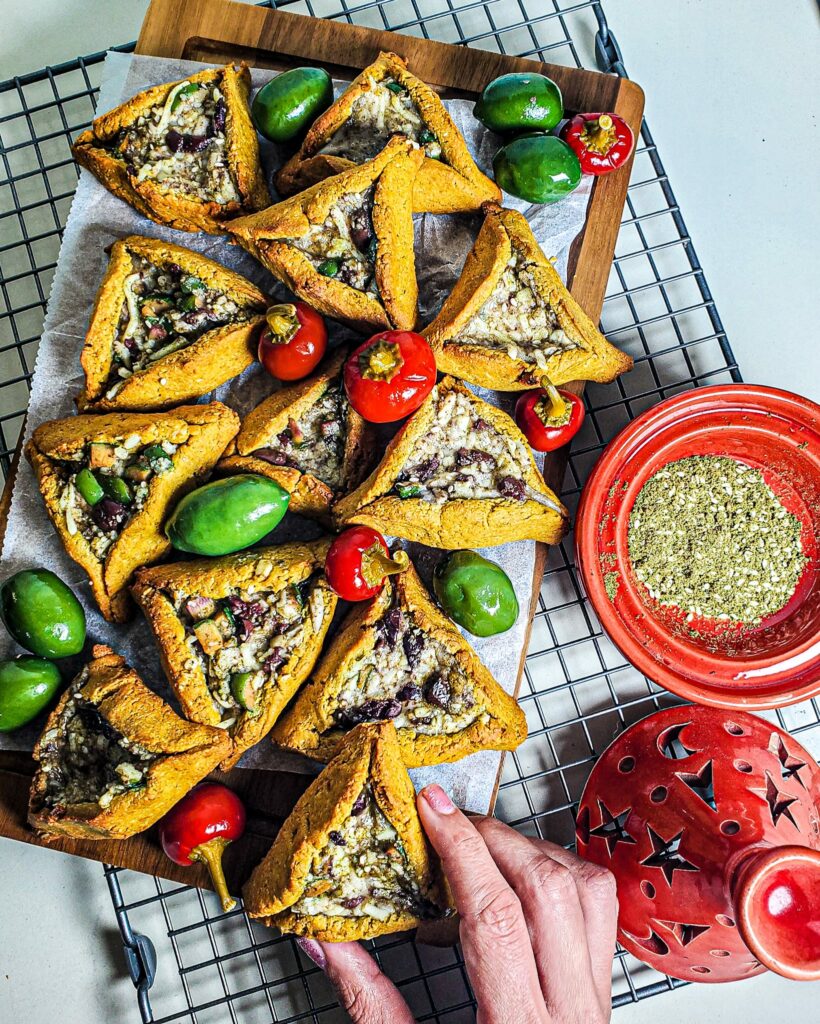 Is it complicated to make gluten-free savory Hamantash?
The crispy GF oat flour cookie dough comes out very crispy and crumbly. That's why we added potato starch (you can also add tapioca starch instead) to combine the dough.
The sweet potato puree also brings the crispy dough together. It gives it sweetness and replaces the role of the egg in a non-vegan recipe.
Savory vegan Hamantash filling
For this recipe, I used a mixture of vegan cheeses and olives and seasoned them with zaatar and sumac. This is a very easy and quick vegan cheese filling to make. There is no need to cook anything, just grate all the cheeses and mix. If left over from the filling, you can use it for other fillings or as a topping to make a vegan pizza.
Possible fillings for the Savory Vegan Hamantash could be – Mushroom Duxelles, Artichoke a la Romana, Spinach and vegan cheeses, Sun-Dried Tomatoes in Olive Oil, roasted leeks, pesto, and more. You can use any spices such as red paprika, cumin, oregano or thyme, basil, and more.
Try Other Delicious Recipes Here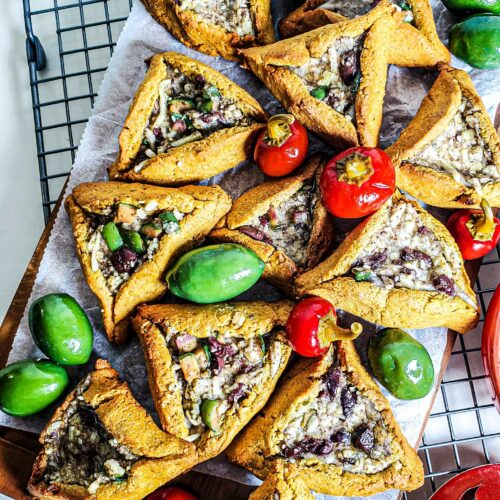 Sweet Potato Dough Hamantash
Sweet-potato savory crispy dough Hamantash filled with vegan cheese mix and olives.
Equipment
Mixing bowl

Rolling Pin

Round cookie cutter

Baking Tray

Parchment paper
Ingredients
For the Cookie Crust
2¼

Cups

GF oat flour

230gr

½

Cup

Vegan butter

100gr

¾

Cup

Sweet potato puree

160gr cooked and drained or baked

⅓

Cup

Maple syrup

80gr

Pinch Salt

2

Tbsp

Potato starch

1

Tsp

Baking powder

10gr
Vegan Cheese Filling
75

gr

Vegan feta cheese

Grated

75

gr

Vegan cashew mozzarella cheese

Grated

75

gr

Vegan shredded yellow cheese

30

gr

Kalamata olives

No seeds, chopped

30

gr

Green Tasos olives

1

Tbsp

Zaatar

1

Tbsp

Sumac
Instructions
Heat the oven to 175C/350F degrees.

In a mixing bowl put all the dry ingredients with the butter and mix well. You can knead in a food processor, mixer, or by hand.

Add the sweet potato and maple puree and mix well until the mixture is combined.

Form a flat ball of dough and put it inside baking paper. Refrigerate it for half an hour.

In the meantime, you can prepare the vegan cheese and olive filling. Add all the cheeses and olives to a bowl, season with rosemary and thyme, and mix well.

Take the dough out of the fridge and roll it out to a thickness of 1 millimeter inside the baking paper in a rectangular shape.

With the cookie cutter, make as many round pieces as possible,

Add 2 teaspoons of the filling to the center of each circle.

Close the 3 sides in a triangle shape, and lightly tighten at the tip so that the cookie wont open.

Arrange the Hamantash in a pan with baking paper and refrigerate for about an hour. Refrigeration is important to maintain the perfect texture of the dough. and will prevent the hamantash from opening during baking. You can let them sit in the fridge or freezer before baking.

You can start munching on them, half an hour after baking when they have cooled down a bit.