Hey friends!
The story with me and with fresh pastries that have just come out of the oven, is a story of the old-fashioned Indian love movie. I glance at the pastry, and then quickly run to the other room and hide. So that I won't get caught looking at it. 🙂 The house is full of fresh sweet baked goods smell. Reminding the fact that the weekend has finally come. It's FINALLY time to take a break from the carbs-sugar-oil-free diet and enjoy the upcoming Saturday, and Sunday.
Easy Dough, Best Making A Day Ahead
I love baking! and wanted to bake my Vegan Nutella Babka to share on the blog. The truth is that now I am thinking of different and surprising fillings that can be combined with this amazing dough. Both sweet and savory. The dough is very easy to work with. Just put all the ingredients in a kneading mixer for about 15 minutes. Then let it rest. It is recommended to prepare it the day before the baking itself, resting in the refrigerator produces fluffy and soft dough. 
As usual, any filling goes here. And any nut you want. What's good about this vegan dough, is that instead of eggs that we were used to putting in the traditional recipe, I used apple puree. That served the role of the eggs here beautifully, and added a bit of sweetness to the dough.
I baked this delicious Vegan Nutella Babka in a round pan. However, you can definitely bake in any pan you have. After braiding the dough, transfer the babka to the desired mold and arrange it according to the shape in the mold. Bake at 170 C degrees for 40 minutes. Bear in mind that baking time depends on the type of oven and its power. After about the first 25 minutes of baking, check if the babka is well baked and if it is golden brown on the surface.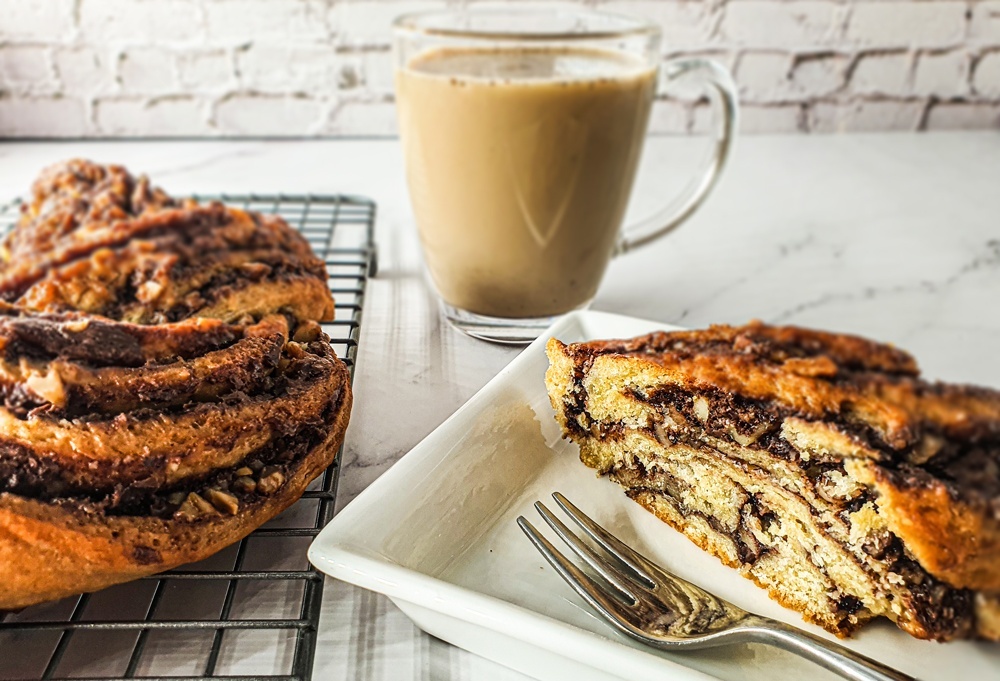 So, we are all here in the meantime still experiencing the lockdown but at least there is a fresh, hot, and sweet pastry next to the morning coffee. You can heat a slice in the oven, take it out and enjoy it. It can be stored for up to 4 days outside or a week in the refrigerator in an airtight bag or closed container. You can also cut into slices, and freeze. Take out from the freezer whenever you want, and heat it in the oven.
Vegan Hazelnut Babka
Vegan yeast pastry filled with vegan hazelnut chocolate spread and chopped walnuts.
Equipment
Round baking tin 26'' or rectangle

Mixer with a kneading hook

Spatula
Ingredients
500

Grams

Self-rising flour

¾

Cup

Olive oil

⅓

Cup

Sugar

113

Grams

Apple puree

½

Cup

Plant milk

I used almond

⅛

Tsp

Salt
Filling
250

Grams

Vegan Hazelnunt-Chocolate Spread

1

Cup

Walnuts

Chopped
Instructions
Put all the dough ingredients in a mixer with a kneading hook. Turn on medium-high speed. And knead until a uniform, and a soft dough is obtained. It can take between 10 and 15 minutes to knead.

Transfer the soft dough to a greased bowl and leave to rise for a minimum of two hours at room temperature, if you intend to bake it today. And a maximum of 24 hours if you want to bake the next day.

As soon as you want to bake, after resting in the fridge, take out the dough bowl and let it rest outside for about two hours.

On a floured surface, roll the dough into a long, thin rectangle.

Using a plate or spatula, spread the hazelnut spread so that it covers the entire dough.

Take a handful of chopped nuts and sprinkle over the spread.

Start rolling the dough with the filling into a long log roll lengthwise to the end.

Using a knife, cut the log into 2 pieces lengthwise pinch it on one side, and braid it together like a shape of a screw.

Transfer to your baking pan and preheat oven to 170 ° C.
Vegan Eggwash - optional
In a small bowl, mix a tablespoon of soy milk and a tablespoon of maple syrup and mix with a silicone brush. Brush the cake before putting it in the oven. Put in the oven and bake for about 30-40 minutes until the dough is baked and golden.
Sugar Syrup
If you want, you can make sugar syrup that can be spread on top, to give more sweetness and a glossy finish to the cake.

For the syrup put in a small saucepan 2 cups of water, ⅓ cup of sugar, and 2 tablespoons of dark rum. Stir well and let it reduce until a glossy syrup is obtained.

Spread the syrup as the cake comes out of the oven using a silicone brush.