Vegan Gluten Free Spinach Salad
Hi there lovelies!
The crazy hot Israeli summer brings me time and time again to make refreshing salads for lunch, which can function as a whole meal. That means that these salads contain a lot of nutrients, antioxidants, vitamins, minerals, proteins, and good fats. This salad is especially fun because it has both a savory and sweet balance. It has a crunch and juicy bites altogether. All those layers of flavor are covered in a sweet dreamy raspberry vinaigrette dressing that connects all this goodness.
This stunning spinach salad is a perfect salad for vegan athletes, weight watchers, one meal diet a day (OMAD) and in general for anyone who seeks a high absorption of nutrients in the body.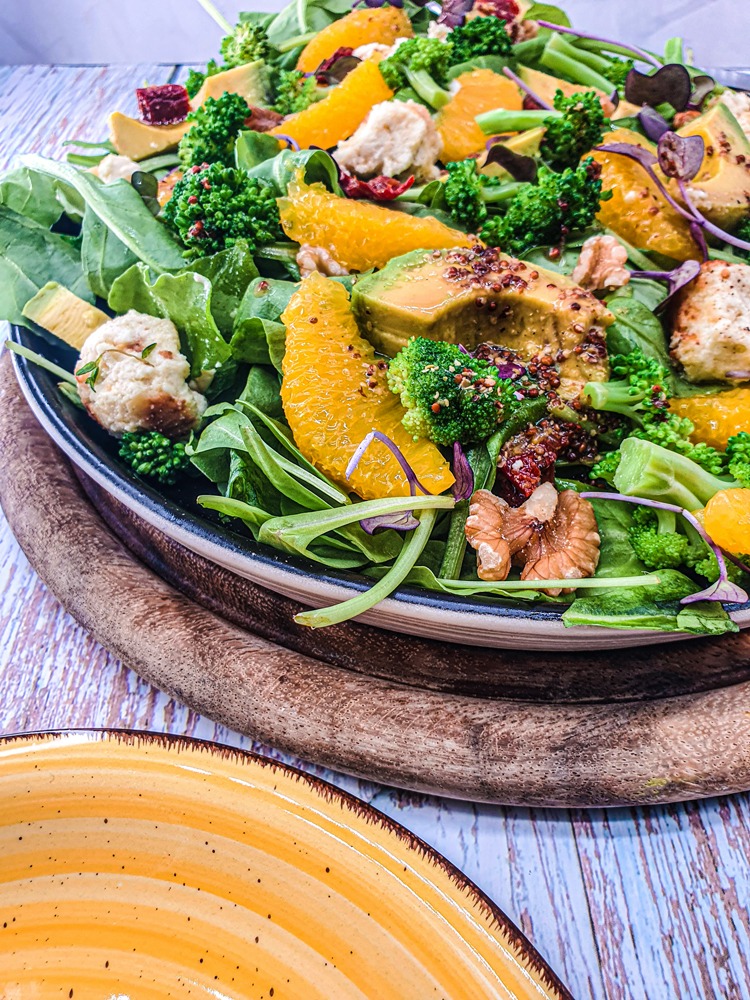 Usually, when consuming spinach on its own, all the iron it contains is not absorbed so well by the body if it's not consumed along with a vitamin-C-rich ingredient. Therefore, the combination of spinach, with the orange fillets, and the orange juice found in the dressing allows for better absorption of iron.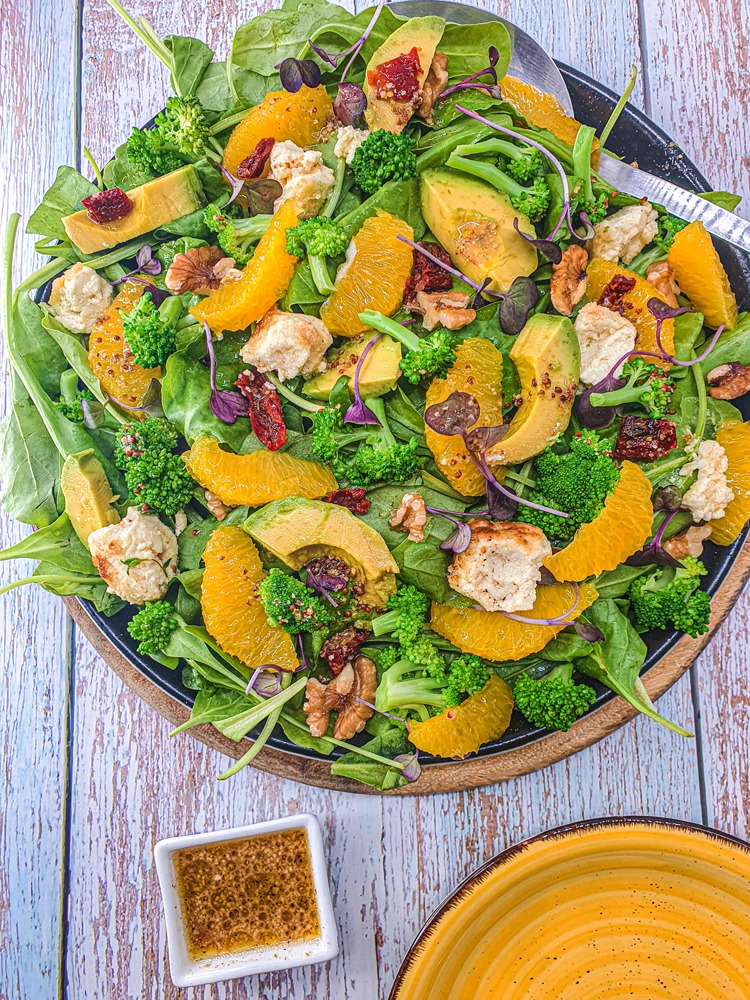 How to make the perfect summer spinach salad
Mise En Place for spinach salad and how to prep each ingredient.
Spinach – For this salad, it is advisable to use baby leaf spinach or any spinach with small leaves. It is not recommended to use New Zealand spinach which works better in cooking and is a bit difficult to consume raw.
Oranges – The orange is cut into fillets in such a way that separates the white skin of the orange but still retains the shape of the orange slices – fillets. It will be more pleasant to eat and will look aesthetically pleasing.
Broccoli – We separate the broccoli into bite-sized pieces and quickly blanch them in boiling water for about 5 minutes. When you see that the broccoli has a strong green color, transfer it then to an ice water bowl to stop its cooking. There is no need to heat a whole pot of water for this. Broccoli is a delicate vegetable and we want it to be still crunchy to eat.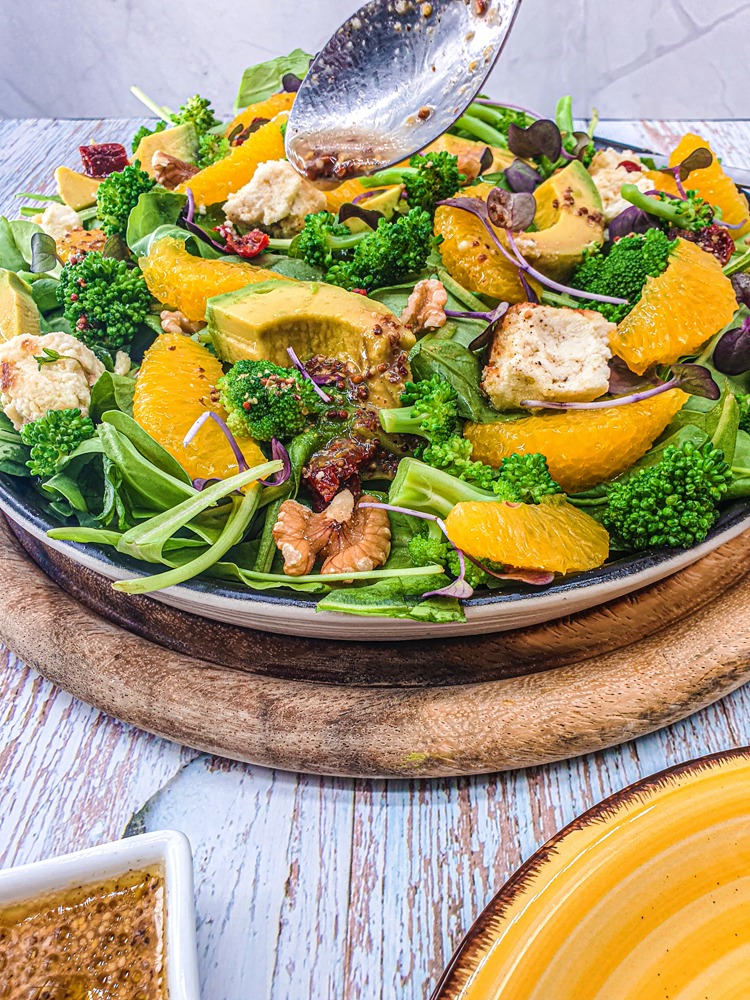 Walnuts – whole or chopped. You can give up if there is sensitivity.
Avocado – Cut into slices or cubes according to your preference.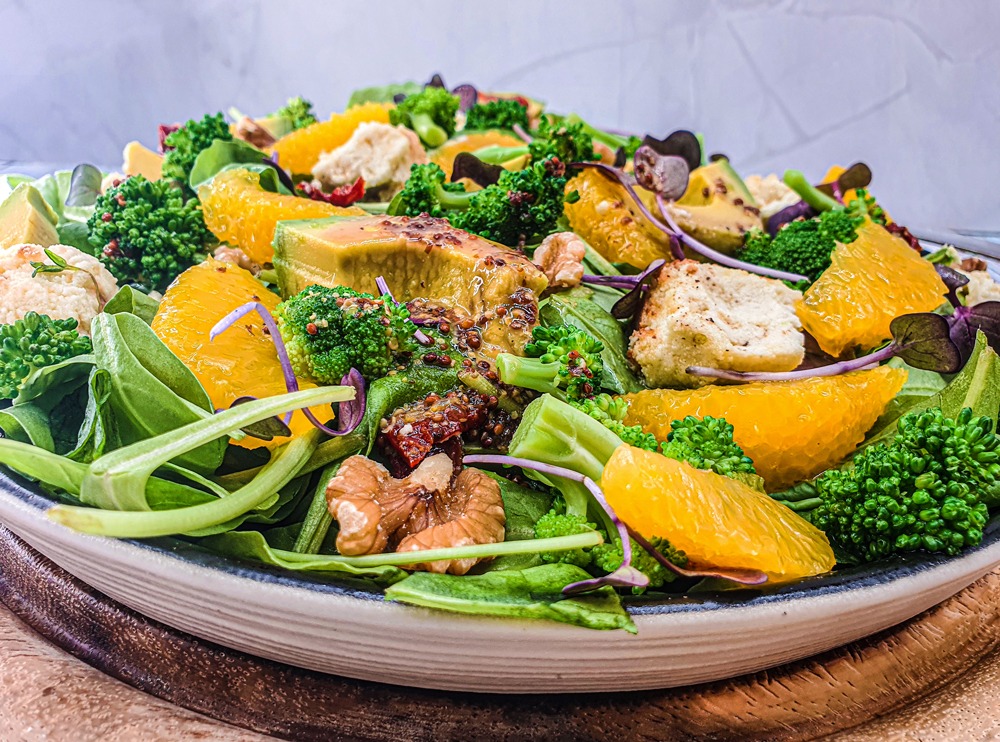 How to make a citrus raspberry vinaigrette
We strive for our salad dressing to be balanced with a level of acidity, sweetness, and salt that will combine all the different textures well. So, depending on the amount of salad you make, first, make sure that the ratio of oil to vinegar is 3 parts oil for 1 part vinegar. Then add a tablespoon or 2 or more of Dijon mustard or grains. Keep tasting to adjust the flavor. If you don't like mustard, you can add aquafaba. It will work great as an emulsifying agent. Add the orange juice, sugar if desired, salt, and ground black pepper.  Blend to a smooth texture in a blender. If you made a large portion, you can also use a blender stick. You will notice that you have a great emulsion that makes this salad super tasty and not just another boring salad.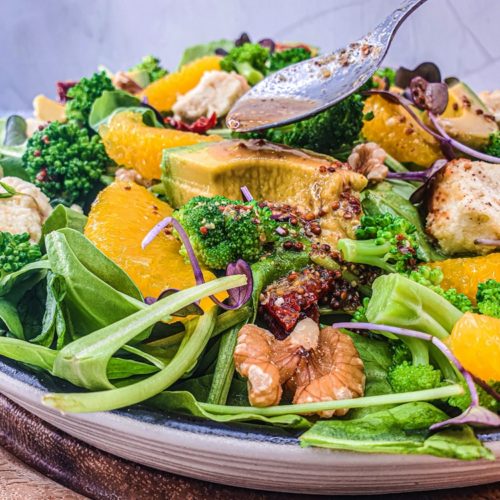 Summer Spinach Salad
Nutrient packed spinach salad with orange raspberry vinaigrette dressing
Ingredients
200

gr

Spinach

1

Orange

Fillets see notes

150

gr

Broccoli

Blanched and separated.

Handful

Walnuts

1

Avocado

Sliced

150

Vegan feta

Store-bought or homemade - link to recipe in the instructions below.

2

Tbsp.

Sundried tomatoes

Chopped depending on their size
Orange Raspberry Vinaigrette Dressing
¼

Cup

Orange juice

2

Tbsp.

Oil

Grapeseed oil, olive oil, or any.

1

Tbsp.

Mustard

Dijon or grain

1

Tbsp.

Raspberry vinegar

Or any vinegar with 4-5 raspberries.
Instructions
Arrange the spinach on a serving plate

Cut the orange into fillets according to the instructions below

Separate the broccoli into bite-size pieces. Blanch the broccoli in boiling water for 5 minutes and then transfer to ice water.

Blend all the dressing ingredients in a blender and grind until smooth for a minute or two.

Drizzle the dressing over the salad and serve with fresh focaccia or whatever you like.
Notes
How to Fillet an Orange
Cut the top and bottom off the orange.
Set your knife where the pith (white stuff) meets the flesh and start cutting downward in a curved motion following the shape of the orange.
Turn the orange a bit counterclockwise and repeat.
Using a knife, cut each slice as close as possible to the orange skin on the right and left.
The recipe yields 3 servings as a side dish or 2 servings as a main.